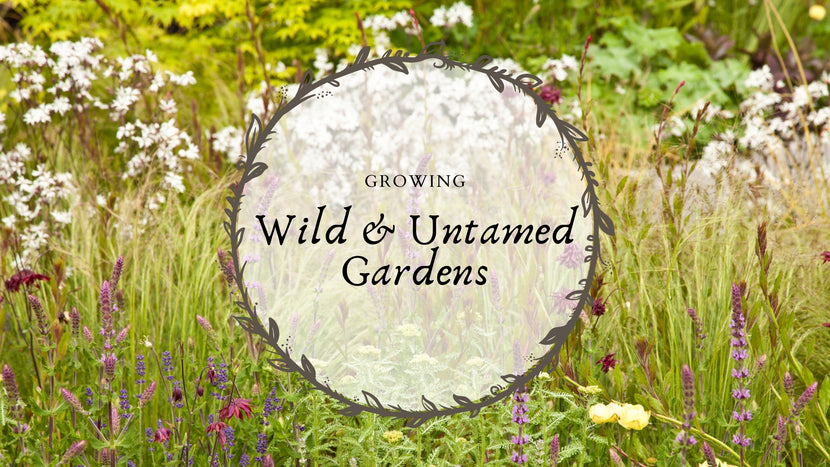 Growing a Wild, Naturalistic Garden Landscape
Growing a Wild, Naturalistic Garden Landscape
All around the world, cities have seen wildlife return to areas where tourists aren't crowding them out this year. It's a beautiful reminder that nature is a powerhouse: left untamed, the natural world will create its own sense of balance and beauty.  Rather than fight these forces, a wonderful way to design your home garden design is to embrace what nature does best and let your landscaping run wild with a naturalistic feel.  
Nature Untouched: Cultivating a Natural Feel in your Landscaping
Leading landscape designers are bringing their clients back to basics, with stunning gardens that look untouched and nature-made. The general concept centers around a few key principles:
Just because it's wild doesn't mean it isn't planned.  Grasses, shrubs and flowering perennials intentionally flow over each other and blend beautifully, but you should still plan out a general layout. This way, you can create a harmonious balance between grasses, flowers, trees, hedges, and pathways.  A good rule of thumb is to choose a few filler textures and punctuate them with trees, shrubs, and pops of color.
Keep it close to home. The best way to create a garden that takes care of itself is to ensure that your plants already thrive in your growing zone. Native plants and grasses are the kings and queens of wild, naturalistic landscaping.
Paint-by-Flower. Colors should flow as if you're taking a walk around the color wheel. This is also a great way to add texture and variety, which is pleasing to the eye and good for the soul.
Plan wide to allow overflow. If you're used to the kind of gardening where you color within the lines, then you'll want to plant with a little extra space. The goal for a wild landscape is to intentionally let a plant grow big and blend into its neighbor,  but only just enough. Plant these neighbors too close and you'll lose any form or texture.
Choose your path wisely. A winding pathway is a staple for an English cottage garden or a shade-friendly woodland sanctuary. Choose stones, gravel, or other natural textures. You'll need to demarcate your paths a little wider than usual, anticipating that the ornamental grasses and ground cover will reach over and take some of that real estate back.
Embrace the call of the wild. This is a low-maintenance style to gardening, so what better way to keep it even easier than to invite wildlife to come to do the work for you. Butterfly-friendly plants, birdbaths, feeders, and houses will all go a long way towards letting nature do her thing. 
Here are a few garden designs that will help you get started on your wild, naturalistic landscaping journey. Woodie says these mixtures should work for a backyard garden or for large areas:
Peaceful Meadows
This style is inspired by open rolling hills, with full-sun and big, bold plants. Be ready to run and spin and sing like Julie Andrews...or at least feel inspired to!  This is where big pollinator flowers and sweeping grasses should alternate in clusters, with a few smaller friends framing your paths. 
Standing Ovation Little Blue Stem
Secret Woodland Garden
Shade-loving plants will love this style. If you have trees covering your garden, or want to plant trees that will grow to create shade, here are the right kinds of companions for a shady woodland haven. Don't forget a place for a bubbling brook or little fountain. Cover the ground with ferns and smaller grasses, and create big bold pops of color at focal points. Let vines crawl up your fences and trellises. 
 English Countryside
An English cottage garden is infamous for its flowing feel and soothing sensations to the senses. Color is certainly the name of the game for this style. Frame your garden with boxwoods or privacy trees, but resist the urge to topiary. Roses and big fragrant florals are your ingenues in this classic story. This is a perfect place for a birdbath and a sweet garden statue too.
Desert Oasis
The whole goal of nature-inspired wild landscaping is to work with what you have.  Not everyone lives in an area where a thirsty, shade-loving garden will thrive. If you're in hotter zones where water is scarce, this is the return-to-the-wild garden style that's perfect for you. (Did you know that there are county governments in some desert areas that will pay you to landscape? Earn a credit, help save the planet, and garden with your arid environment in mind.)  Start with stones or desert soil, then punctuate the area with statement grasses spaced out extra-wide. 
Anything we missed? Comment below and share any naturalistic tips and tricks you have up your sleeve. Happy gardening!