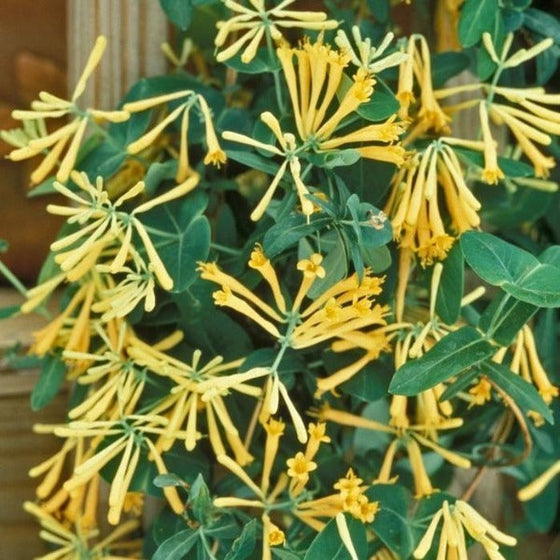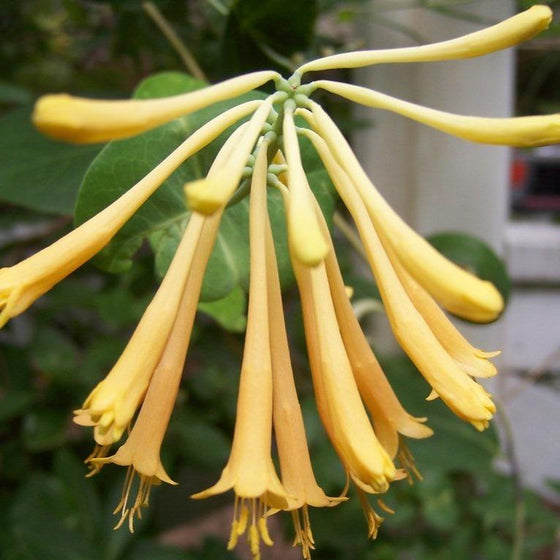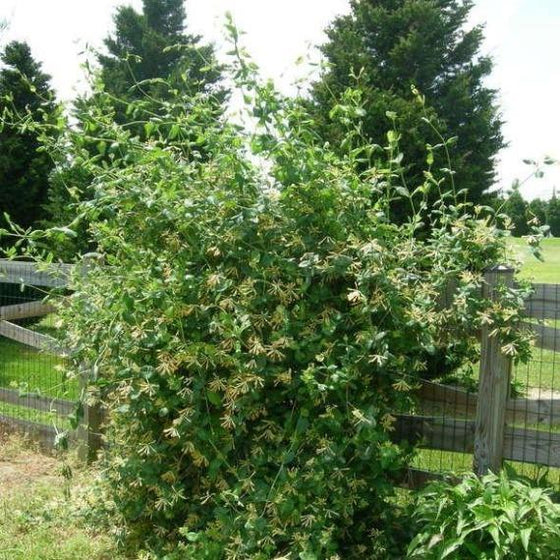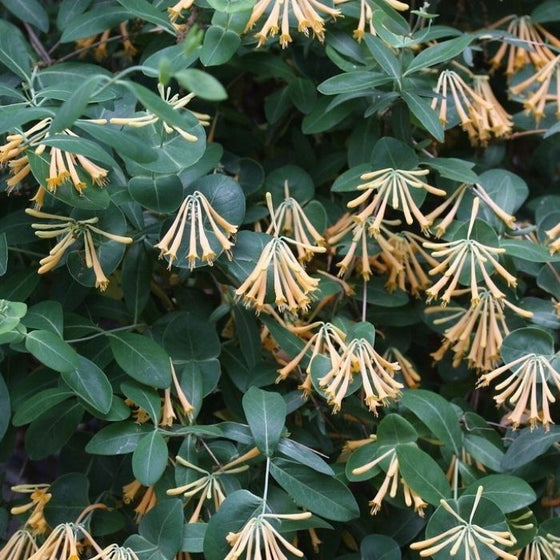 Images Depict Mature Plants
Lonicera John Clayton Honeysuckle Vine for Sale Online
Commonly called trumpet honeysuckle, the John Clayton Honeysuckle (lonicera sempervirens) is a vigorous, deciduous, twining vine that typically grows 10-15 feet tall and is one of the showiest of the vining honeysuckles.
Lonicera John Clayton is easily grown in average, medium moisture, well-drained, organically rich soils with good drainage. It will tolerate some shade, but best flowering is in full sun. This is a twining vine that needs a support structure upon which to grow unless you want it to sprawl as a ground cover. Prune as needed immediately after flowering.
It is primarily native to the southeastern U.S. but has escaped from gardens and naturalized in many other areas of the eastern U.S. including several counties in central and southern Missouri where it typically occurs along roadsides, along stream banks, and in thickets. Lonicera John Clayton provides large, non-fragrant, narrow, trumpet-shaped flowers that are yellow on the outside and yellowish inside. Flowers appear in late spring at stem ends in whorled clusters and are attractive to hummingbirds, butterflies, and bees. The red berries that form in late summer to early fall are ornamental in inedible to human, but attractive to birds. Oval, bluish-green leaves are glaucous beneath.
This vine is evergreen in the warm winter climates of the deep South. Lonicera John Clayton is a yellow-flowered variety that was found in 1991 in woodlands on the grounds of a 17th-century church in Gloucester, Virginia. Its namesake, John Clayton (1694-1773) was a colonial botanist and plant collector from Gloucester County.
Lonicera John Clayton Honeysuckle is Native to North America and not to be confused with the Japanese honeysuckle which can be quite invasive.
---
| | |
| --- | --- |
| Hardiness Zone: | 4-9 |
| Mature Height: | 6 to 12 Feet |
| Mature Width: | 3 to 5 Feet |
| Sunlight: | Full sun |
| Water Requirements: | Water well until established |
| Selling Points: | Attracts hummingbirds, butterflies, and birds; very fragrant |
| Details: | Excellent vine for trellises, arbors, and fences |
Growzone: 4-9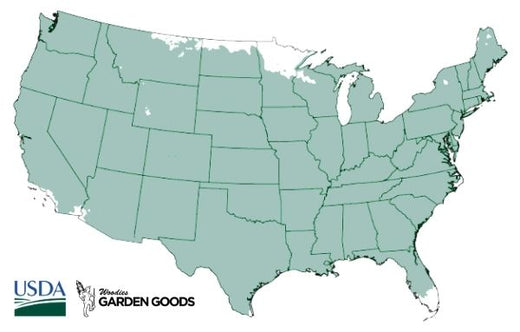 How to Care for John Clayton Honeysuckle
Be sure to read our planting instructions to ensure a healthy and happy plant for years to come!

How to plant John Clayton Native Coral Honeysuckle?
When you receive your plant, leave it for a couple of days to acclimate to its new surroundings. When its time to plant, remove it from the container it came in. Dig a hole that is twice the size as this container, but no deeper. Using your fingers, rough out the bottom of the root ball to loosen the roots and place in the center of the hole. Backfill the hole with a mix of the original soil and compost and/or fertilizer. Firmly pat down the soil, and give your plant a slow, deep watering to You may want to help the roots settle. You may want to add a trellis or stake if you want this vine to grow up, skip this step if you are using the John Clayton as a ground-cover.

How often do I water Lonicera John Clayton?
Newly planted Honeysuckles will require more frequent watering than an established plant but all ages prefer slow, deep watering to keep the soil moist. Check that the soil is dry at least 3 inches deep before watering. Water at the base of the plant, be careful not to get the flowers and leaves wet or they may burn in the afternoon sun. During the colder month, the vine is dormant and requires less frequent watering.

When do I prune a John Clayton Climbing Honeysuckle Vine?
This plant blooms on old growth so the best time to prune is after the vine flowers. Pruning before will limit the number of flowers it produces. Prune as needed if you want to control the growth of the plant, but it is not an invasive or aggressive grower like its cousin the Japanese Honeysuckle. As always, be sure to use clean tools when pruning to be sure that you are not transferring diseases between plants.

What type of fertilizer is best for Lonicera Honeysuckle Vines?
We recommend using an all-purpose fertilizer such as Bio-tone Starter Fertilizer by Espoma. It is helpful to fertilize newly planted Honeysuckles to promote growth and establishment, especially when they are planted in nutrient-poor soils. This can be applied twice during the spring and summer. Do not fertilizer 6 weeks before the first frost, or this may hinder your plant's dormancy and make it susceptible to winter months.
---
Other Products you may be interested in
---
Customer Reviews