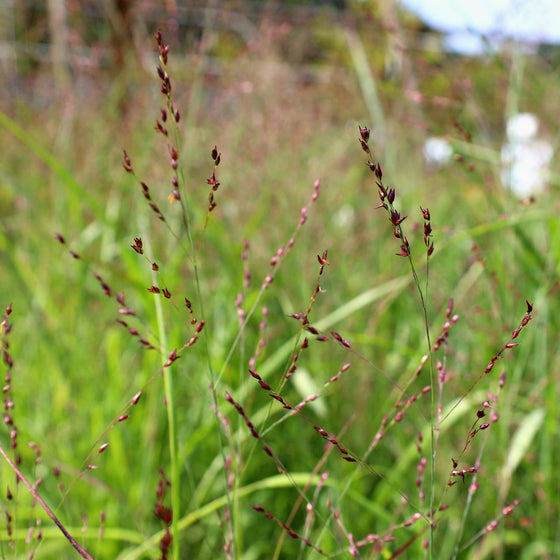 Images Depict Mature Plants
Panicum Shenandoah Switch Grass for Sale Online
Shenandoah Switch Grass grows in average, medium to wet soils in full sun to part shade. Tolerates a wide range of soils, including dry ones, but prefers moist, sandy, or clay soils. Will grow in part shade but begins to lose its columnar form in too much shade, growing more openly and possibly falling over. Cut back clumps to the ground in late winter to early spring.
Shenandoah Switch Grass features some of the best burgundy-red foliage of the many panicum cultivars available in commerce. Foliage emerges bluish-green but rapidly turns burgundy-red (by late June) to form a compact, narrow, erect, 3' tall clump of foliage topped in summer by finely-textured, reddish-pink flower panicles which hover over the foliage like an airy cloud. Panicles turn beige as the seeds mature in fall, with the seed plumes persisting well into winter. Foliage also turns beige in fall and provides good winter interest.
Shenandoah Switch Grass is best massed or in groups, Perennial borders, meadows, wild gardens, or naturalized areas. Native to North America, this grass is perfect for any garden. Ideal for use in rain gardens and provides winter interest in any situation. Tolerates all types of soil. It prefers full sun to bring out the best red color.
---
Growzone: 4-9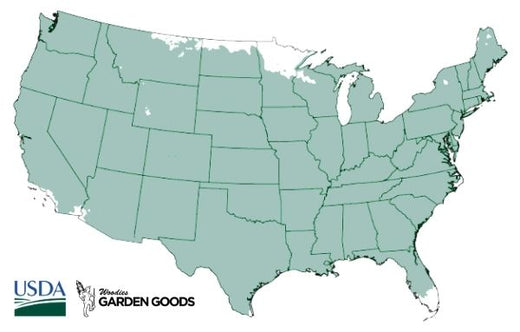 | | |
| --- | --- |
| Hardiness Zone: | 4-9 |
| Mature Height: | 3 Feet |
| Mature Width: | 2 Feet |
| Sunlight: | Full sun |
| Water Requirements: | Average to wet |
| Selling Points: | Erosion control, native, deer resistant, drought tolerant, salt tolerant, fall interest |
---
How to Care for Shenandoah Switch Grass
Before you buy Shenandoah Switch Grass, make sure to read about the recommended care instructions to keep this plant healthy and thriving.

What type of soil is best for the Shenandoah Switch Grass?
We recommend planting your Switch Grass in rich, moist soil for the best results. Although, this specific ornamental grass can grow in heavy clay soil. This plant naturally grows near ponds so it's important to keep that same environment.

What type of fertilizer is recommended for the Shenandoah Switch Grass
Shenandoah Switch Grass thrives in low-fertilized soil. We recommend sparingly fertilizing this ornamental plant in early spring with a slow-releasing fertilizer.

How often do I water Shenandoah Switch Grass?
Shenandoah Switch Grass thrives in rich, moist soil and should be regularly watered. We recommend watering your plant once a week, but mature grass is rather drought-tolerant. Allow the top 3 inches of soil to dry before watering again. If you're planting Mexican Feather Reed Grass in extreme heat, water your plant more frequently.

How do I prune my Shenandoah Switch Grass?
We recommend that you prune Switch Grass in the winter to encourage increased blooms during the spring growing season. Cut clumps to the ground in the late-winter just before the new spring shoots appear. Use grass shears or a hedge trimmer to remove the old stems at least 3 inches from the ground to upkeep attractive appearance.
---
Other Products you may be interested in
---
Customer Reviews