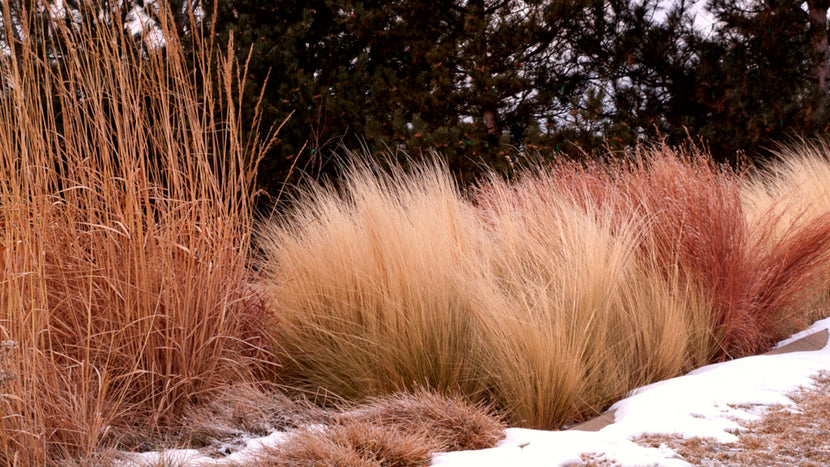 Ornamental Grasses to Add Interest to Your Winter Landscape
Many gardeners never consider using Ornamental Grass for winter interest. Most gardeners believe it's time to cut back the grasses during the fall and winter and long for their re-emergence in the early spring.
On the other hand, savvy gardeners know that winter can be a great time to enjoy grasses, as they add sound, color, and food for winter songbirds to the garden.
Using larger evergreens as backdrops creates the top tier of the landscape design, and shrubs are the middle layer in a good landscape plan. Perennials and ornamental grasses are the real workhorses of a well-planned winter landscape. During the warmer months, they are alive with color, and when grouped correctly, they provide texture and color to the garden and excite the senses.
Creating Seasonal Interest with Perennial Grasses
Everyone loves the look of ornamental grasses in the warmer months, but did you know that after they go dormant, most grasses remain upright even during snowfall?
Grasses such as Panicum and Miscanthus not only remain upright, but the seed heads also remain. Even the slightest winter breeze sets these plants into motion, creating movement and sound in the landscape as the dried leaves rub together.
Grasses grow in just about any soil and are well known to be drought-tolerant. These attributes make them a good choice for focal points in the four-season landscape plan.
For those with larger landscapes, Miscanthus sinensis gracillimus, or maiden grass, is a popular ornamental grass and gorgeous in the winter. If you'd prefer to stay native, the Panicum Virgatum Heavy Metal Switch Grass is also an excellent choice and produces blue foliage that provides a cooling color in the summer. Both are larger grasses and can reach heights of up to 5 feet tall.
When the green leaves change to rusty reds and golden yellows during the colder months, they can make beautiful backdrops for small trees and shrubs that produce red berries.
A great option for larger gardens is Calamagrostis Karl Foerster or Feather Reed Grass. This cool season grass looks its best during the colder months. And for gardeners in the warmer zones, the well-known Dwarf Pampas Grass is always popular and can be seen in commercial and residential landscapes throughout the south.
Ornamental Grasses for Small to Medium Gardens
Gardeners with smaller gardens can also be rewarded with the winter interest provided by ornamental grasses. While you may be unable to plant large swaths of taller grasses, many small to medium-sized grasses are available.
One of our favorite smaller grasses for the winter garden is the native Northern Sea Oats. Northern Sea Oats are medium-sized grasses excellent for mid-sized gardens. The dangling seed heads are very efficient at creating sound with only the slightest breeze. The sound produced is reminiscent of dried winter leaves blowing around the garden.
Fountain Grasses such as Pennisetum Hameln have earned their spot in the garden. These tough, warm-season grasses provide bottlebrush seed heads that look amazing with a light dusting of snow. There are even dwarf varieties of fountain grass. Pennisetum Little Bunny only reaches 12 inches tall.
Purple Love Grass, or Eragrostis, is another native grass that looks fantastic in the winter, and it is not uncommon to see the seed heads rolling around the garden like tumbleweeds in the late winter.
Standing Ovation Little Bluestem Grass, while slightly taller, is perfect for small gardens due to its extremely upright habit. The color changes to a bright orange color in the fall and can hold its orange color well into winter.
Blue Oat Grass is another choice for small to medium gardens. This grass is best suited for the cooler regions of the country as it can occasionally melt out in the heat of summer.
Evergreen Grasses For Winter Interest Ground Cover
Groundcovers have become more popular as of late. Many people are busy at work or with families, and mulching the landscape is often put off or forgotten entirely. Many gardeners forget that there are many types of grass that provide ground cover but are evergreen as well.
Carex is a large family of grasses that can be used as evergreen groundcovers in any garden. Botanically Carex plants are not grasses but sedges; they resemble grasses in every aspect.
These evergreen groundcovers can be planted in large groups and, in time, will fill an area with colorful foliage even during the winter. There are many native carex that can be seen growing in the wild in most of the United States.
Carex Blue Zinger is an evergreen type that produces blue foliage and can form a mat often seen replacing liriope in the landscape and providing winter interest.
Many Clump-forming Carex also remain evergreen throughout the winter, providing brightly colored foliage. Carex Evergold, Carex Ice Dance, and Carex Everillo are fine examples of small grass plants that provide winter color and can be used as groundcovers for winter interests.
Mass Planting Grasses for Winter Interest
Mass planting of grass is a simple way to make a big impact. Natural lands dotted with groups of grasses are truly a sight to behold in the winter. Virtually any type of grass can be used to create this effect and it mostly comes down to the size of your landscape.
Designers are currently going crazy for large plantings of Pink Muhly Grass. Even after the color leaves the inflorescence the swaying flowers add life to the landscape.
If you have a hill on your property, try planting grasses in large sweeps the changes in elevation of the planting add dimension to the planting. Those with smaller gardens can try Stipa tennuissima or Mexican feather grass to achieve the same effect.
Mix different height grasses to mimic nature's natural design. This can be seen in wildlands and on the American prairies. Don't be afraid to incorporate shrubs or other perennials into this design as planting diverse plant types mimics nature's design!
Until next time, see you in the garden.
-Woodie