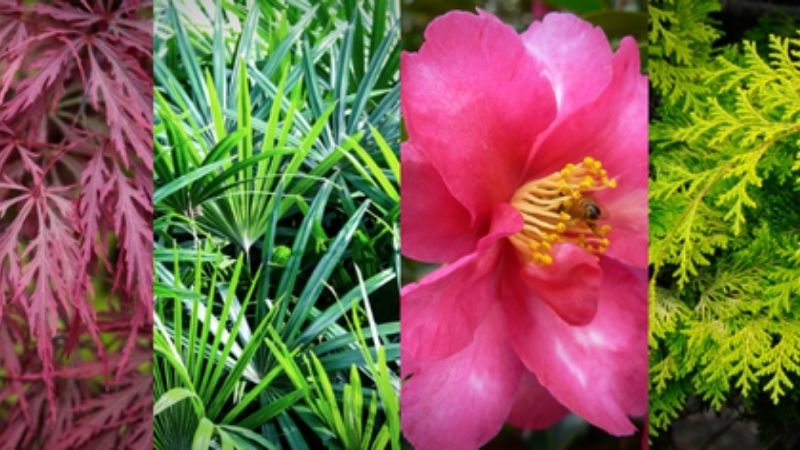 The Best Plants for Creating a Japanese Garden
Historically, Zen Gardens were created to provide peace in times of war and strife. With all that's going on in the world, it's important to take time and create space for solitude, reflection, and relaxation. You can achieve this spiritual haven in your own backyard with elements including water, rocks, and plants. Whether you're looking to fill a small space or large yard, there are several plants available on Garden Goods Direct to create a Japanese Garden of your own.
Before we move on to the plant options, here's a few essential elements to achieve the Zen Garden look and feel in your outdoor space. It's important to create a space that drives the emotion of mystery, calmness, and tranquility while connecting you with nature. The ultimate goal is to create a picturesque backyard Zen Garden that evokes your senses of smell, sight, and sound.
For authenticity, your Zen Garden should include an arrangement of rock formations which represent mountains when placed next to water features. You can also create a stepping stone path in your rock garden to represent the journey through life, or raked gravel to represent flowing water. Sand and gravel is commonly used in dry gardens or mini Zen Gardens for their compact nature.
Once you have selected your plants, include traditional Japanese architecture including stone lanterns, rain chains, small bridges over waterways, and pagoda statues. Neutral color schemes are encouraged to use throughout your space's design to help relax the mind. When in doubt, keep it simple, but meaningful. 
Take your Zen Garden up notch with a private pavilion area, if your garden space permits it. A small tea house or pavilion made of wood is perfect for viewing the serene garden landscape. If you're short on space, a pavilion stone lantern will not only add warmth at night, but also stays true to the Japanese Garden designs. Need more inspiration? See the image below of the Portland Japanese Garden!
Another staple in Zen Gardens is the use of fish within bodies of water - while Koi fish are the first to come to mind, Goldfish are proven to be hardier. If you live in an extremely cold climate, your fish will need to be brought indoors during the winter months.
Now that you have an understanding of the key elements of Zen Gardens, let's move on to a list of plants that will bring your space to life!
Plants Fit for a Zen Garden
Japanese Maples trees are one of the most collected and desirable trees sold in nurseries today. Often used as a focal point, Japanese Maple trees come in many forms, colors, and styles fit for a Zen Garden, big or small. No other family of plants has more leaf shapes than the Japanese Maple family. 
If you're planting in a small space, Crimson Queen Japanese Maple or Red Dragon Japanese Maple is perfect for its compact size. Both trees have great winter interest and have bonsai appearance fit for any zen garden.
Bamboo
Bamboo is a key design element to Zen Garden for its unique growth habit, structure, and height. Not only do Bamboo plants act as an accent plant, but they can also be used to create a privacy screen. Create depth and contrast with this beautiful plant that can easily be planted in containers or in the ground. 
The Bamboo Palm is loved by many for its air cleaning properties and tropical foliage. Also known as Palm Chamaedorea, this low light houseplant makes an excellent addition to any living room or office. Bamboo palms grow in an upright habit and are one of the easiest indoor palm trees to grow.
Bring year-round greenery to your Zen Garden with Pine Trees - no matter the size of your outdoor space. Pine Trees are easy to contain, and are loved for their dense needle-like foliage and uneven structure. 
The Japanese Black Pine trees have an irregular form and horizontal branches, and are exceptionally tolerant to sandy soil and salt spray. The dark grey, deeply grooved bark of the tree contrasts nicely with the deep green needles providing even more interest.
Hinoki Cypress
Hinoki Cypress is a beautiful tree with multiple branches and rounded foliage. This Japanese-staple grows in a compact habit, but has the ability to reach towering heights. Many are known for their golden foliage, like the Golden Hinoki Cypress, which bring bright contrast when planted with other evergreen trees.
Golden Dwarf Hinoki Cypress shrubs produce sprays of feathery, bright golden-yellow foliage on fern-like spreading branches. The interior foliage tends to fade to green with age, but remains an excellent plant for Asian-style gardens, large containers, specimen plants, or as an interesting evergreen privacy screen.
Camellias
Add a flowering element to your space with the flowering Camellia bush, known for its delicate blooms and hardy evergreen foliage. This shrub comes in two variations with different bloom schedules - one for fall and another for spring. This flowering shrub also makes tea, which makes it very fitting for a Zen garden.
A few of our favorite fall-blooming Camellias include Camellia Shishi Gashira and Camellia Kanjiro for their pink delicate blooms. For spring-blooming Camellias, we have Camellia Kramer's Supreme as an excellent flowering perennial bursting with fiery-red flowers.
No Zen Garden is complete without a pop of color, and the Cherry Tree does just that! The Cherry blossom trees sold today are the same time-proven varieties that were gifted to our country from the emperor of Japan. They bloom in early spring and the colors are a welcome sight after winter's long sleep. 
If you're looking for a flowering tree that won't overwhelm the landscape, the Kwanzan Cherry tree is it. It grows in an upright "V" shape so it won't spread out and overtake your sightlines. Kwanzan Cherry Trees are one of the main varieties planted at the Tidal Basin In Washington DC. They are frequently the highlight of the Cherry-Blossom Festival every spring.
An easy way to add texture and fill space within your Zen Garden is with ornamental grass. These low-care plants make a strong statement when placed throughout your garden space, and are eye-catching due to their unique growth habit. Choose from our selection of Elijah Blue Fescue, All-Gold Japanese Forest Grass, and Aureola Japanese Forest Grass to complete your new Zen Garden space.