Images Depict Mature Plants
Red Dragon Japanese Maple for Sale Online
Dissected forms of Japanese maples such as the Red Dragon Japanese Maple are generally grown for their attractive foliage and low-spreading shape. These hardy landscape trees are perfect for use as a specimen or accent around the home, yard, or patio.
Red Dragon Japanese Maples are perfect for use on the periphery of the border or rock garden. Excellent as an understory plant in a sun-dappled spot that brings color to the otherwise dark shaded areas of the woodland border. Vibrant cherry red foliage makes these trees the focal point of your yard.
Ideal conditions for the Red Dragon include full sun to part shade, along with slightly acidic well-drained soil. Additionally, we recommend applying a slow-release fertilizer in spring and summer. As an added bonus, these miniature maple trees have a non-aggressive root system! This allows for other plants to be planted around without competition.
---
Growzone: 5-8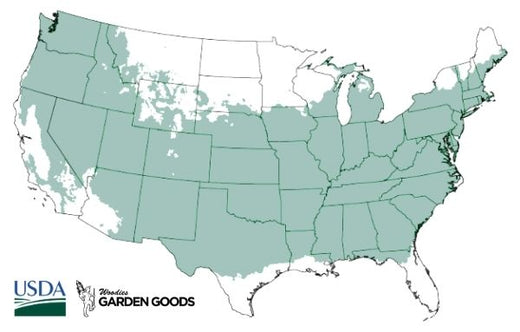 | | |
| --- | --- |
| Hardiness Zone: | 5-8 |
| Mature Height: | 7 to 8 feet |
| Mature Width: | 6 to 8 feet |
| Classification: | Small tree |
| Sunlight: | Part to full sun |
| Habit: | Deciduous, densely branched |
| Flower Color: | Insignificant |
| Foliage: | Dark purple to red foliage |
| Soil Condition: | Any well drained soil |
| Water Requirements: | Water well until established |
| Uses: | Extremely attractive when used as a focal point or a specimen planting, very slow growing |
---
How to Care for Red Dragon Japanese Maple
Before you buy a Red Dragon Japanese Maple Plant, make sure to read about the care instructions that are required and recommended to keep this plant healthy and thriving.

How do I plant an Red Dragon Japanese Maples?
We suggest when planting your newly purchased Red Dragon Japanese Maple plants that you dig a hole twice as wide as the root system but not deeper. The most common cause of plant death after transplanting is planting the new plant to deep. That is why we do not recommend planting in a hole any deeper than the soil line of the plant in the pot. A good rule is that you should still be able to see the soil the plant was grown in after back-filling the hole. Depending on the quality of your existing soil you may need to add a locally sourced compost or topsoil to the back-fill soil.

How do I water Red Dragon Japanese Maples?
After back filling and lightly compacting the 50/50 mix of existing soil and compost give the Red Dragon Japanese Maple a good deep watering. This is not to be rushed. Most of the water you put on the plant at first will run away from the plant until the soil is soaked. A general rule of thumb is to count to 5 for every one gallon of pot size. Check the plant daily for the first week or so and then every other day there after. Water using the counting method for the first few weeks.

How do I mulch Red Dragon Japanese Maples?
We highly recommend that you mulch your Red Dragon Japanese Maple with either a ground hardwood mulch or a ground cypress mulch depending on your local availability. Any type of mulch will do but cypress or hardwood mulch will be of a higher quality and provide better nutrition overall as they breakdown. Mulching helps to keep weeds away which will compete with your new investment for water and nutrients. A 2 to 3 inch layer of mulch is sufficient but remember to take care not to cover any part of the stem of the plant with mulch. It's better to leave a one inch gap of space between the mulch and the stem or trunk of the plant.

How do I fertilize Red Dragon Japanese Maples?
Feeding your plants is probably the single most forgotten part of growing healthy long lasting plants. When first planting we recommend Bio-tone by espoma. Maintaining a constant low level of fertility will keep your trees healthy throughout the year. Avoid using high Nitrogen lawn fertilizer on Japanese maples. Applying high amounts of nitrogen will cause excessively fast growth that will weaken the plant. Weak branches can lead to damage if you are located where icing during winter is a problem. Fertilizing your Japanese maple with the proper type of fertilizer should be done either in late winter while the ground is still cold, or after the last freeze in spring. I recommend using a slow or controlled release type fertilizer. Bore several holes around the tree and divide the proper amount of fertilizer recommended by the manufacturer by the number of holes. Drop the fertilizer into the holes and fill the remainder of the holes with soil. Water around the tree and now the tree is fertilized for an entire year. As the tree grows, the amount of fertilizer will need to be increased.
---
Frequently Asked questions
How do I prune Red Dragon Japanese Maples?
Do Japanese maples stay red all year?
---
Other Products you may be interested in
---
Customer Reviews