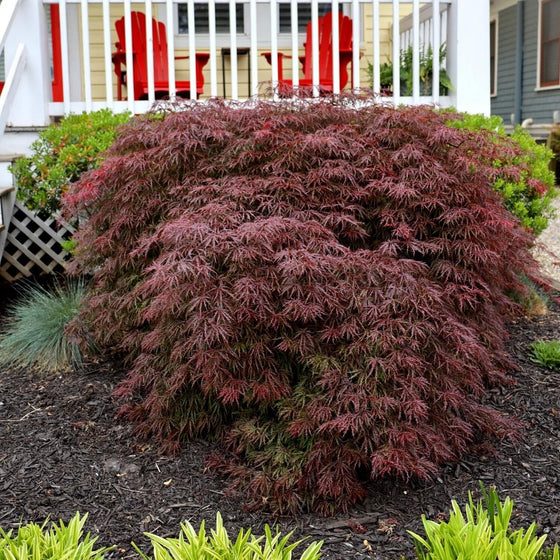 Images Depict Mature Plants
Crimson Queen Japanese Maple for Sale Online
Crimson Queen Japanese Maple is a superb low-branching, dwarf Japanese Maple with a delicate weeping effect. It is deciduous, meaning it will shed its leaves in fall but its foliage holds a beautiful red color throughout summer. Japanese Maples such as the Crimson Queen are well-suited for use as a specimen plant around water features, or on patios and entryways in containers. It is easy to see why this iconic tree has been revered around the world for centuries.
Its delicate and lacy cut-leaf foliage turns a beautiful crimson color, adding texture and color to your landscape. Popular in Zen gardening, Crimson Queen Japanese Maple Trees are low maintenance and surprisingly easy to care for. It can grow to be up to 10 feet tall and will thrive in partly shaded environments.
It tolerates full sun but too much sun exposure and you risk leaf scorch. This compact tree prefers slightly acidic, well-drained soil and its growing season is early spring when its leaves are most vibrant. Highly sought after for their ornamental appeal, there is no doubt that Japanese Maple Trees will continue to flourish in popularity for many years to come.
---
Growzone: 5-8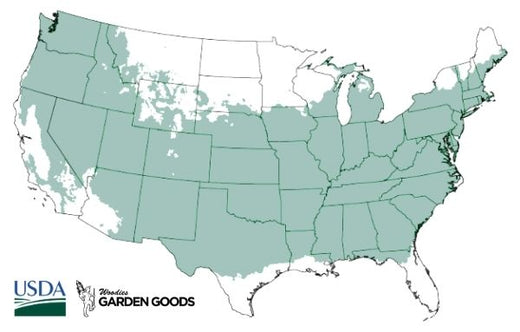 | | |
| --- | --- |
| Hardiness Zone: | 5-8 |
| Mature Height: | 6 to 10 Feet |
| Mature Width: | 8 to 10 Feet |
| Classification: | Small tree |
| Sunlight: | Full Sun to Part Shade |
| Habit: | Deciduous, Weeping |
| Flower Color: | Insignificant |
| Foliage: | Dark purplish-Red Foliage |
| Soil Condition: | Any well drained soil |
| Water Requirements: | Water well until established |
| Uses: | Extremely attractive when used as a focal point or a specimen planting, very heat tolerant |
---
How to Care for Crimson Queen Japanese Maple
Before you buy a Crimson Queen Japanese Maple, make sure to read about the recommended care instructions to keep this plant healthy and thriving.

How often do I water a Crimson Queen Japanese Maple Tree?
After backfilling and lightly compacting the 50/50 mix of existing soil and compost give the Crimson Queen Japanese Maple a good deep watering. This is not to be rushed. Most of the water you put on the plant at first will run away from the plant until the soil is soaked. A general rule of thumb is to count to 5 for every one gallon of pot size. For example, a one-gallon pot would be watered until you count to 5 a three-gallon pot would be 15 and so on. Check the plant daily for the first week or so and then every other day thereafter. Water using the counting method for the first few weeks.

What type of mulch should I use for my Crimson Queen Japanese Maple?
We highly recommend that you mulch your Crimson Queen Japanese Maple with either a ground hardwood mulch or a ground cypress mulch depending on your local availability. Any type of mulch will do but cypress or hardwood mulch will be of a higher quality and provide better nutrition overall as they breakdown. Mulching helps to keep weeds away which will compete with your new investment for water and nutrients. A 2 to 3-inch layer of mulch is sufficient but remember to take care not to cover any part of the stem of the plant with mulch. It's better to leave a one-inch gap of space between the mulch and the stem or trunk of the plant.

What type of fertilizer should I use with my Crimson Queen Japanese Maple?
We only recommend using liquid type fertilizer like Miracle-Gro® on Japanese maples during the first summer, and only to help establish the tree. Once you see good growth you can stop liquid feeding. Do not liquid feed in late fall or early spring. Liquid fertilizers encourage Japanese maples to grow instantly, and this is not recommended as early freezes in fall and late freezes in spring will cause damage or kill your tree. We recommend Espoma Tree-tone as a balanced organic fertilizer.

When is the good time to prune my Crimson Queen Japanese Maple?
Spring is generally not a good time to prune a Japanese Maple, as new growth and sap are beginning to develop. The winter is probably the best time as it is easy to see the branches and the growing structure of the tree. Summer, on the other hand, allows for a more accurate gauge of which branches need to be thinned, but it is important to be careful of the temperature. Removing thicker areas of foliage can reveal previously shaded areas and invite scalding by the sun.
---
Frequently Asked questions
Why is my Crimson Queen Japanese Maple turning green?
How fast does a crimson Queen Japanese Maple grow?
What are the proper steps to take when pruning a Crimson Japanese Maple Tree?
---
Other Products you may be interested in
---
Customer Reviews