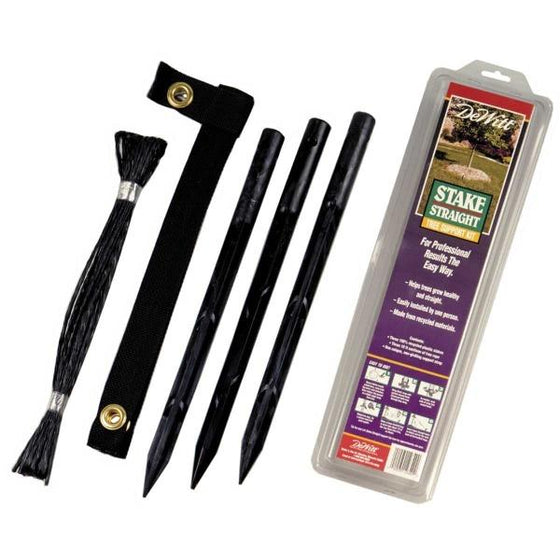 DeWitt Tree Staking Kit for Sale Online
If you are looking to grow a happy, healthy, and sturdy tree, a tree staking kit is a great place to start.
Though it may seem like a tedious task, one person can easily stake a tree with DeWitt Tree Stake Kits. DeWitt Tree Stake Kits are a professional choice for commercial and residential applications. Kits include unique (1) non-girdling support straps which can be removed and reused, (3) 10 feet sections of tree rope, and (3) 15-inch plastic stakes. Instructions are Included.
Newly-planted trees typically need support to stabilize their root ball and keep the stem straight, we have tried many variations of "kits" sold on the market today and have found the 15-inch Dewitt tree staking kit to be superior by leaps and bounds.
This kit includes everything you need to stake trees up to 2.5 inches in diameter. It uses a unique non-girdling strap that was designed to allow the bark underneath to dry out after the rain. This should give you the peace of mind that you are doing everything you can to help your newly planted tree every chance to "Survive and Thrive".
---
Frequently Asked questions
Why should I stake my Newly Planted tree?
---
Other Products you may be interested in
---
Customer Reviews