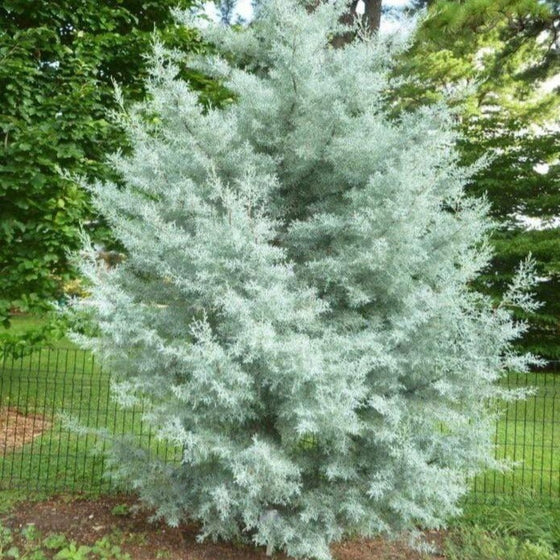 Images Depict Mature Plants
Blue Ice Cypress for Sale Online
Blue Ice Arizona Cypress (cupressus arizonica blue ice) is a conical tree best known for its cool-toned icy blue foliage. The silvery blue color of this tree truly pops in the landscape, especially in the dead of winter when the landscape is sparse of life and color.
This fast-growing conifer sports spirally arranged sprays of scale-like, aromatic, glaucous blue-gray leaves/needles with white resin. Beyond the breathtaking silver-blue foliage, the Blue Ice Cypress is loved for its trouble-free nature. Specifically, the Blue Ice is known to handle hot and dry conditions like no other!
Ideal conditions for this hardy evergreen tree include full sun and well-drained soils. Even if you don't have the ideal conditions, there is no need to fear. The Blue Ice Cypress grows in situations where many other plants fail to survive!
The Icy Arizona Cypress is perfect for various planting projects, including hedging, specimen plantings, and mixed yard borders!
---
Growzone: 6-10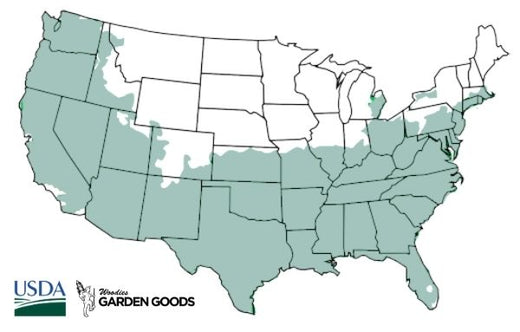 | | |
| --- | --- |
| Hardiness Zone: | 6-10 |
| Mature Height: | 25 to 30 Feet |
| Mature Width: | 12 to 15Feet |
| Sunlight: | Full sun |
| Foliage Color: | Blue-gray |
| Growth Form: | Upright pyramidal |
| Soil: | Very tolerant of most soil types and salt spray |
---
How to Care for Blue Ice Cypress
Before you buy a Blue Ice Cypress, make sure to read about the recommended care instructions to keep this plant healthy and thriving.

How do I plant a Blue Ice Cypress Tree?
Never plant Blue Ice Cypress deeper than in the original pot. Planting too deep can cause rotting of the stem and death to the tree. Blue Ice Arizona Cypress is very drought tolerant. However, they grow very slow without adequate water during the initial establishment period. Staking young trees is recommended to minimize the stress on the stem from winds blowing the tree. When tying trees to stakes, remember the tree will continue to grow. Loosely tie the tree with several twist ties to allow for growth. Check trees every three months and loosen as needed. If this is not done, the twist tie will grow into the tree and cause injury. The one question that comes up often when talking to customers is, "when is the best time to plant."? For the most part, container trees can be planted year-round, provided the ground isn't frozen.

What type of fertilizer is best for Cypress Tree?
When planting your Blue Ice Cypress Trees, use Bio-tone starter fertilizer by Espoma. Simply mix the recommended amount of Bio-tone into the backfill soil and water generously when backfilled. Bio-tone® Starter Plus has shown promise in stimulating the growth of the new roots, which means a quicker establishment for your plant. After establishment and during the following years, we recommend Holly-tone used at the recommended rates. It is organic and slow-release, which will feed your trees the proper amount of nutrients over a period rather than all at once, which can burn the root tips and have the opposite effect of slowing down plant growth. It will help maintain the acid level in the soil that Blue Ice Arizona Cypress needs to thrive.

How often do I water my Blue Ice Trees?
To help your Blue Ice Arizona Cypress tree's roots establish, apply 2-3 gallons of water for each inch of the trunk in diameter several times a week. Do not add water if the root ball is saturated. Follow this schedule for three-six months, depending on the USDA Zone you live in. Once established, apply 1 gallon a week to the rootball. You can discontinue irrigation once the deciduous trees in your area have dropped their leaves. Try to moisten the soil 2-3 feet deep each time you water it. Depending on the soil condition, you may need more or less water. Clay, for instance, is more difficult to saturate and requires adding the water more slowly, while sandy soil absorbs water quickly. Keep this in mind when watering your newly planted tree. It is best to water your tree with a soaker hose, not a sprinkler.

What is the best soil for Blue Ice Cypress Trees?
Blue Ice Arizona Cypress grows well in a wide range of soils, ranging from sand to pure red clay. When planting in very sandy soils adding organic matter is always recommended to improve the soil's ability to hold water and nutrients. When planting in hard clay soils, it's best to dig the hole several feet wider than the root system and fill it with soft loam soil to give the young Blue Ice Arizona Cypress tree a faster, more aggressive root system. Blue Ice Arizona Cypress prefers well-drained soils but will tolerate wet soils for short periods. Blue Ice Arizona Cypress should never be in soils that are excessively wet for long periods. Since Blue Ice Arizona Cypress has a shallow root system, weeds and grass growing around the tree will cause the tree to grow much slower until established. Mulching will improve your growth threefold. Mulch not only stops weeds and grass, but it will also hold soil moisture and maintain a lower, more even soil temperature, stimulating more aggressive root growth.
---
Frequently Asked questions
How do you shear Blue Ice Arizona Cypress Trees into a hedge?
Are their any insect issues with Blue Ice Cypress Trees?
What is the History of My Blue Ice Cypress?
---
Other Products you may be interested in
---
Customer Reviews