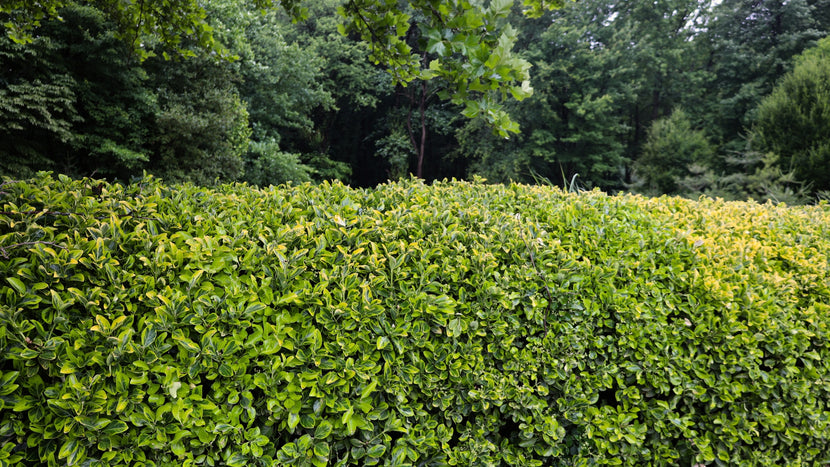 How To Create a Privacy Hedge with Shrubs
Are you lacking privacy around your landscape? Skip the unattractive fences and expensive stone walls, and opt for an all-natural evergreen privacy hedge!
Hedges are perfect for blocking unattractive views and creating a privacy barrier between your yard and your neighbors'. From your classic leafy evergreens to vibrant bloomers and berry producers, there are so many shrub options you can utilize to transform your outdoor space!
Also referenced as 'Living Walls,' hedges planted in mass can surround a property on all sides to create an oasis. Because there are so many options out there, we thought we'd make it easier on you by sharing some basic information about creating a privacy hedge! In addition to this helpful info, we've compiled a list of our top choices for the best shrubs to use.
Selecting Shrubs for your Privacy Hedge
With so many shrubs out there, it can be difficult to select the right ones for your landscape. The best place to begin is to determine your USDA-certified hardiness zone! You can utilize our Find Your Grow Zone tool to determine this information quickly and easily.
Once you've determined your grow zones, you can move on to selecting whether you want evergreen shrubs or deciduous shrubs to line your property. Both evergreen and deciduous shrubs can be used to create privacy hedges and they each have their own benefits and drawbacks.
Evergreen shrubs are great for reducing noise, increasing privacy, and screening a home all year long. The vibrant foliage keeps its green hues throughout the seasons and makes for a fun pop of color in even the dullest of months! Evergreens also require little to no maintenance and are often quick growers.
Deciduous shrubs have attractive flowers and can be quite the focal point. It's like combining the beauty of a flowering shrub with perennial flower plantings. They offer a wider variety of landscaping elements, including spring flowers or fall colors; however, they do not provide a year-round screen as Evergreens do.
Choosing a Location for Your Privacy Hedge
After determining what type and style of shrubs you want, the next step is to figure out spacing. If you have a large amount of space available you may consider making a double or triple row of hedges for maximum coverage.
If planting your shrubs near a foundation, sidewalk, or driveway, it is important that you account for a shrub's size at maturity. Larger shrubs naturally have longer root systems, so in addition to above-ground space, it is essential that you account for root growth space as well.
We recommend measuring your space and evaluating different shrubs' mature widths. Doing your due diligence before planting will certainly help you in the long run.
The Best Fast-Growing Shrubs for Creating a Privacy Hedge
There is a multitude of shrub options available for crafting a privacy hedge in the landscape. We've compiled a list of our favorite fast-growing shrubs fit for making a living wall of privacy in your landscape.
Cherry Laurel Shrubs For Modern Flare
Cherry Laurel Shrubs are our best-selling privacy shrub and for good reason! Offering up shiny evergreen foliage year-round, in addition to their compact growth and hardiness to the elements, there is just so much to love about Cherry Laurels.
Skip Cherry Laurel shrubs are extremely dense growers that reach a mature height between 6 and 10 feet. These broad-leaved evergreen shrubs easily tolerate poor soil conditions and work seamlessly in just about any landscape!
Otto Luyken Cherry Laurel grows shorter than other cherry laurels but produces fragrant white flowers and shiny black fruit which birds and butterflies adore. The ornamental dark green foliage makes the Ottos one of the best low-growing privacy hedges.
Plant Wavy Leaf Privet For A Lustrous Statement
Wavy Leaf Privet, botanically referenced as Ligustrum japonicum 'Recurvifolium,' is the ideal privacy hedge shrub. This fast-growing evergreen shrub will get up to 8-10 ft tall and 5-7ft wide. The shrub is praised for its lustrous green leaves, in addition to its small fragrant white flowers.
In addition to the beauty these shrubs provide to a landscape, they are loved for their low-maintenance care regimen and impressive tolerance to drought. Ideal care for the Wavy Leaf Privet includes full sun to part shade and light pruning in the spring.
Blue Princess Holly For Winter Interest
The Blue Princess Holly has deep green hardy foliage along with vibrant red berries. The magnificent privacy shrub provides you with an attractive fast-growing evergreen shrub option, that local wildlife can also enjoy!
Hollies are low maintenance and don't require much pruning except if you want to curtail growth. Their natural pyramid shape is beautiful. Full sun with slightly acidic soil is what they desire. Hollies can be grown as small trees and can reach heights of up to 15 feet tall providing max-levels of privacy for your home!
Silver King Euonymus For A Fast-Growing Hedge
The Silver King Euonymus is a great shrub for a more formal-looking hedge. This hardy evergreen responds well to trimming and can be shaped to fit whatever space or design you have and even works as a topiary or in containers.
Euonymus are known to be fast growers reaching a mature 5-6 ft in height and 3 to 3.5 ft in width. The Silver King Euonymus also adds an element of interest to a landscape with its gorgeous variegated foliage.
Red Tip Photinia For Vibrant Excellence
As a popular, fast-growing evergreen shrub that is often used as a fence row or hedge, the Red Tip Photinia brings bold color and unmatched beauty to a landscape. Its leaves start red and have small white flowers in the spring that produce red fruits that often last into the winter.
Be sure to provide well-drained soil and full sun. Photinia also tolerates part shade. Prune in the winter to thin and again in spring after red growth begins to fade in order to encourage additional growth.
Gold Dust Aucuba For Winter Interest
Last but certainly not least on our list of privacy screen shrubs is the Gold Dust Aucuba. The Gold Dust Aucuba sports bright green foliage speckled with gold year-round.
In addition to the colorful foliage, you can look forward to neon red berries on the shrub in winter that provide a fun pop of color when there normally is none in the winter 'scape. Plant a hedge of this unique winter interest plant and watch your landscape glow throughout the seasons!
Shop Privacy Shrubs Online
No matter your landscape style and design goals, here at Garden Goods Direct, we pride ourselves on having everything you need to bring your landscape dreams to life. Have your privacy shrubs along with all of your planting essentials at the click of a button!