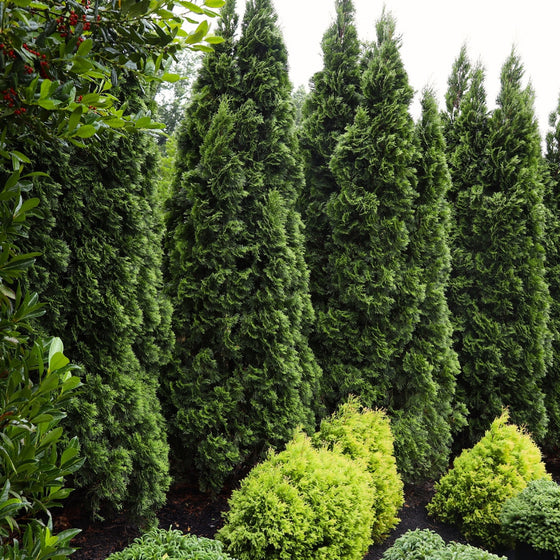 Images Depict Mature Plants
Emerald Green Arborvitae for Sale Online
Emerald Green Arborvitae (Thuja occidentalis 'Smaragd' or Thuja 'Emerald Green') are fast-growing evergreen trees that are perfect for a privacy screen, noise buffer, and windbreak. This is North America's most widely used privacy screening tree due to its narrow pyramidal growth habit, fast growth rate, and year-round interest.
True to its name, the Emerald Green Arborvitae's vibrant green foliage is soft and velvety to the touch and holds its color exceptionally well throughout winter. Reaching a maximum height of 15 feet tall allows it to be used in even small urban gardens. The tight branching structure holds up to snow and ice without breaking, and the trees are very cold hardy. 
---
Growzone: 3-7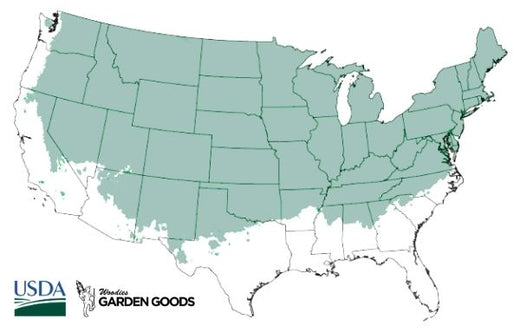 | | |
| --- | --- |
| Hardiness Zone: | 3-7 |
| Mature Height: | 12 to 15 feet |
| Mature Width: | 4 to 5 feet |
| Sunlight: | Full sun |
| Foliage Color: | Glossy bright green |
| Growth Form: | Dense upright and conical |
| Soil Conditions: | Grow best in average, medium moisture, well-drained soils. Will not tolerate extremely dry conditions. |
| Water Requirements: | Well-drained soil |
---
How to Care for Emerald Green Arborvitae
Once you buy an Emerald Green Arborvitae, make sure to read about the care instructions that are required and recommended to keep this plant healthy and thriving.

How to plant Emerald Green Arborvitae trees?
Dig a hole twice the size of the root ball, then center the tree within the hole. It should only be as deep as the original pot. Then, backfill the hole with nutrient-rich soil, and water deeply. Typically, a double staggered row planted 6 feet apart is best when you want to plant a buffer or privacy screen. For quick privacy, plant 3 to 4 feet apart.

How do I fertilize Emerald Green Arborvitae?
Emerald Green Arborvitaes are resilient trees that will thrive on their own; however, good fertilizer can promote thicker, healthier foliage. After planting, we recommend applying a slow-release fertilizer, such as Espoma Holly-Tone. Slow-release fertilizers also provide additional acid to the soil, which allows Arborvitae to thrive. If your soil is already acidic enough, adding nutrient-rich organic matter or compost will help support new growth and keep the plant healthy.

How to water Emerald Green Arborvitae trees?
It is best to water your Thuja Emerald Green thoroughly when it is first planted. Water every other day for the first two weeks, then about every three days for the first 3 to 6 months, depending on your climate. After 6 months, your area's natural rainfall and water table should be sufficient to sustain a more mature Emerald Arborvitae. Still water mature trees in the event of extreme heat or drought.

How to mulch Emerald Green Arborvitae trees?
Mulching helps keep weeds away which compete with your new investment for water and nutrients. A 2 to 3-inch layer of mulch is sufficient, but remember to take care not to cover any part of the stem of the plant with mulch. Leave a one-inch gap of space between the mulch and the stem or trunk of the plant. Any type of mulch will do, but cypress or hardwood mulch will be of a higher quality and provide better nutrition overall as they break down.
---
Additional Information
Emerald Green Arborvitae trees were developed in Denmark, hence their botanical moniker Thuja occidentalis 'Smaragd' - Smaragd means Emerald in Danish. One can see why these are some of the most highly requested trees for home landscaping. The green is a brilliant color, almost blue green, and these handsome trees maintain that vibrant color year round.
Use this evergreen tree near patios or decks to create a private oasis. Emerald Green is one of the shorter arborvitae trees, usually reaching 10 to 12 feet tall in height. It's ideal for use as a hedge, screen, specimen tree, topiary, or even container planting. It is pest and disease resistant and drought tolerant once established. They can be planted in many more ways than simply as privacy trees. Thuja occidentalis 'Emerald Green' also make great foundation plants, or they can frame the front of a large home.
Arborvitae trees are known for their ease of care. These evergreens tolerate a variety of soil types, including heavy clay soils. Planting in well-drained soil is ideal. They have a fibrous root system so there is no need to worry when planting them near foundations or sidewalks. This cold-hardy and durable evergreen tree prefers partial to full sun, slightly moist soil, and requires minimal care. Emerald Green Arborvitae can tolerate both heat and humidity as well. They can grow in partial shade or even dappled shade but will develop a slightly more open habit.
---
Frequently Asked questions
How do I prune Arborvitae Emerald Green?
How fast do Emerald Green Arborvitae grow?
How do I plant an Emerald Green Arborvitae hedge?
When Is The Best Time To Plant Thuja Emerald Green?
Why is my Emerald Green Aborvitae Turning Brown?
---
---
Other Products you may be interested in
---
Customer Reviews