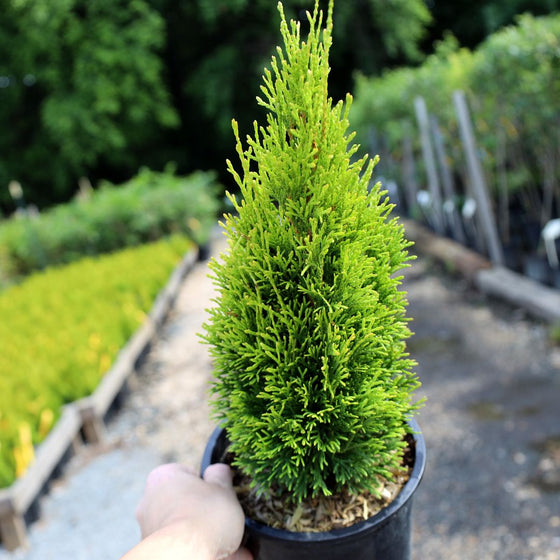 Images Depict Mature Plants
Petite Emerald Arborvitae for Sale Online
Emerald Petite Arborvitae is a new introduction for 2021 from our friends at Sidhu and sons nursery in British Columbia Canada. We are pleased to be one of the first nurseries to bring you this wonderful new evergreen tree.
With a maximum height of 6 feet tall and a maximum width of 2 feet wide, this little gem of a plant fills a niche in the landscape that no other evergreen has filled in the past; a compact evergreen that can be planted along property lines or fences to add privacy without taking up too much valuable lawn space. There is simply no better option for a small garden or landscape than Emerald Petite Arborvitae.
---
Growzone: 3-7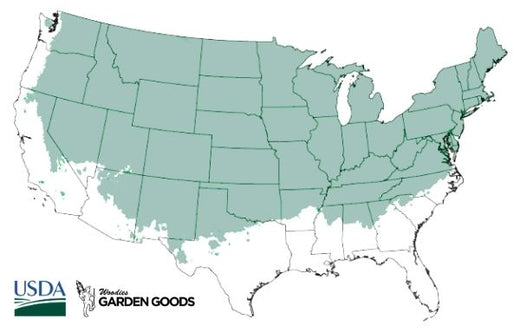 | | |
| --- | --- |
| Hardiness Zone: | 3-7 |
| Mature Height: | 5 to 6 feet |
| Mature Width: | 1 to 2 feet |
| Sunlight: | Full sun |
| Foliage Color: | Glossy bright green |
| Growth Form: | Dense upright and conical |
| Soil Conditions: | Grows best in moist, well drained soils. Acidic, alkaline, and neutral soils all OK |
| Water Requirements: | Keep hydrated in well draining soil |
---
How to Care for Emerald Petite Arborvitae
Once you buy an Emerald Petite Arborvitae, make sure to read about the care instructions that are required and recommended to keep this plant healthy and thriving.

How to plant Emerald Petite Arborvitae trees?
To plant your new Emerald Petite Arborvitae, dig a hole the same depth and twice as wide as the root ball. Position your tree so that it is not too deep, then back-fill the hole with an even mix of organic plant material and local soil. You don't want to have too much organic fertilizer in the hole, as this could retain too much water and cause root rot. Once the hole is filled, pat gently and water the soil thoroughly. Then cover with a 2 to 3 inch layer of mulch in a ring around the tree, making sure the mulch stays at least 1 inch away from the trunk. Since Emerald Petites will only grow to 2 feet wide, you can plant them slightly closer together than you would other arborvitae.

How do I fertilize Emerald Petite Arborvitae Trees?
When first planting your new tree, amending the soil with a nutrient dense soil starter is always a good idea, so that the roots have everything they need when first getting established. We recommend Espoma Biotone Starter Plus, since it will introduce rich mycorrhizae fungi and healthy bacteria to the soil. After planting, a fertilizer balanced for trees can be administered intermittently throughout the year to promote healthy growth and vibrant foliage.

How to water Emerald Petite Arborvitae trees?
When you first plant your new Emerald Petite Arborvitae, make sure to give the ground a good, thorough soaking. Emerald Green and Emerald Petite Arborvitaes like to be in moist, well hydrated soil with plenty of drainage. Check your plant daily for the first week, then every other day for the first month or so, and then every few days after that until it is well established. A good way to make sure you are watering the correct amount is to use the 5-count rule: for ever gallon size you count to 5 as you water. A 1 gallon pot would be watered for count of 5, a 2 gallon pot a count of 10, a 3 gallon pot a count of 15, and so forth.

How to mulch Emerald Petite Arborvitae trees?
It is wise to mulch the ground around your Emerald Petite Arborvitae, in order to regulate the temperature of the soil around the roots and to prevent any weeds from stealing resources from your young tree. Clear the area above the roots, and lay a 2 to 3 inch layer of hardwood wood shavings or cypress mulch around the tree in the shape of a donut. The donut ring shape will ensure that no mulch is directly up against the trunk, which should always have an inch or two of space away from mulch for healthy growth.
---
Additional Information
We are so grateful that our friends at Sidhu and sons nursery in British Columbia Canada have develloped the Emerald Petite Arborvitae new for 2021. It's an honor to be one of the first nurseries in America to sell this unique gem of a specimen tree.
Emerald petite offers all of the sought-after attributes of the Emerald Green arborvitae in a smaller package. For many years urban gardeners have dreamed of a compact evergreen that can be planted along property lines or fences to add privacy without taking up too much valuable lawn space. The new Emerald Petite Cedar is unsurpassed in how perfectly it will fit into smaller gardens and landscapes.
Emerald Petite Dwarf Arborvitae reaches a mature size of 6 feet tall and only 2 feet wide. Its dense foliage will add privacy to your outdoor living spaces without overpowering the area. It requires no pruning to maintain its upright shape and the bright green foliage acts as an excellent backdrop for planting smaller shrubs. Emerald petite arborvitae pairs well with smaller to midsized flowering shrubs. The root system is fibrous and won't outcompete other plants for water and nutrients.
We recommend planting shrubs with colorful foliage and branches in front of emerald petite to add depth and dimension in the garden. Bright gold's and reds will pop in front of the green foliage and in the winter months the branches of red twig dogwoods or the bright red berries of dwarf wintergreen hollies will stand out and add color to the garden during the dark winter months. Because the dense evergreen foliage reaches all the way to the ground Petite Emerald is perfect to use a a living privacy fence and can also be used to block breezes from your patio or sitting area. Petite emerald arborvitae also makes an excellent centerpiece in patio planters and entryways. The dense foliage is able to withstand snow loads so no worries about splitting or spreading during snowy periods.
Arborvitae Emerald Petite is a member of the Thuja occidentalis family also known as white cedar or American Arborvitae. Its native Range stretches from eastern Canada to much of the northern United States including the northeast. Being native to these areas means that this dwarf arborvitae is well-suited to grown just about anywhere in the United States. It is virtually disease and pest free which is an added bonus for the inexperienced gardener. Deer find the thuja occidentalis family very tasty so this plant is not recommended for areas where grazing deer can be a problem.
Emerald Petite Cedar is hardy to zone 3 in the north so theres no worries as far as hardiness is concerned. It can be planted in the full sun and shows no sign of burning. It does prefer moist but well drained soil and is not fussy about being in acidic soil or alkaline soils. When properly planted these trees can be expected to live for many years with little to no fuss.
---
Frequently Asked questions
How do I prune Arborvitae Emerald Petite?
How fast do Emerald Petite Arborvitae grow?
What are Emerald Petite Arborvitae best used for?
What is the difference between an Emerald Green Arborvitae and an Emerald Petite Arborvitae?
---
Other Products you may be interested in
---
Customer Reviews