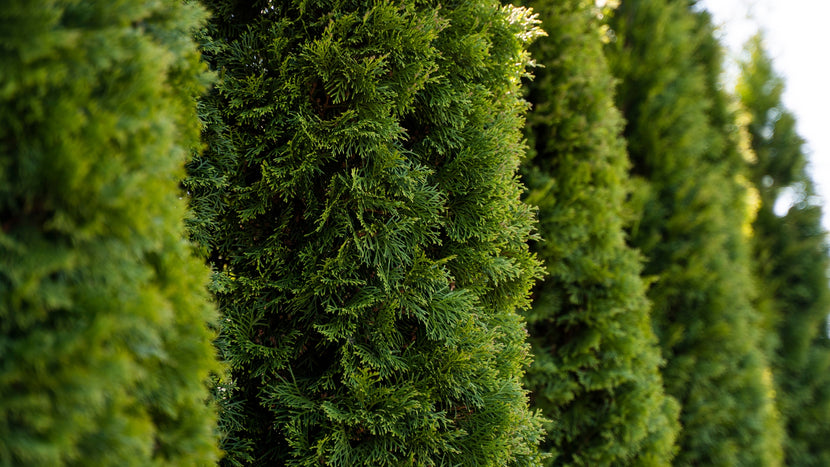 The Best Way to Create Privacy in Your Yard
Your home is your castle. But not every home is set on acres of land and separated from the closest neighbors by a moat. For the rest of us, we must take the necessary steps to get the privacy we crave in our yards.
Fencing is always an option but maybe you don't like the look of traditional fencing or perhaps you don't like the idea of forking over the money to buy one. If you are in search of a different way to add a buffer between you and your neighbors, there are some easy creative ways to add privacy to your yard with trees and shrubs.
Keep reading to learn about some great backyard privacy ideas that are budget friendly and work to keep the prying eyes of outsiders at bay. Skip the basic picket fence that does little to block neighbors' views, and consider these creative screening ideas!
Add a 'Living Fence' of Evergreen Trees
Installing a living privacy screen of evergreen trees is often the most efficient and aesthetically pleasing way to screen out the world around you. Beyond bringing appealing year-round color to a yard, choosing to plant for privacy is also one of the most cost-efficient options for creating your own private oasis. Not to mention, planting trees is an investment in your property's value!
Some of the most popular privacy trees are Leyland Cypress, Green Giant Arborvitae, Emerald Green Arborvitae, White Pine, and Spruce trees. These trees will get very large and will need ample space to account for their future growth, so it is important to plan your spacing accordingly.
The growth rates of privacy trees are often a factor to consider when planning out your living fence. So many customers want their buffer to grow fast to provide instant privacy, and while nothing is immediate, Leyland Cypress and Green Giant Arborvitae are both very fast-growing trees and this is the main reason they are among the most popular privacy trees or buffer trees.
Create a Privacy Hedge with Shrubs
If you're looking to create an evergreen barrier that's not quite as tall as a wall of trees, utilizing evergreen shrubs is also a great option!
Whether you're looking to set boundaries, or you just want to add some structure and year-round beauty to your yard, evergreen shrubs will get the job done.
Shrubs can be added to create a hedge around a patio as well as serve as a privacy fence line. Our favorite privacy hedge shrubs include Red Tipped Photinia, Euonymus, Barberry, and Boxwood. These shrubs can also be planted in pots and placed as a screen directly on a patio for a mobile version of your hedge.
Instill a Grassy Privacy Screen With Ornamental Grasses
If you are looking for a more subtle and natural way to instill privacy on your property, ornamental grasses are a great option!
Ornamental grasses grow tall and full very quickly and the cascades of grassy foliage bring unmatched beauty to a landscape. Some of our favorite grass options for privacy include Maiden Grass, Fountain Grass, and Porcupine Grass.
The texture and natural elegance of ornamental grasses will take your property to the next level, while also giving you the much-needed privacy from neighbors that you've been seeking.
Use Garden Pots and Trellises as a Mobile Buffer for Your Yard
Tall plants in Garden pots can be used in a smaller yard where a buffer of evergreens might not be easily accomplished. Depending on where you live and the season, you can add palm trees in the summer, grasses in the fall, and evergreens in the winter to keep a beautiful green backdrop throughout the year. Bamboo trees make a great buffer in garden pots.
In addition to garden pots, a unique way to create privacy and beauty at the same time is through utilizing trellises and climbing plants! By creating a vertical garden with a climbing wall of vines and blooms, you can create a whimsical and enchanting look while also promoting seclusion and peace.
Shop Garden Goods Direct For Your Privacy Needs
No matter your style and preference for landscape design, we have everything you need to create the private landscape of your dreams! And we make the process so simple by delivering your plants directly to your front door.
Shop online today or check out our blogs for more inspiration on garden ideas and designing your outdoor space!