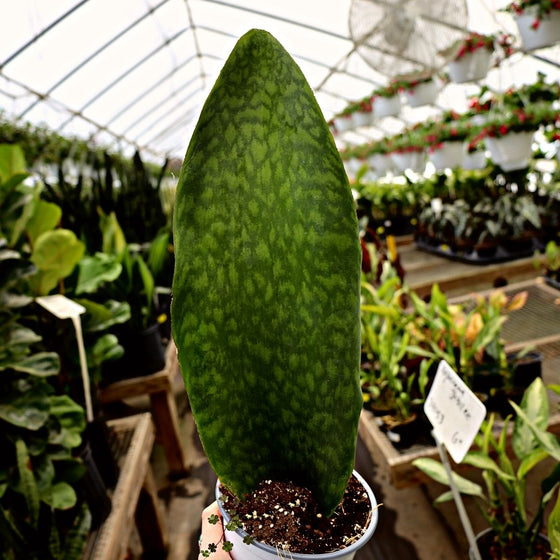 Images Depicted Range in Maturity & Container Size
Pots Not Included Unless Otherwise Stated
Whale Fin Snake Plants for Sale Online
The Whale Fin or Shark Fin Snake Plant is a rare variation of your typical Sansevieria with a unique twist on the plant's shape and style. Gaining its name from its peculiar shape, the plant's dark green foliage resembles that of a sea creature's large fin.
In addition to its unique stature and visual appeal, this plant is also enjoyed for its extremely low-maintenance care regimen. These plants are drought-tolerant and will grow in just about any conditions, including low and fluorescent light. 
Botanically referred to as 'Sansevieria Masoniana,' the Whale Fins' ideal plant care guide would include bright light and a well-draining potting mix. This trending indoor plant easily tolerates low light or full sun conditions, along with prolonged periods of drought.
Essentially, this plant is hard to kill, making it a great choice for newbies and connoisseurs. For optimal growth, we also recommend fertilizing in the plants' growing seasons of spring and summer. To avoid root rot issues, it's best to err on the side of caution and plant in a pot with drainage holes. Additionally, an airy, drained soil mixture is essential for this plant.
The Whale Fin Sansevieria looks excellent in corners or areas with limited space requirements, as they are nearly vertical with little to no horizontal branches or growth. These beloved plants are known for their sharp architectural shape and have the added benefit of cleaning the air indoors. Snake Plants are NASA Approved, removing benzene, formaldehyde, trichloroethylene, xylene, and toluene from the air inside homes.
---
Growzone: 9-11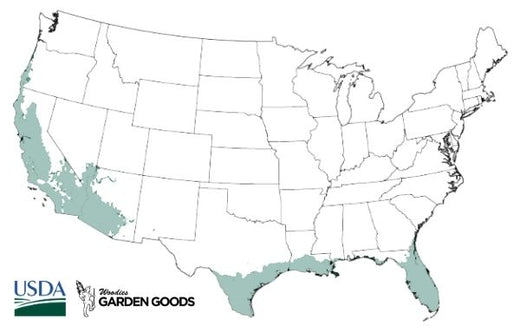 | | |
| --- | --- |
| Hardiness Zone: | 9-11 |
| Mature Height: | 18 Inches |
| Mature Width: | 10 to 18 Inches |
| Classification: | Interesting foliage |
| Sunlight: | Fluorescent light to bright, indirect |
| Habit: | Upright |
| Foliage: | Mottled |
| Soil Condition: | Well draining, cactus or succulent mix (part sand) |
| Water Requirement: | Likes to go dry |
| Uses: | Does well in narrow spaces and in low light conditions |
---
How to Care for Whale Fin Snake Plant
Be sure to read our planting instructions to ensure a healthy and happy plant for years to come!

What type of soil is best for Shark Fin Snake Plants?
We recommend using a succulent/cactus potting mix with proper drainage for the Shark Fin Snake Plant. Feel free to add 1 part pumice to the plant's soil for optimal draining. When potting, use a terra cotta pot or any pot with a drainage hole. This plant doesn't like to sit in water.

How do I fertilize Shark Fin Snake Plants?
Any all purpose, nutrient-rich fertilizer will work for Shark Fin Snake Plants. Jack's Classic Indoor plant food works well as a powder, quick release fertilizer that is mixed with water to quickly provide nutrients to a plant that has been in a container for an extended time. Osmocote Indoor/Outdoor is an option as a granular, slow release fertilizer that can be applied while potting and planting.

What type of light is required for Shark Fin Snake Plants?
Shark Fin Snake Plants thrive in the lowest light conditions indoors, and can thrive with just fluorescent light. They can handle some bright, indirect light too, but too much light will cause browning. East and West facing windows are great places for this plant to live. If you live in an area with bright sun, be sure to use a curtain to filter the direct sunlight.

How often should I water Shark Fin Snake Plants?
Shark Fin Snake Plants are drought tolerant and prefer its soil to dry out before watering. We recommend watering your Shark Fin plant once a month, or sooner depending on the light. It does not like to stay or sit in water. Plants that are watered too often will not survive. If unsure, do not water. Shark Fin Snake Plants can go weeks before being watered again.
---
---
Other Products you may be interested in
---
Customer Reviews