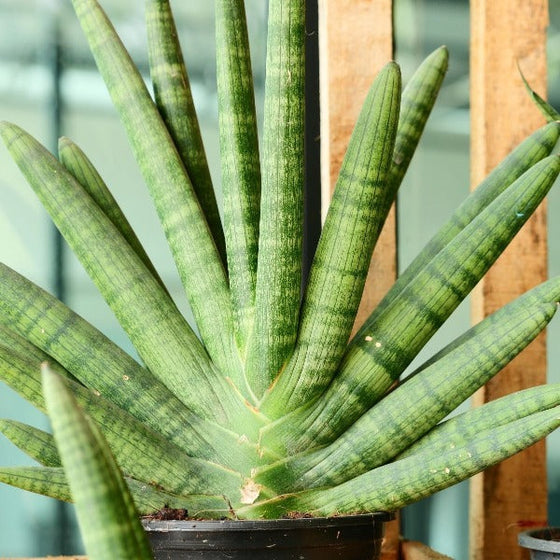 Images Depicted Range in Maturity & Container Size
Pots Not Included Unless Otherwise Stated
Starfish Snake Plants for Sale Online
Starfish Snake Plants will be the star of your home décor. The lowlight-tolerant plants grow for even the most inexperienced of plant parents and tolerate a wide variety of conditions. 
Scientifically referred to as Sansevieria Cylindrica Boncel, Starfish plants have silvery dark green foliage that flares out in a fan shape and reaches a maximum of about 10 inches. The unique houseplant somewhat resembles a starfish and slowly produces new cylindrical leaves and tiny white flowers.
Pups, or new "Starfish Arms" appear in the same container as the mother plant and are sent out on runners underground. These new plants can be dug up and divided to yield new small pups that can be planted in their own container. Like most all Sansevieria, these cylindrical snake plants are very slow-growing and handle extremely low light conditions.
Caring for Starfish Sansevieria Plants is extremely low maintenance making these the ideal indoor plant for those with a busy lifestyle. Ideal growing conditions for these funky flowering plants includes bright indirect light, a well draining potting mix and minimal moisture. The hardy indoor plants are very adaptable to most conditions and can also handle conditions of full sun or no sun.
The semi-succulent plants are highly drought tolerant. For this reason we recommend you allow your plant's soil to completely dry out in between waterings. Typically you should find yourself watering the plant every three to four weeks. Additionally, your Starfish plant would benefit from the application of a liquid fertilizer once a month in the growing seasons of spring and summer.
These plants do extremely well in offices or buildings where they can live away from windows or natural light. They are frequently found in atriums indoors as they pair well with many different plants and add a vertical element to mixed containers. The popular houseplant can be moved outdoors during the summer months and into the part sun as long as they are transitioned to handle higher levels of light.
---
Growzone: 9-11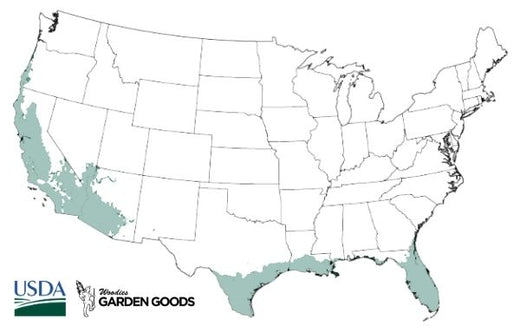 | | |
| --- | --- |
| Hardiness Zone: | 9-11 |
| Mature Height: | 8 to 10 Inches |
| Mature Width: | 10 to 12 Inches |
| Classification: | Colorful foliage |
| Sunlight: | Fluorescent light to bright, indirect |
| Habit: | Upright |
| Flower Color: | Does not flower often |
| Foliage: | Silvery green |
| Soil Condition: | Well draining, cactus or succulent mix (part sand) |
| Water Requirement: | Likes to go dry between waterings |
| Uses: | Does well in narrow spaces and in low light conditions |
---
---
Other Products you may be interested in
---
Customer Reviews