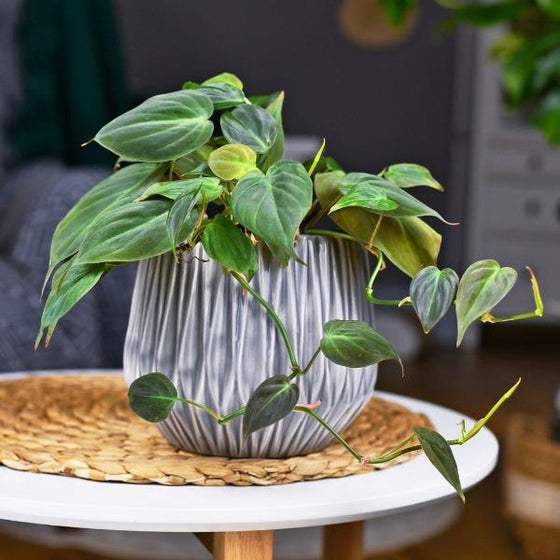 Images Depicted Range in Maturity & Container Size
Pots Not Included Unless Otherwise Stated
Philodendron micans Plants for Sale Online
Philodendron Micans, also called Velvet Leaf Philodendron, are vining members of the philodendron family. Often admired for their soft, color-changing foliage, these plants easily give a whimsical and enchanting feel to any space.
The beautiful heart-shaped leaves are velvety to the touch and offer a range of colors. The plant's new growth often emerges as light coral and pink tones. Mature Philodendron Micans plants gain a deeper color to their foliage sporting leaves of bronze and deep green. Adolescent plants also begin with small leaves, but as your Philodendron ages, the new leaves will grow in size.
Philodendron Micans care includes placing the plant in medium to bright indirect light conditions. Additionally, the plant prefers an airy, well-draining potting soil and watering when the top inch of soil dries out. Feed your plant with a well-balanced fertilizer in the active growing seasons of spring and summer for optimal growth.
Additionally, to protect your plant from root rot, we recommend planting your Micans in a pot with drainage holes. Outside of root rot, you will always want to be observant of houseplant pests like spider mites that can kill your plant. As a preventative measure, all organic neem oil is a great product to deter houseplant pests.
The Velvet Leaf Philodendron has a growth habit similar to its cousin, the Heartleaf Philodendron. These fast-growing plants can climb or trail depending on your preference. We recommend adding a trellis or moss pole for more height and vertical growth! Or if you prefer a cascading look, plant your Micans in a hanging basket and let your plant trail down.
No matter how you decide to grow your velvet philodendron, we guarantee you won't be disappointed in the natural beauty it adds to a room.
---
Growzone: 9-11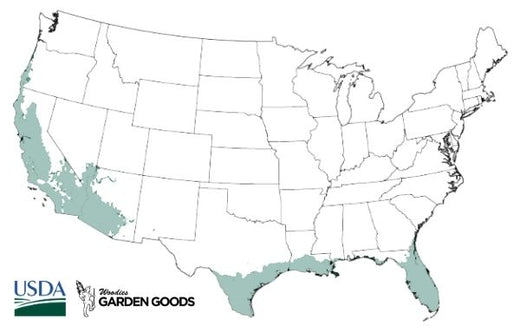 | | |
| --- | --- |
| Hardiness Zone: | 9-11 |
| Mature Height: | 8 to 24 Inches |
| Mature Width | 12 Inches |
| Classification: | Tropical |
| Sunlight: | Fluorescent light to bright, indirect |
| Habit: | Weeping or climbing with support |
| Flower Color: | Does not flower |
| Foliage: | Green with a reddish hue |
| Soil Condition: | Well draining, cactus or succulent mix (part sand) |
| Water Requirements: | Likes to go dry between waterings |
| Uses: | Does well indoors and in low light conditions |
---
How to Care for Philodendron Micans
Be sure to read our planting instructions to ensure a healthy and happy plant for years to come!

What is the best light for Philodendron Micans?
Philodendron Micans thrive in low light conditions indoors. They can handle some bright, indirect light as well, but too much direct sunlight will burn the leaves. An east facing window is best for velvet leaf philodendron followed by a western facing window. Western exposures can get hot during the spring and summer and a sheer curtain can be enough to block the direct sun.

How do I water Philodendron Micans?
Philodendron Micans Plants does like to dry out between waterings. It does not like to stay or sit in water as this can cause root rot. Plants that are watered too often will not survive. If unsure, do not water. generally a good indication of Philodendron micans needing water is when the top inch of soil feels dry. Stick your finger in the soil for the best test. When choosing a pot for planting you velvet leaf philodendron be sure to choose one with a drainage hole at the bottom. This will allow excess water to drain.

What is the best soil for Philodendron Micans?
Philodendron Micans prefers a very well draining soil, and prefer to have dry conditions. Regular potting mix with sand or perlite mixed in works well for philodendron plants potted in containers, otherwise a cactus potting mix will work. The cactus potting mix already has perlite and other ingredients to encourage good drainage.

How do I fertilize Philodendron Micans Plants?
Any all purpose, fertilizer will work for Philodendron Micans. Indoor houseplant fertilizers fall into two groups: water soluble, and granular, slow release fertilizers. Jack's Classic Indoor plant food works well as a powder fertilizer that is mixed with water to quickly provide nutrients to a plant that has been in a container for an extended time.
---
Frequently Asked questions
Are Philodendron Micans fast-growing?
---
---
Other Products you may be interested in
---
Customer Reviews