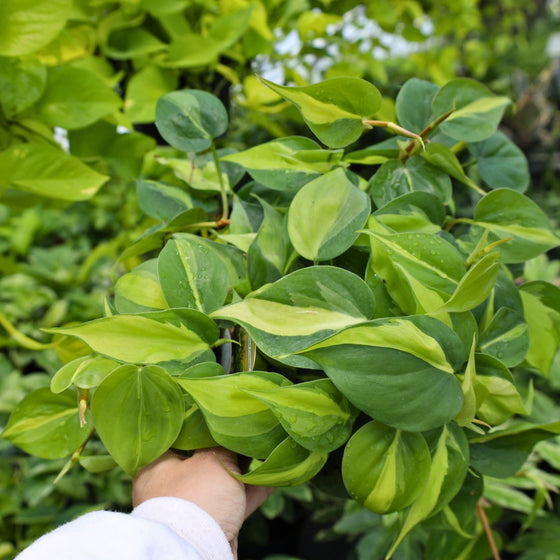 Images Depicted Range in Maturity & Container Size
Pots Not Included Unless Otherwise Stated
Philodendron Brasil (Heart Leaf Philodendron) for Sale Online
The Philodendron Brasil is a popular houseplant with variegated heart-shaped foliage in tones of forest and lime greens. The tropical plant's bold colors, multi-color leaves, and trailing tendencies work to give a unique flair to your indoor décor.
As a hybrid of the Heartleaf Philodendron, the Brasil is similarly very easy to grow and will tolerate a wide range of conditions.
Your Philodendron plant care regimen includes bright indirect lighting conditions and watering when the top inches of the soil dry out. Yellowing leaves may indicate your plant is suffering from too much water.
This indoor plant will also benefit from a well-balanced liquid fertilizer in the growing seasons of spring and summer. You should stop fertilization and repotting efforts in the winter months, as such will stress out your plant.
We recommend planting your Philodendron in an airy, well-draining potting mix. Adding organic perlite to your potting soil can help to aerate the soil. Additionally, we recommend planting your Philodendron in a container with drainage holes. This will help to protect your plant from the dreaded root rot.
Philodendron Hederaceum Brasil is a beautiful vining plant. To give your plant the optimal growth conditions, consider using a coconut coir moss pole to support plant growth. Noted benefits of moss poles include larger leaves, faster growth, and an all-around better-supported plant.
---
Growzone: 9-11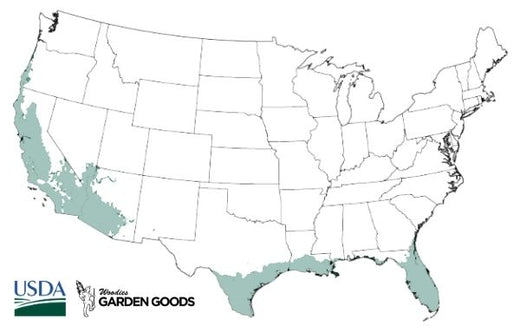 | | |
| --- | --- |
| Hardiness Zone: | 9-11 |
| Mature Height: | 8 to 12 Inches |
| Mature Width: | 24 Inches |
| Classification: | Tropical |
| Sunlight: | Fluorescent light to bright, indirect |
| Habit: | Weeping |
| Flower Color: | Does not flower often |
| Foliage: | Green with yellow |
| Soil Condition: | Well draining, cactus or succulent mix (part sand) |
| Water Requirements: | Likes to go dry |
| Uses: | Does well indoors and in low light conditions |
---
How to Care for Philodendron Brasil
Be sure to read our planting instructions to ensure a healthy and happy plant for years to come!

What is the best light for Philodendron Brasil Plants?
Philodendron Brasil Plants thrive in the low light conditions indoors, living with just fluorescent light. They can handle some bright, indirect light too, but too much light will cause browning.

How often should I water Philodendron Brasil Plants?
Philodendron Brasil Plants does like to dry out between watering. It does not like to stay wet or sit in water. Plants that are watered too often will not survive. If unsure, do not water. Philodendron can go weeks before being watered again.

How do I fertilize Philodendron Brasil Plants?
Any all purpose, foliage fertilizer will work for Philodendron Brasil Plants. Indoor houseplant fertilizers fall into two groups: water soluble, liquid quick release, and granular, slow release fertilizers. Jack's Classic Indoor plant food works well as a powder, quick release fertilizer that is mixed with water to quickly provide nutrients to a plant that has been in a container for an extended time.

What is the best soil for Philodendron Brasil Plants?
Philodendron Brasil Plants prefer a very well draining soil, and prefer to have dry conditions. Regular potting mix with sand mixed in works well for plants potted in containers, otherwise a cactus potting mix would work. The cactus potting mix already has sand and other ingredients to encourage drainage.
---
Frequently Asked questions
Is Philodendron Brasil a low light plant?
Is Philodendron Brasil rare?
---
---
Other Products you may be interested in
---
Customer Reviews