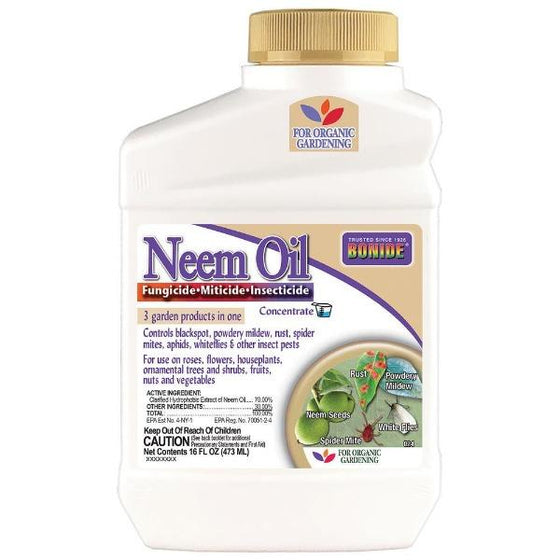 Bonide Neem Oil Concentrate for Sale Online
Bonide Neem Oil Kills aphids, mites, whiteflies, adelgids, scale, and more. Safe for use on herbs, vegetables, Ornamental shrubs, fruits, and nuts. Can be applied up to the day of harvest.
Derived from the seed of the Neem tree, Bonide Neem Oil is our go-to product for an all-purpose insecticide, miticide, and fungicide that is USDA organic-certified.
Bonide Neem Oil is a great product that can be used year-round.
This product is safe for use on roses, flowers, vegetables, herbs, spices, houseplants, trees, turf, and shrubs. Neem Oil is ideal to kill insects in every stage including eggs, larvae, and adults.
About Your Bonide Neem Oil
Combination of insecticidal soap plus neem
Kills aphids, mites, whiteflies, adelgids, scale, and more
Use on herbs, vegetables, shrubs, fruits, and nuts
Apply up to the day of harvest
Use as a spray to kill an extensive array of insects

---
Customer Reviews