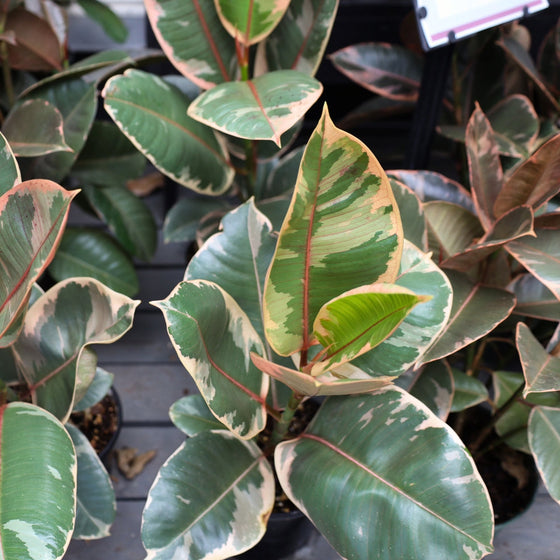 Images Depicted Range in Maturity & Container Size
Pots Not Included Unless Otherwise Stated
Ficus Tineke for Sale Online
Ficus Tineke is a bright light houseplant that sports striking variegation with faint splashes of cream and pink. Also given the nickname 'Rubber Tree,' the Ficus elastica Tineke grows in tree-like form and can grow to heights reaching 5 to 6 feet tall indoors.
These bright variegated rubber trees enjoy bright indirect light growing conditions and can handle heavier levels of sun than most house plants. With a semi-succulent foliage, the hardy indoor plants are also extremely drought tolerant.
We recommend allowing your Ficus to dry out in between each watering to avoid issues of root rot. Additionally, your rubber plant would appreciate a well draining potting mix and a planter with drainage holes. To ensure your plant will grow to its peak ability, apply a slow release fertilizer in the growing seasons of spring and summer.
The Ficus Tineke could be the houseplant for you if you want a tough plant that can reach impressive heights within a few years. With the white and pink variegated leaves and a low maintenance care regimen, the Tineke is the prefect plant to add some vertical flare and color to a space.
---
Growzone: 9-11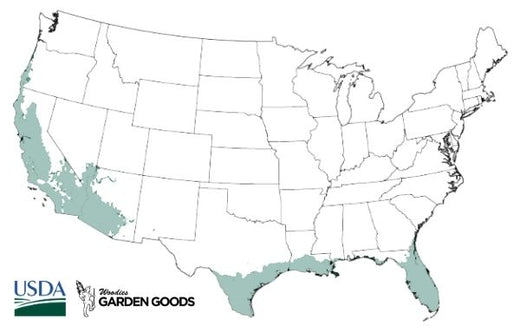 | | |
| --- | --- |
| Mature Height: | 7 to 8 feet |
| Mature Width: | 2 to 3 feet |
| Light: | Low light to bright indirect |
| Water: | Likes to dry out between watering |
---
How to Care for Ficus Tineke
Be sure to read our planting instructions to ensure a healthy and happy plant for years to come!

Do I Need To Prune My Ficus Tineke?
When you use your Ficus as a houseplant, it will rarely need any pruning. However, Mature plants may require some pruning to maintain their shape and remove any dead or damaged limbs or leaves. If you want your plant to look bushy, we recommend that you prune the primary branches to your desired shape. If you want it to look more like a slender tree, do not prune. You can carefully prune away dead or damaged parts of your plant whenever. Just be careful not to prune off any new growth; this could damage your plant if you are not careful.

What Kind of Soil Does My Ficus Tineke Prefer?
Your Ficus Tineke prefers well-draining soil conditions. This houseplant also loves to be in soils that include heavy clay, sand, or are loamy. Your plant prefers to be in soil of any pH- either acidic or alkaline. It is crucial to plant your houseplant in a container with excellent drainage holes. The drainage holes will help prevent any chance of root rot disease from excess moisture being trapped in your plant's container.

How Should I Fertilize My Ficus Tineke?
We recommend feeding your Ficus Tineke once a month throughout their growing seasons of spring and summer. You can use any general houseplant fertilizer to feed this houseplant. However, only fertilize your Ficus this fertilizer at half strength. If you feed it the entire recommended dosage, your plant could suffer from root burn because of too many chemicals and nutrients at once. Be sure to not fertilize your Ficus during its growth dormancy period in the winter.

What Sunlight Should I Give My Ficus Tineke?
Ficus Tineke likes bright light but not direct sunlight. A sunny spot near a window shielded by a sheer curtain is often perfect for any rubber plants. You can tell if your rubber plant needs more light if it becomes leggy or stretched out, its leaves lose their luster, or the lower leaves begin to fall off.
---
---
Other Products you may be interested in
---
Customer Reviews