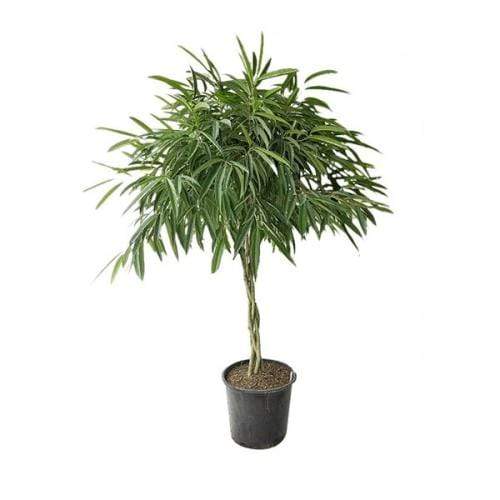 Images Depicted Range in Maturity & Container Size
Pots Not Included Unless Otherwise Stated
Ficus Alii Trees for Sale Online
Ficus Alii trees are known as elegant houseplants that produce solid green foliage. We offer both Ficus Alii trees and Braided Ficus Alii trees. The only difference between the two is that Braided Ficus Alii trees have a braided trunk pattern. These houseplants are air purifying and clean the air of toxins like formaldehyde. Because of their foliage growth and shape, Ficus Alii trees add a tropical touch to any indoor space.
Ficus Alii trees tolerate a range of conditions: bright light to full sun and very dry to wet soil - great for plant newbies. Ficus Alii tends to lose their leaves if light, watering, or their location changes. No need to panic. This process is perfectly normal as the tree adjusts to its new situation, and new leaves will quickly form. For optimal growth, place your Ficus Alii facing a western or southern window in your home.
Native to Asia, this tree grows slightly slower than the Ficus Benjamina but is more tolerant and forgiving than other Ficus trees. The name 'Alii' is Hawaiian for King. Give your indoor space the royal treatment with this beautiful ornamental houseplant tree.
---
Growzone: 9-11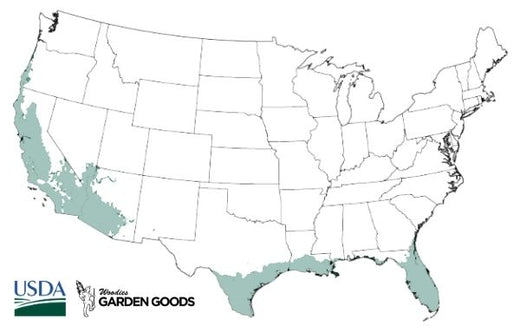 | | |
| --- | --- |
| Hardiness Zone: | 9-11 |
| Mature Height: | 6 to 8 Feet |
| Mature Width: | 3 to 4 Feet |
| Classification: | Green foliage |
| Sunlight: | Bright, direct sun to full sun (if outdoors) |
| Habit: | Tree form, clear braided trunk, singular stem trunk |
| Flower Color: | Does not flower indoors |
| Foliage: | Green, glossy |
| Soil Condition: | Any well-drained soil |
| Water Require: | Likes to dry out between watering |
| Uses: | Indoor tree that cleans the air |
---
How to Care for Ficus Alii
Be sure to read our planting instructions to ensure a healthy and happy plant for years to come!

What are the light requirements of Ficus Alii Trees?
Ficus Alii Trees trees require bright, direct light for several hours a day. A western or southern window will provide enough light to keep these trees happy. Outdoors, the trees can handle full sun to part shade. Any change in light conditions will cause weeping figs to drop their leaves and regrow new leaves.

What type of fertilizer should I use for my Ficus Alii Trees?
We recommend that you use any all-purpose foliage fertilizer for your Ficus Alii Trees. Any type of fertilizer that offers nutrients that help your tree transition to a new environment would be helpful. Remember that these trees can drop their leaves when they first enter a new environment. However, they will quickly produce new and healthy foliage as they adjust. Keep in mind that weeping figs like a regular fertilizing schedule to encourage new growth and branching. Be sure to avoid fertilizing your tree during its growth dormancy period in the winter. Fertilizing during this time could cause more harm than good.

When should I water my Ficus Alii Trees?
Ficus Alii trees prefer to dry out occasionally between watering. Do not allow their soil to stay wet or their roots to sit in water for too long. However, do not let their soil dry out for too long either. Trees that are too dry will drop their leaves, and trees that are too wet will have leaves that turn yellow and drop. Ideally, try to keep your Ficus Alii tree's soil moist a majority of the time.

What is the best soil for a Ficus Alii Tree?
Ficus Alii trees prefer to have well-draining, moist soil conditions. You can use a regular potting mix and add sand to prevent your tree's roots from staying too wet. If you are planting outdoors, avoid any area of your garden with clay soil. Doing so will help you avoid bad draining soil conditions caused by clay.
---
General questions
How do we measure heights on House Plants?
---
---
Other Products you may be interested in
---
Customer Reviews