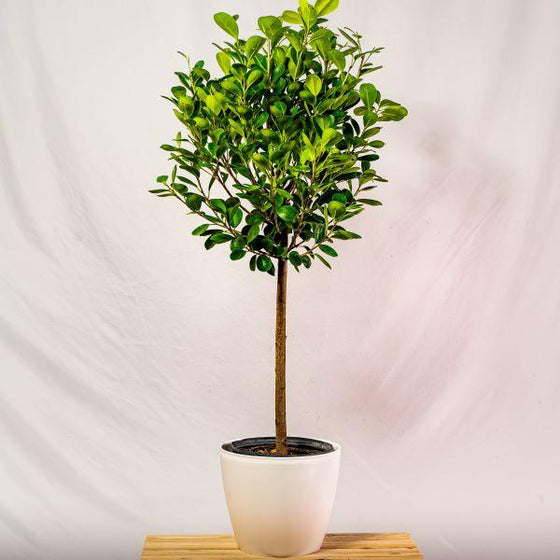 Images Depicted Range in Maturity & Container Size
Pots Not Included Unless Otherwise Stated
Ficus Moclame Trees for Sale Online
Ficus Moclame is a popular indoor houseplant! The small, round, pale green leaves bring nature right into your living room. The Ficus Moclame is easy to care for and it will tolerate direct sun and low humidity which makes it perfect for a sunny location in the home.
Not a very well-known type of fig tree, This particular ficus tree is a beautiful addition to any home. It's considered easier to grow than its cousin, the trendy Ficus Lyrata (Fiddle Leaf Fig). Also known as Indian Laurel or Ficus microcarpa.
---
Growzone: 9-11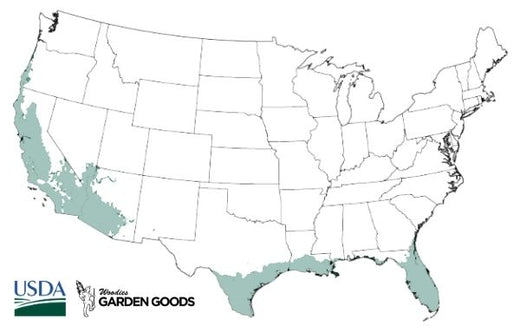 | | |
| --- | --- |
| Mature Height: | 6 to 7 Feet |
| Mature Width: | 2 to 3 Feet |
| Sunlight: | Indirect sunlight |
| Indoor Temperature: | 60 to 70 F |
| Humidity Level: | Will tolerate dry indoor conditions |
| Water Requirements: | Allow to dry out between watering |
---
How to Care for Ficus Moclame
Be sure to read our planting instructions to ensure a healthy and happy plant for years to come!

What are the water requirements of Ficus microcarpa?
Develop a watering schedule for your Ficus microcarpa moclame so the roots maintain even moisture, but are not waterlogged. Water just often enough to keep the soil slightly moist but let the top 1 inch of soil dry out between watering. Elevate pots on stones in a saucer to keep them above standing drainage water. Consistency is the key to success with a Ficus moclame. Ficus microcarpa requires soil that is moist but never soggy. Moclame Ficus Trees prefer infrequent, deep waterings over frequent but shallow sprinkles.

How should I fertilize my Ficus moclame?
Fertilize your Ficus moclame about once a month with a water soluble houseplant fertilizer such as Jack's Classic All Purpose Fertilizer. In our opinion it is best best to water monthly with the low rate as specified on the fertilizer label. This will avoid buildup of salts in the soil from over fertilization. It is best not to feed indoor plants during the winter months as the plant will not be in an active state of growth and therefore will not require as much nutrients. To put it simply avoid feeding when it is not in active growth, usually in winter. Proper fertilization of your Ficus moclame will lead to healthier and more disease resistant plants, as well as provide you with many more enjoyable years of successful indoor plant growing.

how should I prune my ficus moclame?
Your Ficus moclame will look fuller with occasional pruning to shape leggy branches, and can be shaped as desired. Pruning is fine almost any time of year, except in the winter for your Ficus Moclame. Some may develop erratic juvenile growth from time to time. If so, prune for shape and balance. Don't be afraid to completely prune off an erratic branch if it is too irregular or crossing another branch.

How much light do Ficus Moclame need?
As with many indoor plants and trees, the ideal light is bright indirect light for most plants. The delicate tropical leaves are less likely to scorch in direct heat and sun, but they get enough light while inside to grow and thrive. An example of this is in a corner or center area of a very well lit living room with lots of windows, but not right next to any window that gets a direct beam of sunlight. Ficus moclame, on the other hand, are a better candidate for those positions that will feel that direct beam of light, as they are more tolerant of direct sunlight than other indoor plants. You can use a Ficus Moclame next to a window to block the view inside if you would like. These plants would not do as well in shadier corners of your home.
---
Frequently Asked questions
How tall does a Ficus microcarpa grow?
---
General questions
How do we measure heights on House Plants?
---
---
Other Products you may be interested in
---
Customer Reviews