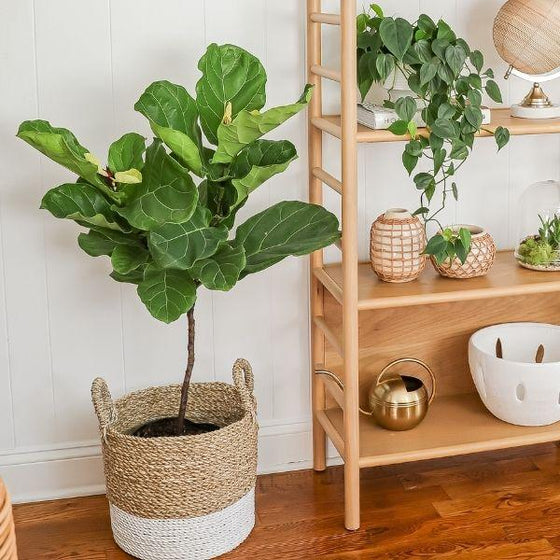 Images Depicted Range in Maturity & Container Size
Pots Not Included Unless Otherwise Stated
Fiddle Leaf Fig Tree for Sale Online
The Fiddle Leaf Fig Tree (Ficus lyrata) is simply eye candy in tree form! The New York Times recently described the Fiddle Leaf Fig Tree as having a balance of whimsy, pop, structure, and color. To have a houseplant be so popular it warrants its own New York Times article proves how popular the Fiddle Leaf Fig Tree has become.
Native to the tropical rainforests of central and western Africa, it is named for its fiddle-shaped leaves, bearing an uncanny resemblance in shape and size to a violin. This adaptable plant is easy to care for (with a little routine) and will make a statement against any interior design style you have at home.
Ficus lyrata will easily add height, color, drama, and texture to a brightly lit corner of your favorite living space. We've even seen these popular trees adorn commercial spaces and chic hotel lobbies; we don't see them becoming any less popular soon.
The Fiddle Leaf Fig Tree fits in seamlessly with almost every interior design style; it grows large and makes a statement, and it can settle into a routine and become very easy to take care of. The feeling you get when you master Fiddle Leaf Fig's care routine is gratifying.
Any well-lit room with enough ceiling clearance for these tall trees will benefit from a real Fiddle Leaf Fig tree - they're like living sculptures that also help to clean the air. You can choose Fiddle variations that are more bush-like or have smaller leaves too.
---
Growzone: 9-11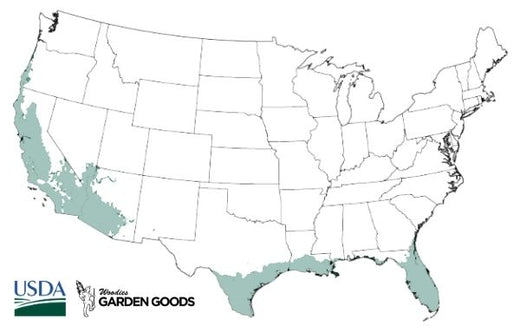 | | |
| --- | --- |
| Hardiness Zone: | 9-11 |
| Mature Height: | 6 to 8 feet indoors |
| Mature Width: | 3 to 4 feet indoors |
| Classification: | Indoor tree |
| Sunlight: | Bright indirect light |
| Habit: | Tree form, clear trunk |
| Foliage: | Green, shiny, smooth, violin-shaped |
| Soil Condition: | Balanced potting soil with good drainage, Likes to dry out between watering |
| Water needs | Allow soil to dry between waterings, keep air around leaves humid if possible |
| Uses: | Attractive plant to be featured or in the background of any room in the house |
---
How to Care for Fiddle Leaf Fig Tree
Be sure to read our planting instructions to ensure a healthy and happy plant for years to come!

How Much Light Does My Fiddle Leaf Fig Tree Require?
Fiddle leaf figs love to bask in the sun while indoors. They thrive when placed next to an east-facing window where they will receive consistent all-day sun without being scorched by the afternoon rays. It is also vital to keep them away from drafty areas. They thrive in warm and humid environments, and a drafty spot in your home could stunt their growth. Since they are sun-lovers, it is typical that your plant will start to favor the side facing the window, causing the plant to lean or even tip. To counter this, rotate your tree every few months, and it will even out on its own. Remember to dust its leaves every week or so, so it absorbs light more efficiently. They will not do well in low light or shade.

What Type of Fertilizer Should I Use for My Fiddle Leaf Fig?
Fiddle Leaf Fig Trees growing season, spring through fall, is the best time to fertilize them. We recommend fertilizing your Fiddle Leaf Fig tree once a month with high-nitrogen plant food, following label instructions. There are specific fertilizers designed for fiddle-leaf figs available on the market. It is best not to feed your tree in the winter months during their growth dormancy. Doing so could negatively affect their growth season the following year. If you use an organic potting mix with a slow-release fertilizer in the soil, you will not need to fertilize until after six months of potting.

What Type of Soil is Best for a Fiddle Leaf Fig Tree?
Fiddle Leaf Fig trees thrive best in an organic plant potting mix that is well-draining. With a thicker potting mix, feel free to add some cactus soil or sand to loosen the soil a bit. They prefer a moderate amount of moisture to their soil and can be picky with how moist or dry their potting soil gets. Too much water and your plant could suffer from root rot, or it could drop a significant amount of leaves. If its soil is too dry, it could also drop its leaves from not enough moisture in the potting mix. You can allow for the top inch of the soil to feel dry before watering your plant. Fig Trees are also sensitive to high salt levels in their soil. To prevent salt build-up, flush the soil until water comes out of the bottom of the pot at least once a month.

How Much Water Does a Fiddle Leaf Fig Tree Require?
Your Fiddle Leaf Fig's watering schedule should be thoroughly but infrequent. It is best to allow the soil to dry out occasionally between watering. Sometimes, water pours out of the container without being retained by the potting soil. Soaking the dry soil in a small dish or saucer can be a way to solve this problem. It is important not to water the tree's foliage and not over-water them. The tips of the foliage of the Fiddle Leaf Fig will start to turn brown if the plant is either too wet or too dry. If you're unsure, it is always better to let the plant go dry instead of drenching it with water. Fiddle leaf figs enjoy humid air, so a humidifier or spritzing the air around the leaves can help reduce how often you need to water slightly.
---
General questions
How do we measure heights on Houseplants?
---
---
Other Products you may be interested in
---
Customer Reviews