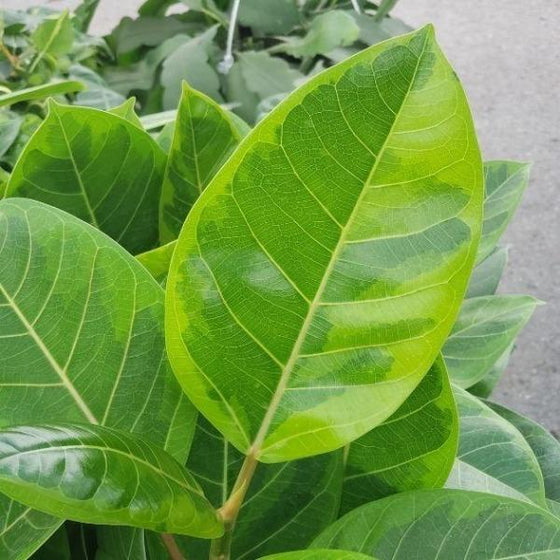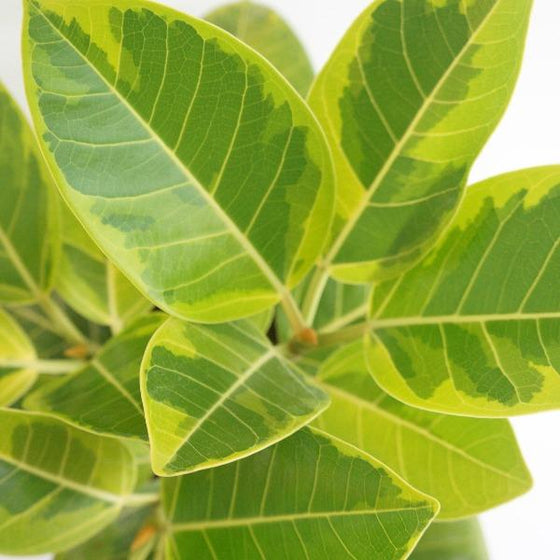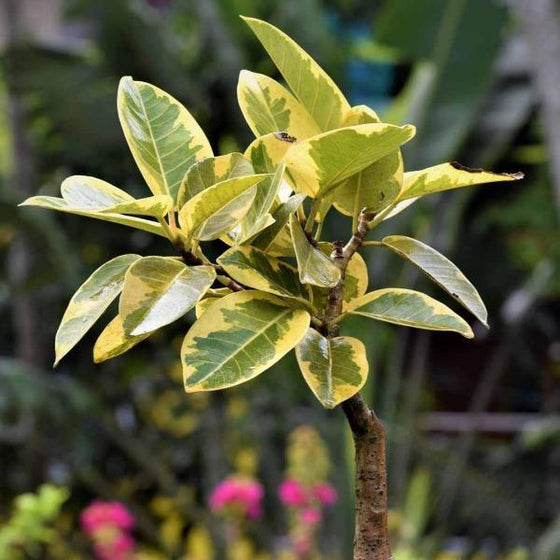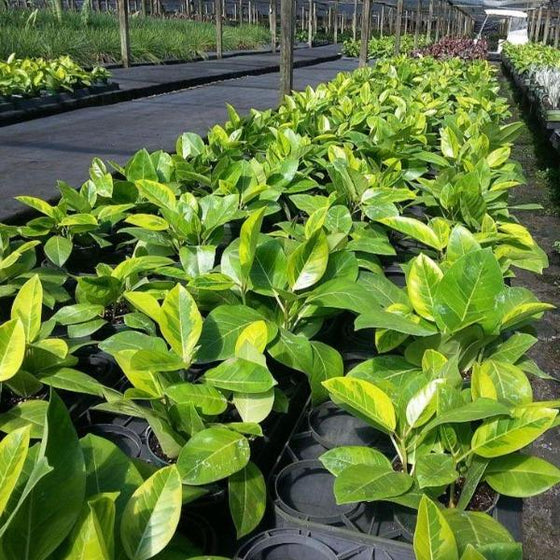 Images Depict Mature Plants
Ficus Altissima Golden Gem Plants for Sale Online
Golden Gem plants (Ficus Altissima) are known for being beautiful and lush houseplants that are closely related to the ever-so-popular Fiddle Leaf Fig. This Ficus produces stunning variegated leaves with lemon-lime green and dark green colors. This plant is an excellent air purifier and grows very well in containers. In warm regions, you can grow Golden Gem plants outdoors. This specific tree is much more forgiving than other Fiddle Leaf Figs and is quite low maintenance. You may also see this plant called a Council tree or Asian council tree.
---
| | |
| --- | --- |
| Hardiness Zone: | 9-11 |
| Mature Height: | 3 to 4 feet |
| Mature Width: | 2 to 3 feet |
| Sunlight: | Indirect sunlight. |
| Indoor Temperature: | 60 to 70 F |
| Humidity Level: | Prefers a humid environment, Mist occasionally |
| Water Requirements: | Allow to dry out between watering. |
Growzone: 9-11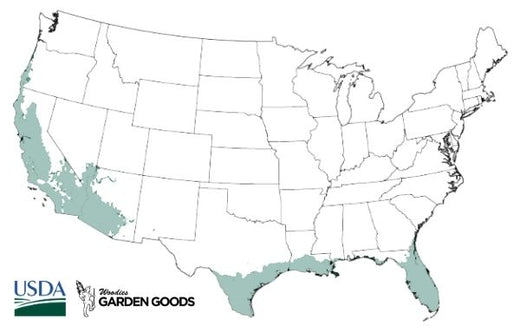 How to Care for Ficus Altissima Golden Gem
Be sure to read our planting instructions to ensure a healthy and happy plant for years to come!

How do I water a Ficus Altissima Golden Gem Plant?
When watering your Ficus tree, always check the top of the potting soil first. If the top of the soil is wet, do not water your plant. Doing so would overwater it and cause root rot disease. If the top of the soil feels dry to the touch, your plant is ready to be watered. Your houseplant loves humidity, and a great way to increase humidity is by placing your plant on a tray filled with water and pebbles. The water will naturally evaporate into the plant's container through the drainage holes and create a humid environment.

How Much Sunlight Does My Ficus Altissima Golden Gem Plant Need?
Like most Ficus trees, Asian Council tree plants thrive in bright, indirect sunlight. If you give your houseplant direct sunlight, it will cause some leaves to burn and crisp off. However, not enough light will result in your plant's colors being dull and lifeless. It is crucial to note that when you are bringing your plant home from the nursery, you should reintroduce them to bright light at a slow pace.

When Should I Fertilize My Ficus Altissima Golden Gem?
Surprisingly enough, your Ficus does not need fertilizer. However, if you want them to grow quickly, we recommend giving them some plant food. When you are fertilizing your plant, if you decide to do so, feed them at half the recommended strength with a slow-release fertilizer three times a year or a diluted liquid fertilizer once a month during their growing seasons of spring and summer. Be careful not to overfertilize your plant because overfertilizing them will burn their roots and cause irreversible damage.

What Kind of Soil Does My Ficus Altissima Golden Gem Need?
Altissima Golden Gem trees thrive perfectly in standard houseplant potting mixes. If you have a simple potting mix laying around at home, you can most definitely use this for your Ficus tree. You can also make your potting soil if you have the ingredients. You will need one part sterilized soil, one part peat moss, one part sand, perlite, or vermiculite. For example, If you use one gallon of moss, you should use one gallon of sand. Be sure your plant's potting soil is well-draining to avoid any risk of root rot.
---
Frequently Asked questions
Is Ficus Altissima an Actual Tree?
---
Other Products you may be interested in
---
Customer Reviews