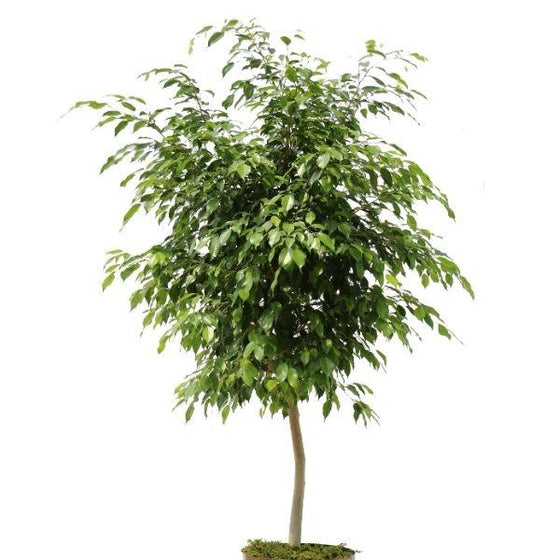 Images Depicted Range in Maturity & Container Size
Pots Not Included Unless Otherwise Stated
Ficus benjamina Trees for Sale Online
These indoor trees produce vibrant green leaves that arise from beautiful light gray trunks. We offer standard single-stem trunk trees and braided Ficus Benjamina Weeping Fig trees. These plants need bright, direct sunlight, and they prefer to dry out some between watering. Keep your Ficus Benjamina in the same spot in your home because any change in moisture, light, or location will cause the plant to drop some of its leaves to adjust.
Braided Weeping Fig Trees' full braided trunk makes it a go-to statement piece for designers. This ficus tree has no serious insect or disease problems, making it a carefree houseplant. Beyond designers, they are popular indoor tropical trees among all skill levels due to the unique look and tolerance of multiple growing conditions.
* Please note that Ficus Benjamina is prone to substantial leaf drop after the shipping process due to stress. Moisture-stressed ficus tends to drop yellow leaves, while ficus exposed to low-light stress tend to drop green leaves. Once the plant has acclimated to its new environment, the leaves will come back, and you will have a happy ficus. However, it is best to keep Ficus Benjamina in the same location because any change in moisture, light, or location will again cause the plant to drop some of its leaves to adjust.
---
Growzone: 9-11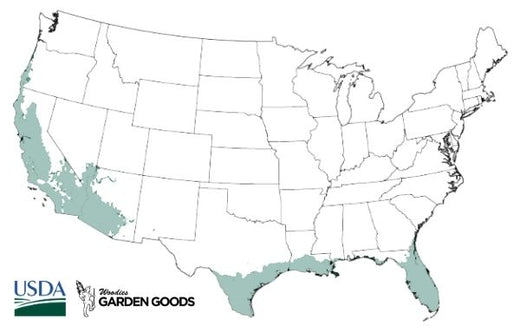 | | |
| --- | --- |
| Hardiness Zone: | 9-11 |
| Mature Height: | 10 to 15 Feet |
| Mature Width: | 3 to 4 Feet |
| Classification: | Green foliage |
| Sunlight: | Bright, direct to full sun (if outdoors) |
| Habit: | Tree form, clear trunk, braided trunk |
| Flower Color: | Does not flower indoors |
| Foliage: | Green, glossy |
| Soil Condition: | Likes to dry out occasionally |
| Water Requirements: | Likes to dry out between watering |
| Uses: | Clean-air houseplant, indoor tree |
---
How to Care for Ficus benjamina
Be sure to read our planting instructions to ensure a healthy and happy plant for years to come!

What type of light is best for a Ficus Benjamina Tree?
These indoor trees can handle various light conditions, from low light to bright, indirect sunlight. Be sure to choose the best spot in your home and leave your tree there permanently. Moving your tree around the home could cause it to drop its leaves because of an environmental change. If you choose to take your Weeping Fig tree outdoors, be ready for it to drop its leaves at first. Make sure you place it in a bright spot that receives morning light and afternoon shade. In a short time, your tree will grow new leaves and thrive outdoors while the weather allows.

How often should I water my weeping fig tree?
The Ficus Benjamina prefers to dry out some between watering, but do not let the soil completely dry out. We recommend that you water your tree every 5 to 7 days, or when the top inch of soil is dry. If you decide to place your plant outside as a patio plant, it will need a more frequent watering schedule. Yellow leaves can indicate both too much or too little watering. Some guess-and-testing may be necessary to find an optimal balance.

What is the best soil to use for Ficus benjamina?
Ficus Benjamina trees require well-draining soil conditions that remain moist. Any regular potting mix works well for any Weeping Fig tree that is in a container. You can also add a sand mixture to the potting mix to help prevent the tree's roots from staying too wet. You will also need a container with excellent drainage holes to help the excess water drain out of the pot.

How do I fertilize the Weeping Fig Ficus Benjamina?
We recommend you use an all-purpose fertilizer once a month while your tree is in its growing season. During the growing season of your houseplant, your tree will show signs of new growth; this is typically spring and summer. When your tree enters its dormancy period, do not fertilize. Over-fertilizing is much more detrimental than under-fertilizing. Its dormancy period will not require fertilizing because it is not growing and does not need nutrients.
---
General questions
How do we measure heights on House Plants?
---
---
Other Products you may be interested in
---
Customer Reviews