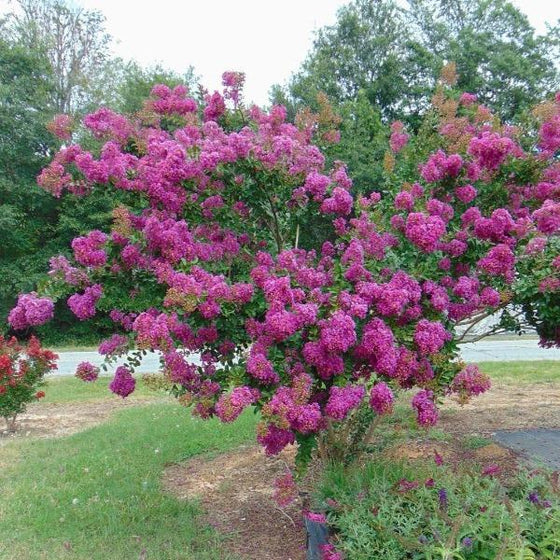 Images Depict Mature Plants
Catawba Crape Myrtle Trees for Sale Online
Purple Catawba Crape Myrtle trees are your go-to blooming tree for a vibrant violet purple in the late summer and through the fall.
These trees make for a lovely specimen tree on a sunny front lawn or paired together to frame a walkway or doorway. It grows up to only 10 or 15 feet tall at a moderate pace.
As long as the soil is well-draining and your tree has the space to grow, it is a relatively easy-going specimen tree, perfect for home landscapers at any level.
These summer flowering trees are great for creating shade over an outdoor living space. Brighten your landscape with green foliage in the spring, lush purple blooms in the summer, and an attractive exfoliating silver bark in the winter.
---
Growzone: 7-9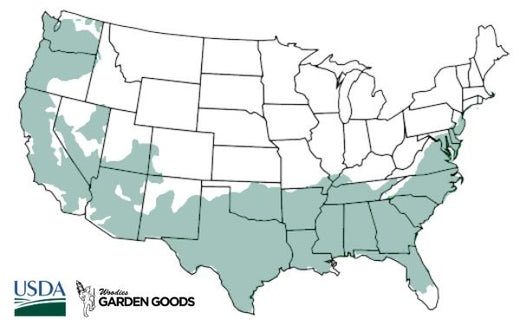 | | |
| --- | --- |
| Hardiness Zone: | 7-9 |
| Mature Height: | 10 to 15 Feet |
| Mature Width: | 10 to 12 Feet |
| Classification: | Multi-stemmed deciduous tree |
| Sunlight: | Full sun |
| Habit: | Upright, rounded canopy |
| Flower Color: | Violet purple from late summer to mid fall |
| Foliage: | Glossy green, orange-red in the fall |
| Soil Condition: | Any well drained soil |
| Water Requirements: | Water well until established |
| Uses: | Extremely attractive when used as a focal point in the mixed border, mass planting, or a specimen planting. Also try them in large containers on the patio |
---
How to Care for Catawba Crape Myrtle
Once you buy a Purple Catawba Crape Myrtle Tree, make sure to read about the care instructions that are recommended to keep this plant healthy and thriving.

How often do I water my Catawba Crape Myrtle?
Catawba Crape Myrtles are tolerant of hotter climates than some other flowering trees, but they need to be watered well while their roots are becoming established. Depending on how hot your area is and how well the local soil drains, you may need to water every other day when you first purchase your Catawba Purple Crape Myrtle. You do not want to run the risk of over-watering, as this could cause root rot or other issues. We recommend that you give your new tree a good watering when first planted, and then monitor your soil for the first few days - it is time to water again when the top 3 inches of soil are dry to the touch. After the first 6 months you should be able to back down and only water when needed.

How do I prune Purple Crepe Myrtles?
Establishing a healthy pruning routine for your Catawba Crape Myrtle is essential to a successful bloom cycle. Aside from shaping the tree to grow in the habit you desire, this is also important so that your tree spends its resources where they are most needed, and they are not spread too thin. We recommend that you prune in the spring, before your crape myrtle has exited its dormancy (since they stay dormant later than other flowering trees). Trim any dead or diseased branches, trim any stems growing from the base that you do not need (i.e. 'sucker' branches), and then trim 1/4 of the remaining branches from within the canopy. This is to help create airflow between the branches, and to prevent any overcrowded branches from rubbing on other limbs and damaging the bark. Be sure to use pruners strong enough for the branch diameter, and sterilize your pruners before you begin.

Do I need to fertilize Catawba Purple Crape Myrtle Trees?
In order to ensure lots of bright purple flowers absolutely overloading the branches of your Catawba tree, we recommend a regular feeding routine with a tree fertilizer. This way your tree does not need to worry about reserving resources and holding back from its bloom cycle. We recommend using an organic and well-balanced fertilizer every other month from April to August, such as Espoma Tree-tone. You can also use a starter fertilizer when first planting, in order to introduce nutrients and healthy elements to the soil. Espoma Bio-tone Starter Plus is a great way to help give your Catawba Crape Mytle a head start while it is establishing its root system.

How do I plant Catawba Crepe Myrtles?
First, dig a hole twice as wide and the same depth as the container your Catawba arrived in. We recommend waiting to do this until the day your tree arrives, and then actually planting your tree the next day. When your tree arrives, you can unbox it, water it and let it adjust to its new environment for a day in a shady location. Shipping shock can do a lot to a tree, so taking each step slowly is wise. When ready to plant, remove the Catawba from the nursery pot, position your tree in the hole, and backfill the hole with a 50/50 mix of native soil and organic compost. Vermiculite or topsoil will also work, but only use a mix, using it without mixing with native soil can cause too much water retention. When finished, pat the soil gently, water thoroughly, and cover the area in 2 to 3 inches of organic hardwood mulch (while leaving space for the trunks).
---
Frequently Asked questions
How fast does Catawba Crape Myrtle grow?
---
---
Other Products you may be interested in
---
Customer Reviews