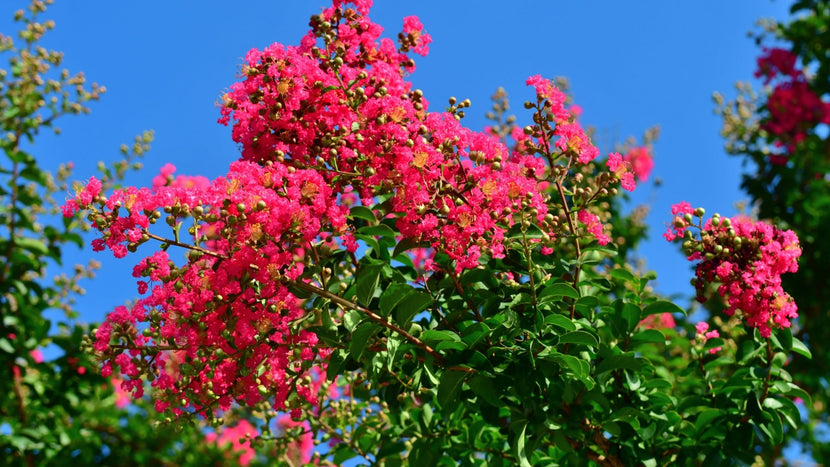 Today's Crape Myrtles
Welcome to the second installment of our series on Crape Myrtles. I thought that since our last installment talked about the history of the Crape Myrtle it seemed natural to go right to Today's Crape Myrtles.
Breeders such as Michael Dirr from the University of Georgia and the US National Arboretum are working to broaden the ornamental appeal of crape myrtles by searching for new flower colors as well as new foliage colors that will hold up throughout the year. Another exciting improvement has been dwarf varieties. In the past Crape myrtles have been multi-stemmed trees that had no use in smaller gardens, but now breeders are tapping into the market for smaller gardens as even our rural areas become even more densely populated. These are two of the bigger breeders in the plant world but they are far from the only ones currently working on Crape Myrtles. There are many small breeders that will no doubt introducing exciting new Crape myrtles to the world in the next few years.
The following are only a few of the many examples of the "new genetics" being introduced into the Crape Myrtle family that can be purchased from our online store. At Garden Goods Direct we work to stay on the cutting edge of new plants and offer you both tried and true varieties that have stood up to the test of time and the new varieties that we've trialed in our trial gardens and have received Woodie's seal of approval.
The Magic Series of Crape Myrtles
From our friends at 'First Editions' comes the Magic Series of Crape Myrtles. The Magic Series from First Editions is a selection of intermediate size crape myrtles that is highly resistant to disease, delivering shining healthy foliage and blooms all summer long. Magic Crape myrtles also hold their leaves and blooms into fall, making them a great alternative to purple-leaf plums, which are usually defoliated by August. We currently offer Crape Myrtle Coral Magic, Purple Magic, and Plum Magic and we're excited about adding more members of this series in the not so distant future.
The Ebony Series of Crape Myrtles
The Ebony series of Crape Myrtles from Garden Debut is part of a very new program which has managed to breed Crape Myrtles with very dark burgundy wine-colored foliage. The dark foliage contrasts very well with the vibrant flower colors produced by these plants. Avid gardeners will truly appreciate the uniqueness of this series of Crape Myrtles. We guarantee that when this plant blooms in your front yard people will stop to find out what it is. We offer Crape Myrtle Ebony and Ivory with its striking pure white leaves, Ebony Flame which has vibrant dark red flowers, and Ebony Glow with its blush pink flowers with more to come.
The Razzle Dazzle Series of Crape Myrtles
From Gardeners Confidence we offer members of the "Razzle Dazzle" series of Crape myrtles. This collection offers not only vivid spring foliage colors and bright summer flowers but unrivaled fall color as the leaves turn fiery red-orange, to shades of red and burgundy. We offer you Crape Myrtle Berry Dazzle and Cherry Dazzle with at least 4 more in the very near future.
The Pink Velour Series of Crape Myrtles
We'd be remiss if we didn't mention our personal favorite Crape Myrtle which you've heard me mention many times before. Crape Myrtle Pink Velour is a dwarf tree form with wine colored spring foliage that matures to dark green then to orange-red in the fall. As I walked by my personal specimen yesterday I couldn't help but notice how much the flower clusters looked just like cotton candy from a carnival.
So there you have it friends my take on the exciting present day Crape Myrtle offerings. With a present group like this, one can only imagine what the future holds for the Crape Myrtle family. It's fair to say that the future is so bright (for Crape Myrtles) that you'll have to wear shades.
Until next time,
Woodie