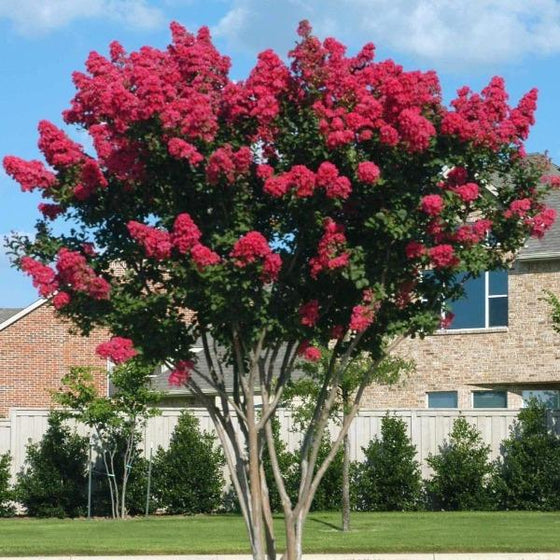 Images Depict Mature Plants
Dynamite Crape Myrtle Trees for Sale Online
Dynamite Crape Myrtle is a prolific producer of long-lasting clusters of red flowers. Each flower cluster on the Dynamite Crape Myrtle produces hundreds of red flowers. Each cluster can range from 8 to 16 inches long. The Dynamite Crape Myrtle has a very broad, upright habit. Crape Myrtle produces dark green leaves in the spring and bright green in the summer, and in the fall, they turn a vibrant orange-red. Each summer, the Dynamite Crape Myrtle exfoliates its gray-brown colored bark in thin strips to expose a smooth and light brown colored inner bark. This Crape Myrtle is adaptable to a wide range of soil types, very drought tolerant, and has good resistance to powdery mildew.
Dynamite Crape Myrtle is a deciduous, dense-branched tree native to Asia. Its key ornamental features include vibrant cherry red petaled blooms and bright green foliage. The Dynamite has a very broad and upright growing habit with small alternate leaves that are rounded at the base. During the fall, its leaves turn an orange-red color in the fall.
This sun-loving specimen plant has a medium growth rate, increasing up to 2 feet in height per year. Each summer, the Crape Myrtle exfoliates its gray-brown colored bark in thin strips to expose a smooth and light brown colored bark. The Crape Myrtle Dynamite is adaptable to a wide range of well-drained soil types, drought tolerance, and pest and disease resistance to powdery mildew.
The Crepe Myrtle's fast-growing habit is upright, wide-spreading, multi-stemmed, and can be grown as a shrub or small tree. This colorful tree is the focal point of any landscape with its showy red blooms. An additional common name is 'Lilac of the South' in reference to its popularity in southern gardens (USDA Zones 7-9).
---
Growzone: 6-10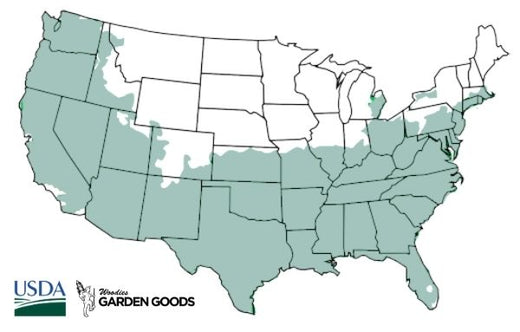 | | |
| --- | --- |
| Hardiness Zone: | 6-10 |
| Mature Height: | 15 to 18 feet |
| Mature Width: | 12 to 15 feet |
| Classification: | Tree form large (20 feet or more) |
| Sunlight: | Full sun |
| Habit: | Deciduous, densely branched, multi-stemmed habit |
| Flower Color: | Bright fiery red flowers in mid to late summer through the first frost |
| Foliage: | New growth emerges a rich glossy green, changing to a equally vibrant orange-red in the fall |
| Soil Condition: | Any well drained soil |
| Water Requirements: | Water well until established |
| Uses: | Extremely attractive when used as a focal point in the mixed border, mass planting, or a specimen planting. Also try them in large containers on the patio |
| | |
---
How to Care for Dynamite Crape Myrtle
Once you buy a Dynamite Crape Myrtle Tree, make sure to read about the care instructions that are recommended to keep this plant healthy and thriving.

How often do I water my Dynamite Crape Myrtle?
Although it is drought tolerant, the cold hardy Dynamite tree thrives when maintained in moist soil. While the tree is young, water twice a week for up to a year to allow the roots to establish. After that, reduce your watering to once a week. A good way to test if your tree is thirsty, stick your finger in the surrounding soil. If it's dry, give it some water.

How do I prune Dynamite Crepe Myrtles?
Since Crape Myrtles typically have several trunks, leave them intact, but remove suckers (extra limbs growing from beneath the ground). Dynamite Crape Myrtle plant trees bloom on new wood, so pruning should be done in late winter. When pruning a young tree, you can remove excess limbs, or branches that are dead, dying, or diseased. While pruning can be used to limit the growth of your plant, over-pruning can be harmful to the tree. It is best to shop for a Crape Myrtle that is the right size for your space, and prune sparingly.

What kind of soil is best for my Red Crape Myrtles?
While able to withstand most soil types, this Crape Myrtle prefers slightly acidic, well-drained soil. If you decide to fertilize your tree, opt for a multi-purpose, slow-release fertilizer and apply once early in the spring. A common myth is that heavy fertilizing will increase the abundance of blooms. However, giving your tree too much fertilizer will support foliage growth, at the expense of your blooms. When it comes to the Crape Myrtle, less is more.

How do I plant Dynamite Crape Myrtles?
The Dynamite prefers full sun, so it is best to pick a spot where it can receive at least 6 hours of direct sun without competition from taller trees. Dig a hole in your garden that is wider, but no deeper than the container your plant came in. After placing your tree in the hole, fill the remaining space with the soil you removed earlier, and pack down tightly. Be sure not to cover any limbs with the soil. Once this is complete, give your tree a good watering and cover with some organic mulch, such as pine bark. It is important to leave a gap between the mulch and the trunk to prevent root system rot and disease. The mulch will also help to maintain moisture and protect the roots from harsh winter months.
---
Frequently Asked questions
How fast does Dynamite Crape Myrtle grow?
Why is my crepe myrtle not blooming?
When should I plant my crepe myrtle?
---
---
Other Products you may be interested in
---
Customer Reviews