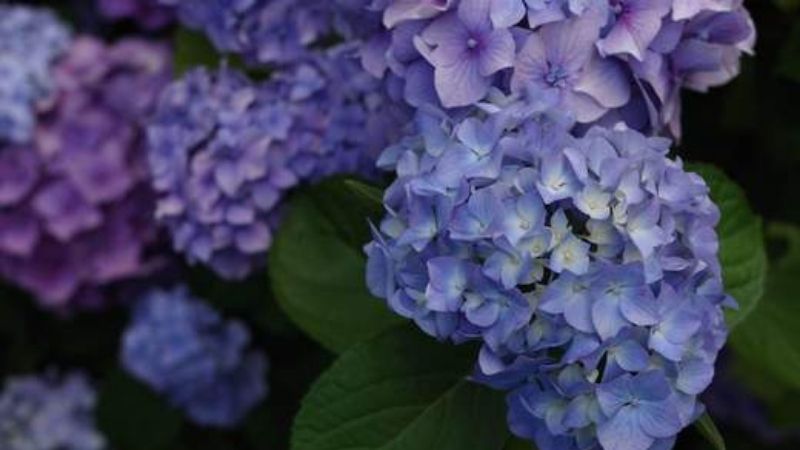 Get Award Winning Color with this Summertime Classic
One of the most rewarding and easiest ways to add color to your landscape is to incorporate hydrangeas. Hydrangeas have been used as focal points by award-winning landscape designers for years because they perform year after year and professionals know that they are one of the most reliable shrubs for color.
We've trialed many different hydrangeas in the landscape over the years and while all the varieties we've used are beautiful some have stood out from the crowd and proven themselves to be in a league of their own.
What Types of Hydrangeas Are There?
There are 5 main types of hydrangeas sold in North America including
Hydrangea paniculata
Hydrangea arborescens
Hydrangea macrophylla
Hydrangea quercifolia
Hydrangea petiolaris
Each type has its own specific set of requirements. Some are more tolerant of different conditions such as sun levels, soil moisture, and cold winter temperatures. We've assembled detailed information on each of these types below to make it easier for you to select the right hydrangea for your garden.
Panicle Hydrangeas | Hydrangea paniculata
Panicle hydrangeas are the easiest of the hydrangea family to grow and are our first choice when recommending plants to beginning gardeners. They are the most winter hardy and since they flower on new growth the flower buds won't be damaged even during the coldest of northern winters. The other benefit of flowering on new growth is the ability to prune them in the spring and without the worry of removing flower buds.
They are hardy north through Zone 3 (Find my Hardiness Zone) and prefer to be grown in part-sun to full-sun in the north. In the hotter southern states, they prefer morning sun with afternoon shade. Hydrangea paniculata flowers are very large and are held up by strong upright stems. Panicle Hydrangeas rarely "flop" even after heavy rains. Panicle hydrangea flower color is not affected by soil ph.
Favorite Hydrangea paniculata varieties:
Hydrangea Limelight: This is a special member of the family. It produces massive amounts of chartreuse blooms that fade to soft pink as the temperatures cool in the fall. If your looking for a great hydrangea to plant for cut flowers this is the one for you. The dried blooms can be removed in the late fall and included in seasonal floral arrangements and decorations. It can reach heights of up to 8 feet and about 6 to 7 feet wide so give it space. If you have a smaller garden or have limited space but really want a Limelight in your life you can grow Hydrangea Little Lime and enjoy the same qualities just in a smaller package. 
Hydrangea Vanilla Strawberry: Produces Enormous flowers that look like vanilla ice cream covered in Strawberry Syrup. The white flowers are quick to turn pink starting at the top of the flower cluster and moving down, just like syrup on a sundae.
Hydrangea Bobo: One of the problems for gardeners with smaller landscapes was that Hydrangea paniculata was often too big for the available space. Not any more welcome Bobo to the family. At only 3 Feet tall anyone can now find a space for a paniculata hydrangea. We have found this little fella easy to mix into perennial borders to create a and he has created a big impact. The flowers last a very long time so you can design around the plant and always have the white color as the center of your palette.
Other Paniculata Hydrangeas we are currently evaluating:
Hydrangea Lava Lamp series: We are really impressed with the group. They have been strong growers in our trials. Lavalamp Candelabra flowers start pure white and age to a red on a 4 to 6-foot plant. Lavalamp Flare flowers start red so there's no need to wait for the red color. This will also fit into smaller gardens because it only reaches 2-3 feet tall. Lavalamp Moonrock starts out white and turns yellow-green as they age.
We offer a large selection of Hydrangea paniculata varieties. View our entire selection of Hydrangeas. Take the time to choose the varieties that will work best for you.
Smooth Hydrangeas | Hydrangea arborescens
Hydrangea arborescens are native to the United States and are hardy in zones 4 through 9. They produce flowers that are similar in shape to mop head hydrangeas this is the more familiar hydrangea bloom most people are used to. They are easy to grow in partial sun to partial shade.
Favorite Smooth Hydrangeas:
Hydrangea Annabelle: This lady produces huge white flowers that can be up to 12 inches across. Annabelle will reach up to 5 feet tall and should be pruned in late winter or early spring as it flowers on new growth.
Hydrangea Incrediball Blush: This relatively new hydrangea produces silvery-pink colored flowers and has even added zone 3 to its hardiness.
Hydrangea Invincebelle Spirit II: This hydrangea is the sister to the above plants but the flowers on borne on stiffer stems which hold the massive pink blooms upright even after a heavy rain and can reach up to 4 feet tall.
Hydrangea macrophylla | Big Leaf Hydrangea
Sometimes called French Hydrangeas or Florist Hydrangeas. This is the hydrangea most people are familiar with. They have been grown in the American landscape for hundreds of years. They are broken down into three groups Mopheads which produce the largest flowers of the family, Lacecaps which actually have fertile flowers surrounded by sterile flowers, and the mountain hydrangea they produce much smaller flowers than their cousins but are hardier.
Mophead hydrangeas can be fussy. they prefer to grow in part shade but some varieties will take more sun provided they receive additional moisture. The flowers colors range from blue, white pink and now even red and some can be changed by altering the soil ph. (More on this in another blog). Heights range anywhere from 3 feet to 6 feet.
We have trialed many varieties and all the varieties we offer have proven themselves worthy. Since this group is so big we will introduce you to some of our newer varieties.
Hydrangea Endless Summer Crush: This hydrangea instantly climbed the ladder of our favorites. The pink flowers are darker than any other of the pink varieties which can add depth to not only your garden but fresh flower arrangements as well. It has a compact habit reaching only 2.5 to 3 feet.
Hydrangea Pistachio: Flowers open green tinged with chartreuse (pistachio colors), but as they develop the center of each flower turns scarlet red to violet red tinged with chartreuse-green and a small blue eye. Pistachio can reach up to 3 to 4 feet tall and 5 feet wide.
Hydrangea Magical Ruby Red:  showy clusters of ruby-red flowers from late spring to early fall, which is excellent for cutting. In the fall the deep green foliage turns a beautiful burgundy color. Reaches to 3.5 feet tall and 4 feet wide.
Hydrangea Double Delights Wedding Gown: fully double white blooms on strong stems. Blooms in spring through fall. Each flower cluster transforms into an exquisite, pristine white bridal bouquet as a stunning outer ring of large blooms first unfolds, followed by lovely smaller inner blooms.
Oakleaf Hydrangeas | Hydrangea Quercifolia
Oakleaf Hydrangeas are one of our native hydrangeas. They are easy to grow and prefer to be grown in the shade. Pruning should be done after they flower as they flower on the previous year's growth. Fall color on these is a maroon to red color.
Snow Queen Oakleaf Hydrangea: Large, dense, white flower clusters are held upright even after heavy rain. The dark green oak leaf-shaped foliage provides the perfect backdrop to highlight the flowers. The midsummer blooms turn a rosy-pink hue in the fall as the leaves turn deep red-bronze. Hardy in zones 5-9 it reaches 5 to 6 feet tall and as wide.
Munchkin Oakleaf Hydrangea: Munchkin Oakleaf Hydrangea Hydrangea is an exceptional cultivar that was introduced by the U.S. National Arboretum. A profusion of robust flower clusters that open white and age to pink are produced and stay upright even after heavy rain. Munchkin Oakleaf Hydrangea produces dark green, deeply lobed oak-like leaves that turn brilliant mahogany in fall. Compact and well-suited for smaller landscape.
Climbing Hydrangeas | Hydrangea petiolaris
Hydrangea petiolaris is the lone member of this family. They are actually a vine and can be used to climb fences or walls up to 5 feet tall. They are not aggressive and can be easily controlled by pruning.
Hydrangeas by Color:
We do offer quite a large selection of hydrangeas and we invite you to view them all by visiting our hydrangea collection. There is a wealth of information included with every variety and we're confident you can find the perfect hydrangea for your garden.
Until next time,
See you in the garden,
Woodie