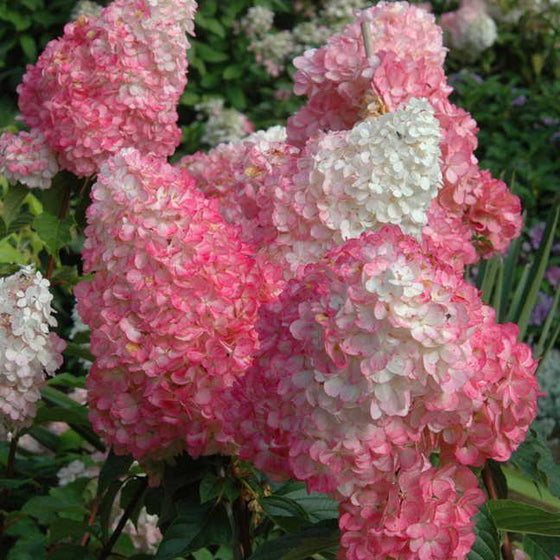 Images Depict Mature Plants
Vanilla Strawberry Hydrangea for Sale Online
Vanilla Strawberry Hydrangea is a gorgeous flowering shrub loved for its giant 10-inch blooms, year-round interest, and cold hardy nature.
The bodacious blooms appear in mid-summer as a creamy white. The color show does not stop there though. The white flowers turn pink before changing to a dark strawberry rose color!
All three color stages can be seen on Vanilla Strawberry Hydrangea at any given time, creating a multi-color effect that is almost surreal. Conical full blooms reach 8-12 inches in length and each massive bloom is made up of hundreds of individual flowers.
Ideal conditions for this panicle Hydrangea include full sun and well-drained soils. Growing in hardiness zones 4-8, this plant is ultra-cold hardy, yet also thrives in the brutal summer heat.
We would recommend mulching in early fall to protect the root ball from harsh winter effects. Additionally, pruning in late winter is a common practice for optimal blooms.
This sweet Vanilla Hydrangea hybrid is not only beautiful and easy to grow but also attracts an array of pollinators to your yard. Additionally, create elegant home décor with this flowering shrub's clippings. Plant this eye-catching shrub anywhere in your garden for instant curb appeal.
---
Growzone: 4-9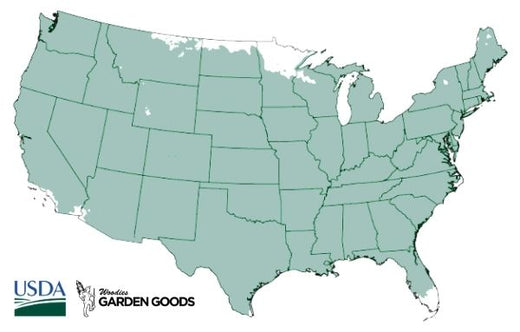 | | |
| --- | --- |
| Hardiness Zone: | 4-9 |
| Mature Height: | 6 to 8 feet |
| Mature Width: | 4 to 5 feet |
| Classification: | Broad leaved deciduous shrub, summer flowering |
| Sunlight: | Full sun to part shade |
| Habit: | Upright, densely branched |
| Flower Color: | White, turning pink to pinkish-red in late summer |
| Foliage: | Dark green |
| Pruning Season: | Late winter to early spring, promotes increased branching and more flowers |
| Soil Condition: | Any well drained soil |
| Water Requirements: | Water well until established |
| Uses: | Extremely attractive when used as a focal point in the mixed border, mass planting, or a specimen planting |
---
How to Care for First Editions® Vanilla Strawberry™ Hydrangea
Be sure to read our planting instructions to ensure a healthy and happy plant for years to come!

How do I mulch a Vanilla Strawberry Hydrangea?
We highly recommend that you mulch your Vanilla Strawberry Hydrangea with either a ground hardwood mulch or a ground cypress mulch depending on your local availability. Any type of mulch will do but cypress or hardwood mulch will be of a higher quality and provide better nutrition overall as they breakdown. Mulching helps to keep weeds away which will compete with your new investment for water and nutrients. A 2 to 3 inch layer of mulch is sufficient but remember to take care not to cover any part of the stem of the plant with mulch. It's better to leave a one inch gap of space between the mulch and the stem or trunk of the plant.

What type of fertilizer do I use for Vanilla Strawberry Hydrangeas?
Vanilla Strawberry hydrangeas grows best if they are fertilized once or twice in the summer. Although many other plants prosper with special fertilizer mixes, hydrangeas do best with a more relaxed approach. Depending on the quality of your existing soil, you may need to add a locally sourced compost or topsoil to the soil. Adding compost or topsoil to your existing soil will help the young feeder roots of your Vanilla Strawberry Hydrangea to spread through the loose, nutrient rich soil, but we do not recommend using topsoil or compost alone, as they will retain too much moisture. We recommend Bio-tone starter fertilizer.

How do I plant Vanilla Strawberry Hydrangeas?
We suggest when planting your newly purchased Vanilla Strawberry Hydrangea plants that you dig a hole twice as wide as the root system but not deeper; the most common cause of plant death after transplanting is planting the new plant to deep. A good rule is that you should still be able to see the soil the plant was grown in after back-filling the hole.

How often do I water a Vanilla Strawberry Hydrangea?
After planting the Vanilla Strawberry Hydrangea, give it a slow, deep watering. Most of the water you put on the plant at first will run away from the plant until the soil is soaked. A general rule of thumb is to count to 5 for every one gallon of pot size. For example a one gallon pot would be watered until you count to 5 a three gallon pot would be 15 and so on. Check the plant daily for the first week or so and then every other day there after. Water using the counting method for the first few weeks. Treegator Jr. can be used to help aid in this process and also provide plants with a good soaking due to the slow release of the water into the root-zone of the plant. Soaker Hoses can also be used to water when planting a long hedge.
---
Frequently Asked questions
Does Vanilla Strawberry hydrangea bloom on new wood?
---
General questions
What do the pot sizes mean?
---
---
Other Products you may be interested in
---
Customer Reviews