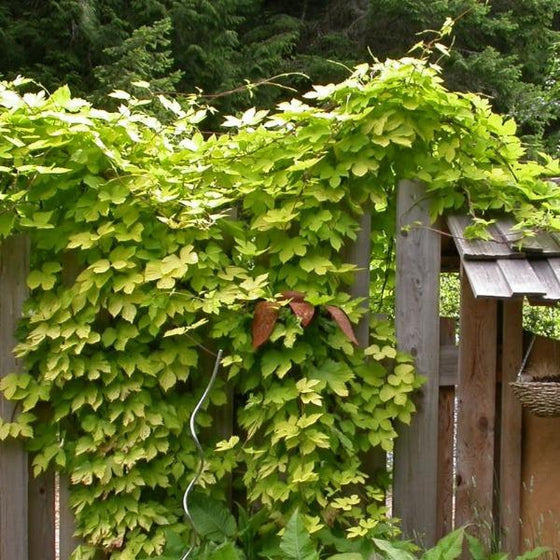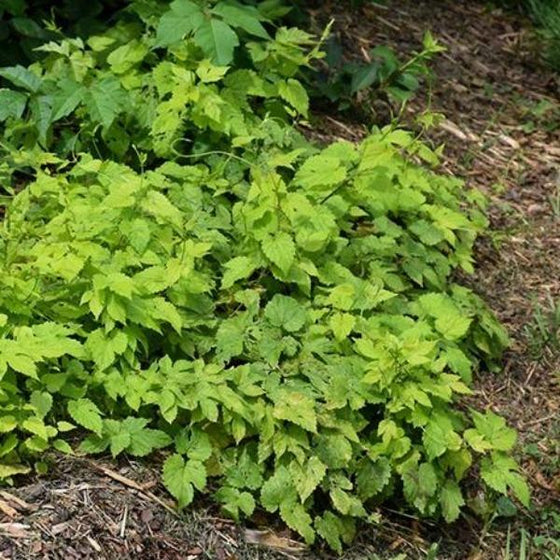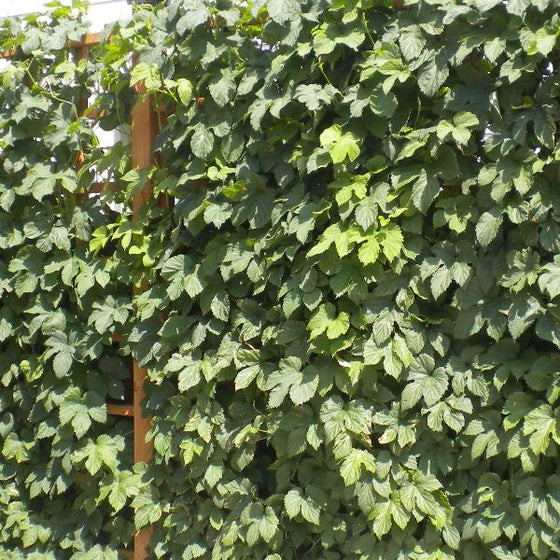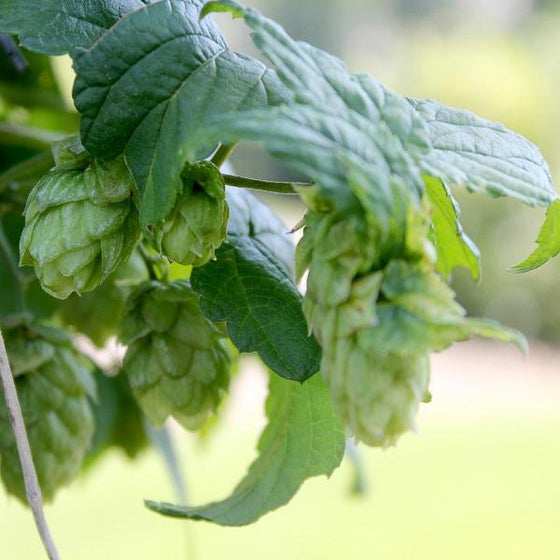 Images Depict Mature Plants
Summer Shandy Hops Vines for Sale Online
The name Summer Shandy evokes feelings of bright, tasty refreshments on a sunny summer day, and the golden foliage on this handsome vine certainly lives up to the name. Guide your Summer Shandy Hops Vines up a trellis or fence, or let the vines spill over a rock wall. Summer Shandy Hops vines are more ornamental than agricultural, but with a male and female growing near each other, you can grow your own hops fruits at home, traditionally used for flavor in beer. These are fast-growing vines, so be prepared to help care for them frequently and guide them where you want them to grow.
---
| | |
| --- | --- |
| Hardiness Zone: | 5-9 |
| Mature Width: | 4 to 6 feet, or as guided on hardscape |
| Mature Height: | 10 to 20 feet, or as guided on hardscape |
| Classification: | Herbaceous deciduous perennial vine |
| Sunlight: | Full Sun |
| Habit: | Climbing vine |
| Flower: | Inconspicuous white, fragrant, late spring and summer |
| Foliage: | Golden chartreuse, yellow, green |
| Soil Condition: | Any well drained soil |
| Water Requirements: | Water well until established, drought tolerant |
| Uses: | Extremely attractive as a spreading vine or as a climber; ornamental foliage; fruits for flavoring beer |
Growzone: 5-9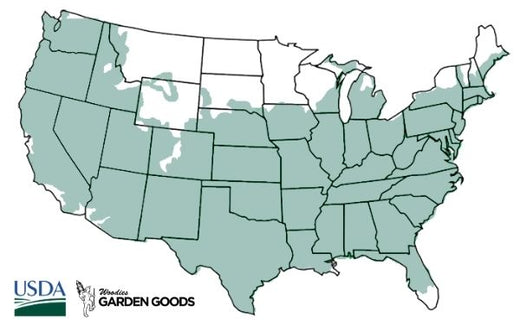 How to Care for Proven Winners® Color Choice® Summer Shandy™ Hops Vine
When you buy Summer Shandy Hops vines, we encourage you to read all of the recommended care instructions to ensure a healthy plant thriving in its new home.
How much sun do Humulus Sumner vines need?
Summer Shandy Hops Vines prefer full sun, no matter the grow zone. They can tolerate some afternoon sun in more southern areas. This makes these vines perfect for creating shade over an arbor or trellis where you need it most, since they want that direct hot sunlight. They can be drought tolerant, but keep an eye in extremely hot seasons in case they need an extra drink in the summer sun. We recommend that they get at least 6 to 8 hours of sunlight per day.

How much water do Summer Shandy Hops need?
Water your newly planted Summer Shandy Hops thoroughly when first planting, so that the new roots get a good solid soak. Then, monitor the area to see how quickly or slowly the soil drains. Hops enjoy well draining soil and do not like to sit in water for too long. Once the top three inches have dried again, it's time to water. We recommend you keep the area evenly moist this way for the first growing season, or first 4 to 6 weeks, while the roots are becoming established. Once established, these vines can be fairly drought tolerant and will not need to be watered as frequently.

How do I guide a vining hops shrub?
You'll need to train these hops vines to grow where you want them to grow, since they are not going to naturally coil and climb the way other vines can. In order to do that, first you'll want to plant them in a position where they can reach a fence, trellis, or arbor. Make sure they will have a minimum of 6 inches of space away from the structure so the roots have room to grow. Then, tie a vine onto the structure very gently, with a material that will not cut into the delicate plant while it grows. Ribbons, string, twine, or even wire covered by cut-up garden hose will all work, but make sure that it is a very loose connection with lots of room for growth. As the vine grows through and around the structure, continue to create gentle loose connections that hold the vine close to the part of the fence where you want it to grow. Only the newest parts of the vine need these ties, you should be able to detach and reattach the ties as the vine grows.

When should I fertilize my Summer Shandy Hops vines?
Summer Shandy Hops vines are perennial vines, dying back to the ground at the end of each fall and starting fresh from the ground in the early spring. They are naturally fast growing, but adding a small amount of nutritious fertilizer at the right time of the year will help your hops vines grow healthy and strong with a great fruit yield. We recommend that you fertilize the area over and around the roots with a balanced organic fertilizer in early spring, just as you start to see the first signs of growth from the ground. Make sure to do this as early as you can but not too early, so that they break dormancy at the right time and have everything they need to grow. Espoma Plant-tone is a great, well balanced organic fertilizer you can use each spring.
---
Additional Information
As perennial herbaceous vines, Summer Shandy Hops Vines die back to the ground each winter; however, they're fast growers and grow right back every spring as if they never left. Leave the dried vines on your trellis for winter interest if you like. Be prepared to care for these fast-growing vines regularly throughout the year, training them to grow and vine where you want them to go. A fence, pergola or arbor trellis is a perfect place to show off the show-stopping folaige. Summer Shandy Hops work better in containers than other hops vine varieties, perfect as a 'spiller' in spiller-filler-thriller container recipes. We recommend you pair these chartreuse golden vines with some colorful low-growing shrubs that will cover the leggy stems. The flowers are white and inconspicuous, but they give off a lovely piney scent and attract pollinators. Truly, Summer Shandy Hops vines have it all and make a great addition to any home landscaping project, large or small.
---
Frequently Asked questions
Why doesn't my Summer Shandy Hops vine have any hops?
---
Other Products you may be interested in
---
Customer Reviews