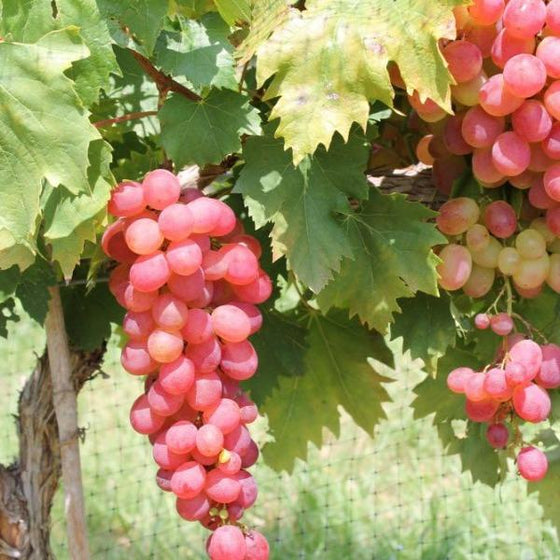 Images Depict Mature Plants
Victoria Red Grapes for Sale Online
Victoria Red Grape vines were developed recently in Arkansas, and they have made a name for themselves as a great 'backyard table grape.' Grow on wire trellises or over arbors for beautiful shade in a sunny location. The grapes have a fresh sweet taste to them. They start light and turn bright red as they ripen in the sun. Some home growers have even had luck using these Victoria Red grapes for spritely rosé wine.
---
Growzone: 7-9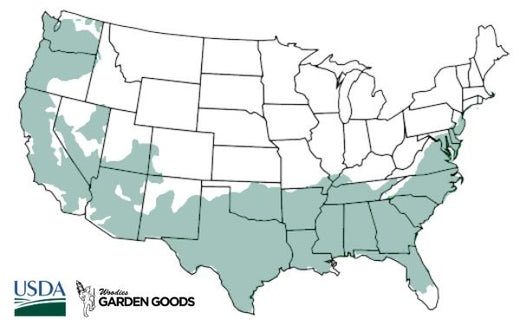 | | |
| --- | --- |
| Hardiness Zone: | 7-9 |
| Mature Height: | 4 to 5 Feet |
| Mature Vine Length: | 15 to 20 Feet |
| Classification: | Vine, deciduous perennial |
| Sunlight: | Full sun |
| Flower Color: | White, inconspicuous |
| Fruit | Light green to bright red |
| Foliage: | Green |
| Soil Condition: | Average well draining soil |
| Water Requirements: | Moderate |
| Uses: | Fruit producing garden plant |
---
How to Care for Victoria Red Grape Vine
Before you buy a Victoria Red Ladder Grape Vine, make sure to read about the recommended care instructions to keep this plant healthy and thriving.

What is the best light for Victoria Red Ladder Grape Plants?
Victoria Red Ladder Grape plants light to be planted in full sun. They can tolerate some shade, but it is sure to decrease the amount of fruit produced. Ideally, your vine should receive at least 7 to 8 hours of sunlight a day. Red Ladder Grapevines are not cold hardy, these will only be ok in temperatures down to 50 degrees Fahrenheit.

How often should I water Victoria Red Ladder Grape Vines?
Victoria Red Ladder Grape Vines are drought tolerant and can usually survive off of rainfall, after the first year. If you live in a very hot and dry area that does not receive good irrigation, adjust accordingly. When first planting your new grapevines, keep the soil around your new plant evenly moist but not soggy - you may need to water more or less than twice a week in the first few months, depending on your climate.

Do I need to fertilize Victoria Red Ladder grapes?
Applying some fertilizer can help encourage growth and production of fruit, but be careful to not overfertilize these fast growing vines. Apply the recommended amount at the time of planting, and reapply a once or twice a year during the growing seasons. Do not apply fertilizer at the end of the growing season as this may encourage new growth vulnerable to colder weather.

What kind of soil do my Victoria Red Grapes need?
Outdoor grapes can do best in sandy, well-draining soil. They also prefer acidic soil. Adding lime and sand to your topsoil will ensure your grape vine will receive the nutrients and drainage it requires for optimal fruiting.
---
Frequently Asked questions
How far apart should I plant my Victoria Red Ladder Grape Vines?
---
Other Products you may be interested in
---
Customer Reviews