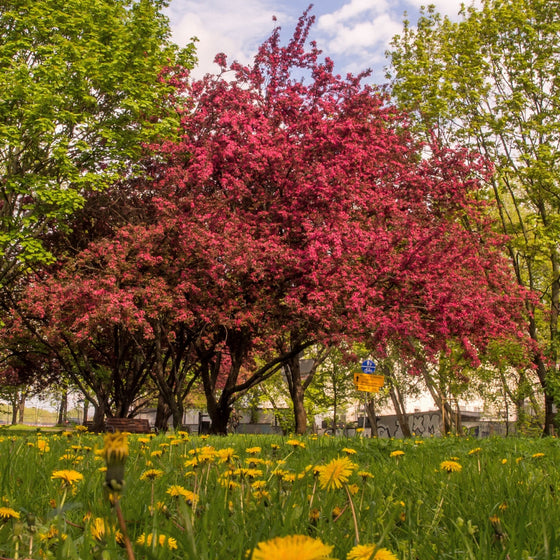 Images Depict Mature Plants
Profusion Crabapple Tree for Sale Online
The Profusion crabapple tree is genuinely a profuse bloomer. The bronze-colored spring foliage fades to a bronze-green as it ages. The rich red flowers have a hint of pink in the center and the fruit colored is a warm maroon.
The easy-to-grow tree grows to be around 20 to 25 feet tall by 20 feet wide at maturity. Birds are attracted to the fruit and will visit the tree throughout the summer into the early fall. 
An added benefit of the Crabapple Tree is its improved resistance to rust and leaf spots. Additionally, these trees have developed a good resistance to powdery mildew, scab, and fire blight.
The enhanced disease resistance makes it a great choice for home gardeners concerned about spraying or landscapers looking for low-maintenance accent trees.
Plant this improved, heirloom-type crabapple front and center as a specimen in your landscape, or use it as a magnificent backdrop along the length of your property boundary or driveway.
Profusion Crabapple Tree Highlights
The most heat, humidity, and drought tolerant flowering crabapple
Mid spring bloomer with beautiful Red blossoms that cover the branches
Dark Maroon crabapples in summer and fall
Amber, yellow and orange fall color
Good disease resistance
Drought-tolerant once established
---
Growzone: 4-8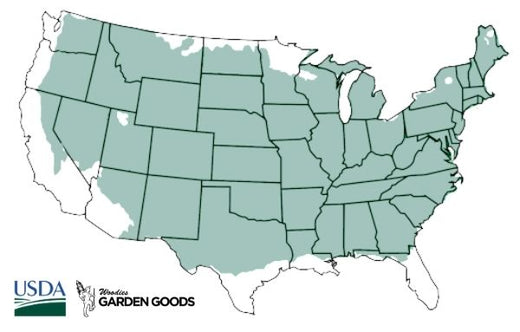 | | |
| --- | --- |
| Hardiness Zone: | 4-8 |
| Mature Height: | 20 to 25 feet |
| Mature Width: | 20 to 25 feet |
| Classification: | Broad Leaved deciduous tree, Spring flowering |
| Sunlight: | Full Sun |
| Habit: | Upright, umbrella shaped canopy |
| Foliage: | Bronze Green, brilliant bronze-orange fall color |
| Flower Color: | Deep Pink-Red, Very floriferous |
| Pruning Season: | No pruning needed |
| Soil Condition: | Any well drained soil |
| Water Requirements: | Water well until established |
| Uses: | Tolerates moist soil and full sun. Full sun brings out the best fall color. Will adapt to drier sites |
---
How to Care for Profusion Crabapple
Follow these guidelines for the best results

Step 1: Planting
Remove a container-grown Crabapple tree carefully from its pot and, if your tree's roots are balled and wrapped, carefully remove the wrapping. Water a container-grown or balled tree well before you begin, because this helps keep soil in place around the roots. Place the tree in a pre-dug hole that's at least 1 foot wider in diameter than its roots, ensuring that you plant the tree at the same depth as it was earlier. Backfill the hole with soil amended with compost and water the tree well, ensuring that there are no air pockets around its roots. We highly recommend that you mulch your Crabapple tree with either a ground hardwood mulch or a ground cypress mulch depending on your local availability. Any type of mulch will do but cypress or hardwood mulch will be of a higher quality and provide better nutrition overall as they breakdown. Mulching helps to keep weeds away which will compete with your new investment for water and nutrients. A 2 to 3 inch layer of mulch is sufficient but remember to take care not to cover any part of the stem of the plant with mulch. Its better to leave a one inch gap of space between the mulch and the stem or trunk of the plant.

Step 2: Fertilize
Trees such as Profusion Crabapple Tree grow best if they are fertilized lightly in the spring once frost has passed with a well-balanced, extended-release, fertilizer such as espoma Tree-tone. Fertilize Crabapples again 6 to 8 weeks later to encourage denser foliage or faster growth of young trees. We recommend Bio-Tone fertilizer when planting. Either chemical fertilizers or organic matter can be used successfully with Crabapple Tree.

Step 3: Water
Once the tree is planted, it's critical to give it adequate water to help its roots recover and send out new sprouts. Water the tree every 3 days for the first few weeks, then water weekly, aiming for at least 1 inch of water each week. If you plant your tree when weather is warm, it's a good idea to check the soil under the tree every few days to ensure it never becomes completely dry.
---
Frequently Asked questions
How do I prune Crabapple Trees?
How do you know if a tree is over fertilized?
---
Other Products you may be interested in
---
Customer Reviews