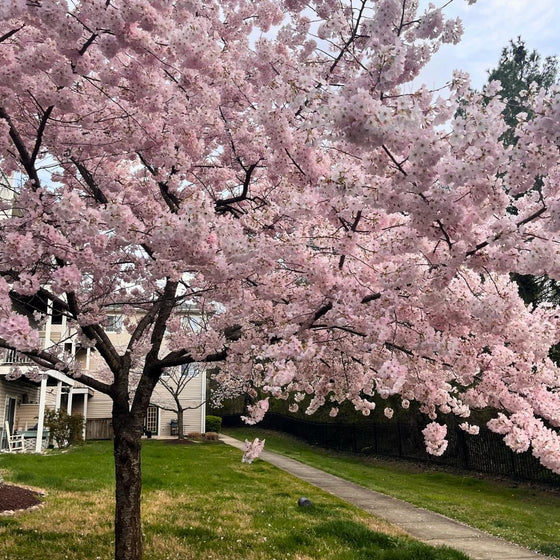 Images Depict Mature Plants
Yoshino Cherry Trees for Sale Online
Yoshino Cherry Tree (prunus x yedoensis) is a Japanese flowering cherry tree native to Japan. This tree is most known for its show-stopping white and pale pink flowers that emit an almond fragrance in the early spring. When fully bloomed, the tree's branches ascend in a vase shape, creating a beautiful canopy of pink blossoms over any garden.
A tree native to Japan, the Yoshino Cherry Tree was one of many species brought over to the United States as a gift of friendship in 1902. Japanese legend states that a fairy flies low in the sky each spring to awaken the sleeping cherry trees. The Yoshino Cherry Tree is well known for its appearances in the National Cherry Blossom Festival.
The popular ornamental tree grows best in full sun but can tolerate partial shade conditions. Yoshino Cherry Trees are known to be very versatile, but they prefer to grow in acidic, moist, and well-drained soil. Additional care tips for these unique flowering trees include applying a slow-release fertilizer in spring and summer and applying a layer of mulch around the tree's roots.
The best times to plant your Yoshino Cherry trees are early to late spring. During these times, your Cherry Tree will be able to best acclimate to its surroundings. Ideal for USDA grow zones 5-8, these hardy, fast-growing trees do not often disappoint.
The profuse spring bloomers work great in a wide variety of yard designs, including use as specimen tree focal points and for shade cover along paths and driveways.
---
Growzone: 5-8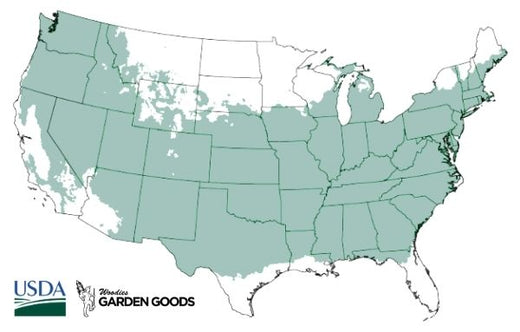 | | |
| --- | --- |
| Hardiness Zone: | 5-8 |
| Mature Height: | 30 to 40 Feet |
| Mature Width: | 20 to 25 Feet |
| Classification: | Broad leaved deciduous tree, spring flowering |
| Sunlight: | Full sun to part shade |
| Habit: | Upright, spreading canopy |
| Foliage: | Dark green, brilliant yellow fall color |
| Flower Color: | White to pink, very floriferous |
| Pruning Season: | No pruning needed |
| Soil Condition: | Any well drained soil |
| Water Requirements: | Water well until established |
| Uses: | Tolerates moist soil and full sun. Full sun brings out the best fall color. Will adapt to drier sites |
---
How to Care for Yoshino Cherry Tree
Be sure to read our planting instructions to ensure a healthy and happy plant for years to come!

What type of soil is best for my Yoshino Cherry Tree?
While your Yoshino cherry tree is very versatile, it grows best in acidic, moist, well-drained, and clay soils. The tree prefers a moist environment, but has some drought tolerance. Loam and sandy soil options will allow your cherry tree thrive all year long.

How much sunlight should my Weeping Yoshino Cherry Tree need daily?
Your Yoshino Cherry Tree will require a minimum of 4 hours of full sunlight each day, we think 6 to 8 hours of full sunlight will make your flowering cherry tree grow the best. Even though this tree loves direct sunlight, partial shade will not have a negative impact on the growth or health of your tree.

How do I plant my Weeping Yoshino Cherry Tree?
Dig a hole that is three times as wide and equal in depth of the root ball. Position the tree into the hole making sure it stands upright and the top of the root ball is level with the ground. Backfill the hole and remember to lightly tamp down as you fill the hole. Water the hole to allow the soil to settle and avoid any air pockets that may have formed. Finally, apply a 3 to 5-inch layer of mulch around the tree to help enhance the soil and preserve moisture.

What type of fertilizer is best for my Yoshino Cherry Tree?
Any slow-release fertilizer will be best for your flowering cherry tree. It will require new fertilizer once a year in the early spring, before new growth emerges. Be sure to water the surrounding soil to allow the fertilizer to penetrate into the roots the best it can.
---
Frequently Asked questions
When will my Yoshino Cherry Tree bloom?
---
General questions
How do we measure heights on Trees?
Why are trees sold in 1-foot increments?
---
---
Other Products you may be interested in
---
Customer Reviews