Images Depict Mature Plants
Prairie Fire Crabapple Trees for Sale Online
Prairie Fire is a fantastic improvement in crabapple trees. 
With lovely, glossy, dark-red bark, and a uniform branching habit the Prarie Fire Crabapple tree looks beautiful when its smothered in clear, pink flowers to begin the start of the spring. Praire fire Crabapple flowers appear on the bare branches in early spring before the leaves appear. The Pretty red buds open to rich, hot pink, flowers, which are produced in clusters.
The leaves are slightly smaller than most other Crabapple varieties and emerge deep purple in the spring. As they mature they take on a deep, dark-green color. It looks great in the fall, when the Prairifire leaves turn to an exquisite orange color hat is embellished by the drupes of glossy red fruits.
This tree is so disease-resistant, that it holds onto its leaves and fruits longer than other crabapple trees
Add a Prairie Fire Crabapple Tree to your landscape to incorporate some excitement into your life. The trees bold colors and juicy fruits will bring a whole new element of attraction to your yard. 
Prairie Fire Crabapple Tree Highlights
The most heat, humidity, and drought tolerant flowering crabapple
Early spring bloomer with beautiful Red blossoms that cover the branches
Cherry Red crabapples in summer and fall
Orange fall color
Good disease resistance
Drought-tolerant once established
---
Growzone: 4-9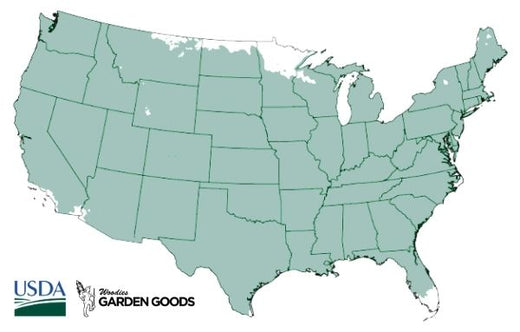 | | |
| --- | --- |
| Hardiness Zone: | 4-8 |
| Mature Height: | 15 to 20 feet |
| Mature Width: | 15 to 20 feet |
| Classification: | Broad Leaved deciduous tree, Spring flowering |
| Sunlight: | Full Sun |
| Habit: | Upright, umbrella shaped canopy |
| Foliage: | Purple to Bronze Green, brilliant orange fall color |
| Flower Color: | Hot Pink, Very floriferous |
| Pruning Season: | No pruning needed |
| Soil Condition: | Any well drained soil |
| Water Requirements: | Water well until established |
| Uses: | Tolerates moist soil and full sun. Full sun brings out the best fall color. Will adapt to drier sites |
---
How to Care for Prairie Fire Crabapple
Follow these guidelines for the best results

Step 1: Planting
Remove a container-grown Crabapple tree carefully from its pot and, if your tree's roots are balled and wrapped, carefully remove the wrapping. Water a container-grown or balled tree well before you begin, because this helps keep soil in place around the roots. Place the tree in a pre-dug hole that's at least 1 foot wider in diameter than its roots, ensuring that you plant the tree at the same depth as it was earlier. Backfill the hole with soil amended with compost and water the tree well, ensuring that there are no air pockets around its roots. We highly recommend that you mulch your Crabapple tree with either a ground hardwood mulch or a ground cypress mulch depending on your local availability. Any type of mulch will do but cypress or hardwood mulch will be of a higher quality and provide better nutrition overall as they breakdown. Mulching helps to keep weeds away which will compete with your new investment for water and nutrients. A 2 to 3 inch layer of mulch is sufficient but remember to take care not to cover any part of the stem of the plant with mulch. Its better to leave a one inch gap of space between the mulch and the stem or trunk of the plant.

Step 2: Fertilize
Trees such as Prarie Fire Crabapple Tree grow best if they are fertilized lightly in the spring once frost has passed with a well-balanced, extended-release, fertilizer such as espoma Tree-tone. Fertilize Crabapples again 6 to 8 weeks later to encourage denser foliage or faster growth of young trees. We recommend Bio-Tone fertilizer when planting. Either chemical fertilizers or organic matter can be used successfully with Crabapple Tree.

Step 3: Water
Once the tree is planted, it's critical to give it adequate water to help its roots recover and send out new sprouts. Water the tree every 3 days for the first few weeks, then water weekly, aiming for at least 1 inch of water each week. If you plant your tree when weather is warm, it's a good idea to check the soil under the tree every few days to ensure it never becomes completely dry.
---
Frequently Asked questions
How do I prune Crabapple Trees?
How do you know if a tree is over fertilized?
---
Other Products you may be interested in
---
Customer Reviews