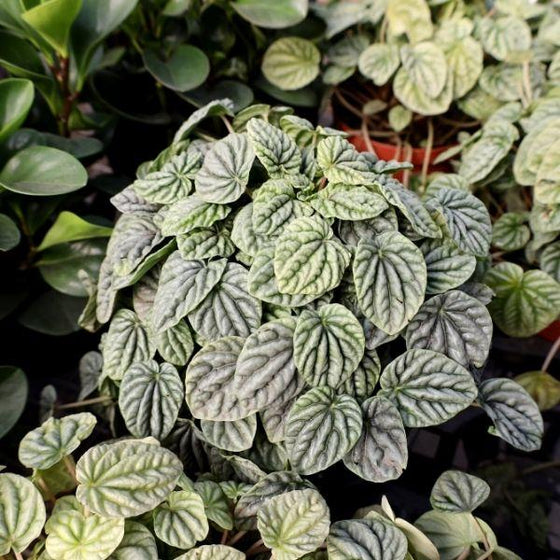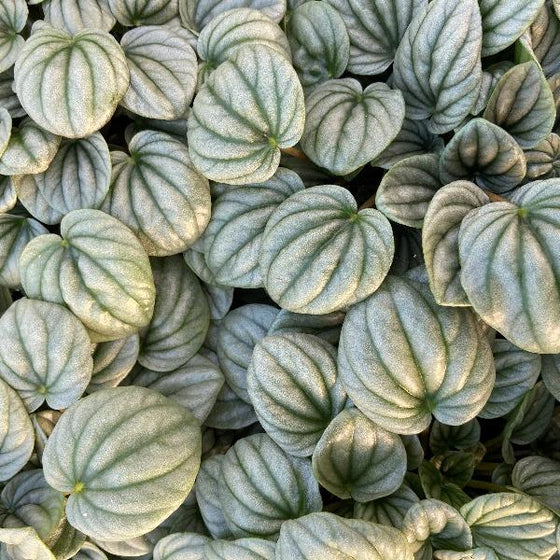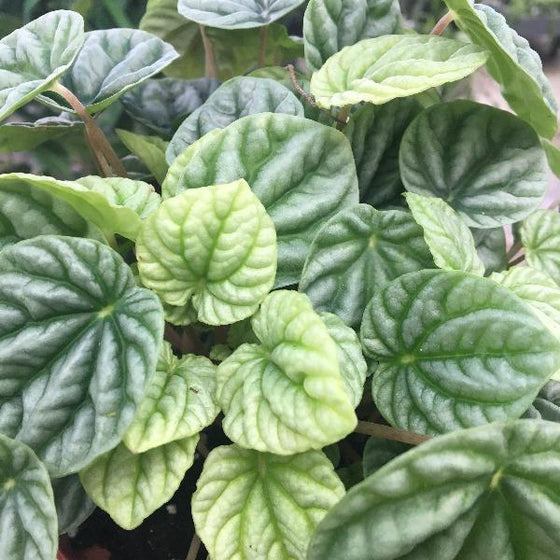 Images Depict Mature Plants
Peperomia Frost Ripple Plants for Sale Online
Peperomia Frost Ripple (Peperomia caperata) is a popular and easy-to-grow indoor plant native to Central and South America. Its green heart-shaped leaves have a silver frost tint and a very distinct rippled texture.
These succulent-like plants grow in a mounding habit and do well in bright, indirect light as the direct sun can be harmful. Peperomia has become a very popular addition to fairy gardens and terrariums but also serves beautifully as a stand-alone houseplant.
---
| | |
| --- | --- |
| Hardiness Zone: | 9-11 |
| Mature Height: | 6 to 12 Inches |
| Mature Width: | 6 to 12 Inches |
| Classification: | Colorful foliage |
| Sunlight: | Low light to bright indirect light |
| Habit: | Mounding habit, densely branching, insignificant flower |
| Flower Color: | Inflorescence |
| Foliage: | Silver green with rippled texture |
| Soil Condition: | Likes to dry out some between watering |
| Water Requirements: | If unsure, do not water |
| Uses: | Attractive plant to be featured or in the background of any room in the house, does well with minimal care |
Growzone: 9-11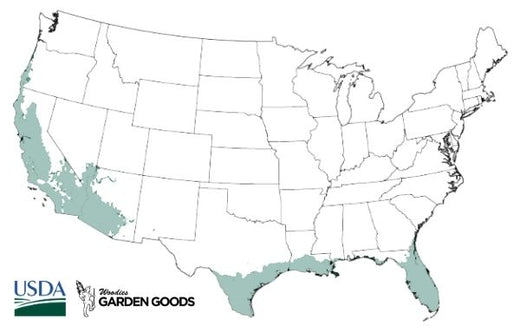 How to Care for Peperomia Frost Ripple
Before you buy a Peperomia Frost Ripple Plant, make sure to read about the recommended care instructions to keep this plant healthy and thriving.

How Do I Water My Peperomia Frost Ripple Plants?
The Peperomia caperata should be watered relatively infrequently, as the plants like to dry out some between watering. The easiest way to tell if a plant needs to be watered is by the weight of the container. Sometimes, water pours out of the container without being retained by the soil. Soaking the dry soil in a small dish or saucer can be a useful way to solve this problem. It is important not to water the foliage of these plants, or to over-water them as this will lead to leaf damage or plant death. An easy way to tell if plants need to be watered is a moisture meter, and usually come with a guide to indicate what number or level of moisture different plants require.

How Do I Fertilize Peperomia Frost Ripple Plants?
Indoor houseplant fertilizers fall into two groups: water soluble (liquid quick release), and granular, slow release fertilizers. Jack's Classic Indoor plant food works well as a powder, quick release fertilizer that is mixed with water to quickly provide nutrients to a plant that has been in a container for an extended time. On the other hand Osmocote Indoor/Outdoor is an option as a granular, slow release fertilizer that can be applied while potting and planting. Any type of fertilizer offers nutrients that help plants with the transition to a new environment.

What is the best soil for Peperomia caperata?
Houseplants tend to want a well balanced mix of peat moss, perlite and vermiculite. Typically, any reputable potting mix will work well and includes those ingredients. Although, adding a slow release fertilizer while planting is a good way to help the plant thrive in the transplanting transition. However, if the soil you've chosen already has fertilizer, there will be no need to add.

What is the best light for Peperomia Frost Ripple Plants?
Peperomia Frost Ripple thrives in bright but indirect light. Direct sun can scorch the leaves and be harmful to the plant. A west, east, or southern exposure is ideal for these indoor house plants.
---
Other Products you may be interested in
---
Customer Reviews