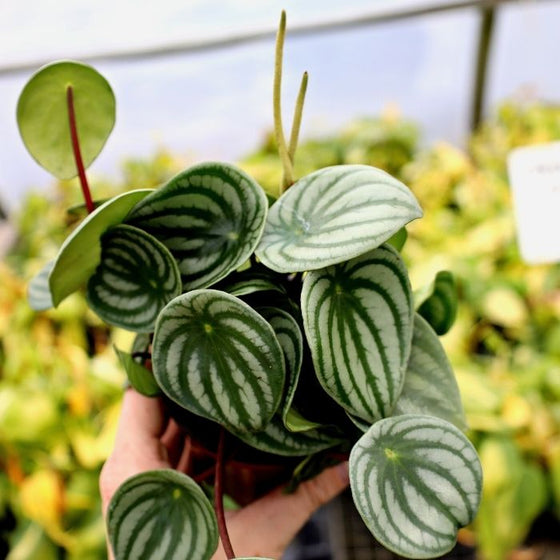 Images Depicted Range in Maturity & Container Size
Pots Not Included Unless Otherwise Stated
Watermelon Peperomia for Sale Online
Watermelon Peperomia (Peperomia argyeia) is a flowering plant known for its foliage that resembles baby watermelons. It is a low-maintenance houseplant that can tolerate a bit of negligence, making it the perfect choice for beginners. It prefers bright, indirect light and damp but well-drained soil. Since its native climate has high humidity, it is a good idea to mist its foliage frequently during the dry winter months.
The distinct patterned leaves are round with a pointed tip and striped silver and green bands. Its leaves are about twice the size of its baby sister, Mini-Watermelon Peperomia.
---
Growzone: 9-11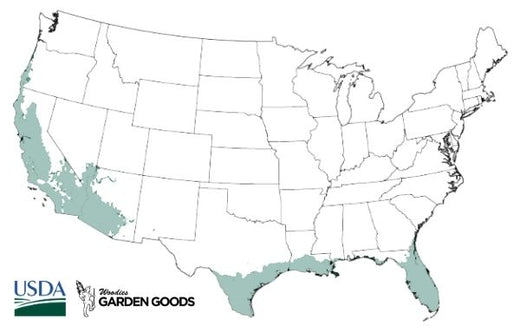 | | |
| --- | --- |
| Hardiness Zone: | 9-11 |
| Mature Height: | 8 to 12 Inches |
| Mature Width: | 8 to 10 Inches |
| Classification: | Colorful foliage |
| Sunlight: | Fluorescent to bright indirect |
| Habit: | Compact habit, densely branching, insignificant flower |
| Flower Color: | Green and white |
| Foliage: | Green with white (resembles a watermelon) |
| Soil Condition: | Likes to dry out some between watering |
| Water Requirements: | If unsure, do not water |
| Uses: | Attractive plant to be featured or in the background of any room in the house, does well with minimal care |
---
How to Care for Watermelon Peperomia
Before you buy a Watermelon Peperomia, make sure to read about the recommended care instructions to keep this plant healthy and thriving.

How do I plant a Watermelon Peperomia?
We suggest re-potting your newly purchased Peperomia Watermelon into a container 2"-4" wider in diameter, and 2-3" deeper than the container it is in currently. Use a well draining potting mix, and be sure not to disturb the roots when transplanting. We recommend adding a slow release fertilizer to the new potting mix before watering in. The most common cause of plant death after transplanting is planting the new plant to deep. That is why we do not recommend planting in a container any deeper than the soil line of the plant in the pot. If planted too deep, the stem of the plant will be covered with soil, retaining moisture and eventually rotting. Keep in mind that this new potting mix will retain more moisture than the previous container, so watering in the beginning should be less frequent.

How do I water Peperomia Watermelon Plants?
Peperomia Watermelon indoor house plants should be watered relatively infrequently, as the plants like to dry out some between watering. The easiest way to tell if a plant needs to be watered is by the weight of the container. If the container is very heavy and the foliage is upright, chances are good the plant doesn't need water, whereas a light container and limp foliage means the plant needs some water. Sometimes, water pours out of the container without being retained by the soil. Soaking the dry soil in a small dish or saucer can be a useful way to solve this problem. It is important not to water the foliage of these plants, or to over-water them as this will lead to leaf damage or plant death. If you're unsure, it is always better to let the plant go dry instead of drenching it with water. Moisture meters are another easy way to tell if plants need to be watered, and usually come with a guide to indicate what number or level of moisture different plants require.

How do I fertilize Watermelon Peperomia?
Indoor houseplant fertilizers fall into two groups: water soluble (liquid quick release), and granular, slow release fertilizers. Jack's Classic Indoor plant food works well as a powder, quick release fertilizer that is mixed with water to quickly provide nutrients to a plant that has been in a container for an extended time. On the other hand Osmocote Indoor/Outdoor is an option as a granular, slow release fertilizer that can be applied while potting and planting. Any type of fertilizer offers nutrients that help plants with the transition to a new environment.

What is the best soil for Watermelon Peperomia?
The best soil for Watermelon Peperomia is a well balanced mix of peat moss, perlite and vermiculite that dries some between watering but takes a long time to compact. Typically, any reputable potting mix will work well and includes those ingredients. Adding a granular, slow release fertilizer while planting is a good way to help the plant thrive in the transplanting transition however if the soil you've chosen already has fertilizer incorporated into it there will be no need to add additional fertilizer.
---
Other Products you may be interested in
---
Customer Reviews