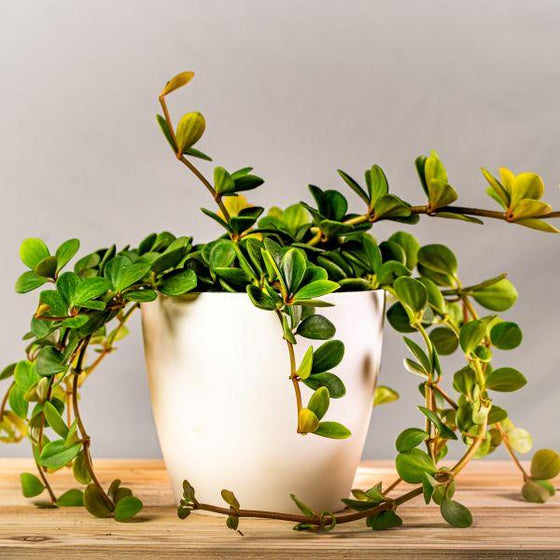 Images Depicted Range in Maturity & Container Size
Pots Not Included Unless Otherwise Stated
Peperomia Hope Plants for Sale Online
Peperomia Hope plants are wonderful succulent plants with thick, round, petal-like leaves that are low maintenance. The Hope plant has soft, trailing stems with small, rounded leaves and slightly wider leaves than many other Peperomia plants. This plant is a hybrid of Peperomia deppeana and Peperomia quadrifolia.
This houseplant is ideal for hanging baskets because of its compact growth, trailing stems, and evergreen foliage. They thrive best in bright, indirect sunlight, and well-draining soil and can handle partially dry soil from time to time. Fertilize only during their growing seasons and allow your plant to rest during their growth dormancy period.
---
Growzone: 9-11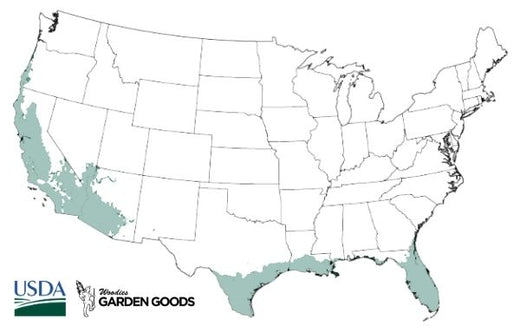 | | |
| --- | --- |
| Hardiness Zone: | 9-11 |
| Mature Height: | 11-18 Inches |
| Mature Width: | 30-36 inches |
| Classification: | Hanging House Plant |
| Sunlight: | Fluorescent to bright indirect |
| Habit: | Compact habit, densely branching, insignificant flower |
| Flower Color: | Green and white |
| Foliage: | Green |
| Soil Condition: | Likes to dry out some between watering |
| Water Requirements: | If unsure, do not water |
| Uses: | Attractive plant to be featured or in the background of any room in the house, does well with minimal care |
---
How to Care for Peperomia Hope
After you purchase your Peperomia Hope Plant, be sure to read the recommended care instructions to keep this plant healthy and thriving for years to come!

How do I re-pot my Peperomia Hope Plant?
You can repot Peperomia Hope into a container that is 2 to 4 inches wider and 2-3 inches deeper than the container it arrived in. Use a well-draining potting mix, and be sure not to disturb the roots when transplanting. We recommend adding a slow-release fertilizer to the new potting mix before watering in. The most common cause of plant death after transplanting is planting the new plant too deep. If your Hope plant is placed too deep, the stem will be covered with soil, retaining moisture and eventually rotting. Keep in mind that this new potting mix will retain more moisture than the previous container, so watering, in the beginning, should be less frequent.

How do I water Peperomia Hope Plants?
The best time to water your Peperomia Hope plant is when the soil is partly dry. We recommended sticking your finger 2 inches deep into the soil; if it is dry, you can water. When you are watering your plant, drench the potting soil thoroughly. It is crucial to make sure your plant is potted in a container with drainage holes because any excess water the potting soil does not retain will drain out properly. In the warm summer months, you might have to water your Hope plant once a week, but in cooler months, cut back on your watering schedule.

How do I fertilize Peperomia Hope Plants?
Peperomia Hope plants benefit best from fertilizing once a month during the growing season. The extra nutrients from fertilizer will help encourage the plant to grow faster and fuller. We recommend using a well-balanced, organic fertilizer to provide the best nutrients your plant needs. If you are using synthetic plant fertilizer, it's smart to flush the soil every three months. All you need to do is run water through the potting soil to remove any excess mineral salts. Too much fertilizer in your plant's soil will burn its roots.

What is the best soil for Peperomia Hope Plants?
The best soil conditions for your Hope plant are fertile, well-draining potting soil. We recommend using a houseplant potting mix that includes peat moss combined with perlite, coarse sand, or gravel. The organic matter in the potting soil will help retain moisture when you water your plant. The potting soil can also be the same potting mix used for succulents. As long as the soil dries out relatively fast between watering and doesn't stay soggy, your plant will grow and thrive.
---
Frequently Asked questions
How Should I Prune My Peperomia Hope Plant?
Why are my Peperomia Hope Leaves Curling?
Why are my Peperomia Hope Leaves Dropping?
---
Other Products you may be interested in
---
Customer Reviews