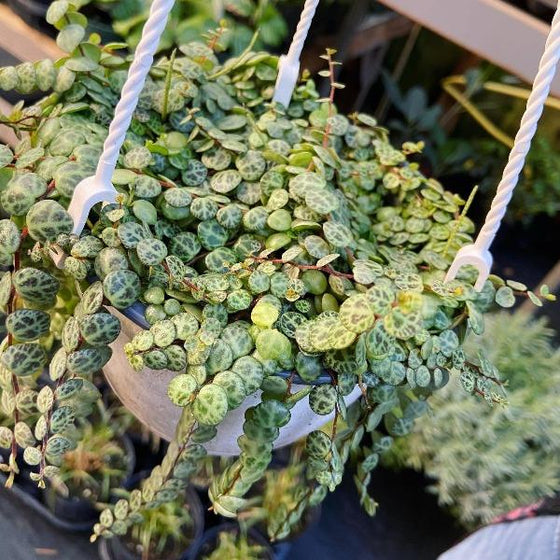 Images Depicted Range in Maturity & Container Size
Pots Not Included Unless Otherwise Stated
String of Turtles for Sale Online
Peperomia prostrata or String of Turtles Plant is a small, vining plant with round succulent leaves that are green with white veins. It will cascade over any surface the plant can anchor itself to. This plant goes great when planted in a hanging basket or on the edge of a shelf to allow its natural vining growth habit to grow long. However, this plant can require a bit more effort and adaptation to ensure it thrives and grows healthy. It is not necessarily complicated to care for; it just takes some adjusting.
---
Growzone: 9-11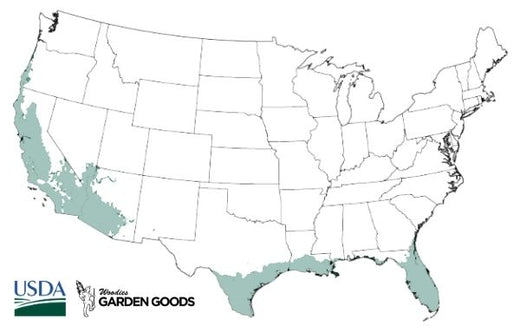 | | |
| --- | --- |
| Hardiness Zone: | 9-11 |
| Mature Height: | 4-6" |
| Mature Width: | 4-6" |
| Classification: | Colorful Foliage |
| Sunlight: | Fluorescent to bright indirect |
| Habit: | Trailing |
| Flower Color: | None |
| Foliage: | Green |
| Soil Condition: | Likes to dry out some between watering |
| Water Requirements: | If unsure, do not water |
| Uses: | Attractive plant to be featured or in the background of any room in the house, does well with minimal care |
---
How to Care for String of Turtles
After purchasing your String of Turtles, be sure to read the recommended care instructions to ensure your plant remains happy and thriving for many years to come!

How do I water Peperomia prostrata String of Turtles Plants?
String of Turtles plants love to be in peat soil mixtures. Because this plant is native to the Brazilian rainforest, it prefers to have slightly moist soil conditions. However, this plant is very susceptible to overwatering and can handle dry soil more than overly wet soil. We recommend keeping your plant's soil consistently moist during the growing seasons in spring and summer and watering using the 'soak and dry' method during the winter months. The best way to know that your plant receives enough water is by watering until water runs out the bottom of the container and the soil is completely moist. Doing so will keep your plants perfectly moist during their dormancy period in the winter.

What Kind of Soil is Best for My String of Turtles Plant?
Typical cactus or succulent potting mixes are not good for String of Turtles plants. Even though they are succulents, they prefer to be in soil that is rich in peat. Any commercial seed starting mix will be full of peat and the correct nutrients for your plant. It is a good idea to test the pH of the potting soil you are using to ensure your plant grows happy and healthy. Peat is acidic and is perfect for your houseplant because it prefers neutral to slightly acidic soil pH levels. Also, always ensure your plant's soil is well-draining to avoid any overwatering or root rot disease.

What Kind of Sunlight Does My Peperomia prostrata Plant Need?
Your Peperomia prostrata plant loves to be in bright, indirect sunlight and will thrive in these conditions. It is crucial not to allow your houseplant to be in direct sunlight for extended periods because the bright sun rays could scorch the delicate leaves on your succulent. We recommend giving your plant at least 6 to 8 hours of indirect sunlight each day to keep your plant happy and growing. If you notice your plant's leaves are burning, crisping up, or browning, try placing it in a different location to see if that helps the foliage issues.

What is the Best Fertilizer for My Peperomia prostrata String of Turtles Plant?
Feeding your string of turtles plant will help maintain your plant's bright and shiny vigor. It will also help your plant's leaves keep their bright color and patterns throughout their growing seasons of spring and summer. Be sure to cut back on fertilizing in the winter months because this is when your plant will enter its dormancy period. Fertilizing during their dormancy period could hurt their upcoming growing season. Also, it is crucial not to over-fertilize your plants because this could burn their roots and cause irreversible damage.
---
Frequently Asked questions
How do I Prune My String of Turtles Plant?
Is my String of Turtles Houseplant Toxic?
Does Peoeromia prostrata Prefer Humid Environments?
---
Other Products you may be interested in
---
Customer Reviews