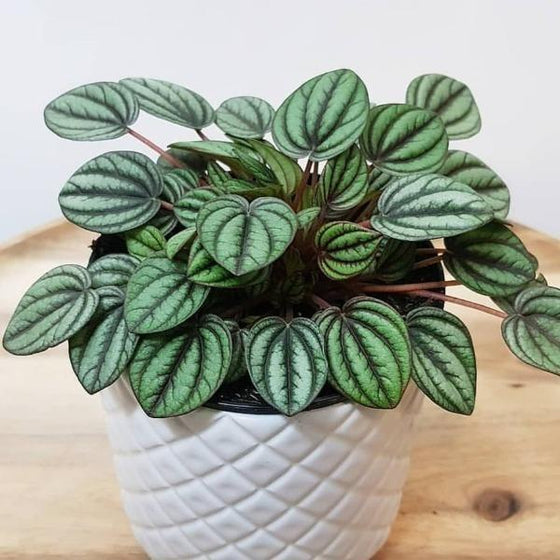 Images Depicted Range in Maturity & Container Size
Pots Not Included Unless Otherwise Stated
Peperomia Piccolo Banda Plants for Sale Online
Peperomia Piccolo Banda (Peperomia albovittata) plants are a newer cultivar of the radiator plant family. It's other moniker, Peacock Peperomia, comes from the unique pattern on the leaves with dark veins on light green foliage. This is a semi-succulent plant, meaning that it will retain some water and should not be over-watered. Between this feature, its small form, and its ability to thrive in artificial and low light, means that a Peperomia Piccolo Banda plant would make the perfect office companion on a desk or shelf. Will also do well in bathrooms, as it enjoys some humidity as well.
---
Growzone: 9-11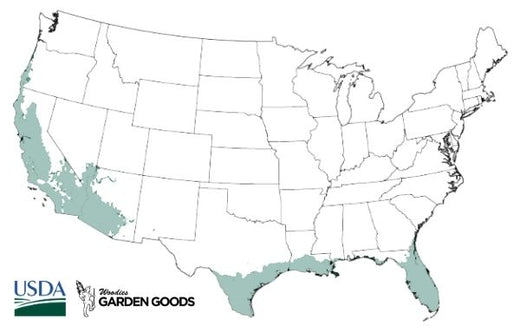 | | |
| --- | --- |
| Hardiness Zone: | 9-11 |
| Mature Height: | 8 to 12 inches |
| Mature Width: | 8 to 12 inches |
| Classification: | Colorful foliage |
| Sunlight: | Fluorescent to bright indirect |
| Habit: | Compact habit, densely branching, insignificant flower |
| Flower Color: | Green and white |
| Foliage: | Light green with dark veining |
| Soil Condition: | Likes to dry out between waterings |
| Water Requirements: | If unsure, do not water |
| Uses: | Low light houseplants, offices, bathrooms, kitchens, shelves - small low maintenance houseplant |
---
How to Care for Peperomia Piccolo Banda
Before you buy a Peperomia Piccolo Banda Plant, make sure to read about the recommended care instructions to keep this plant healthy and thriving.

How much light do Peperomia albovittata plants need?
Peacock peperomias, like many other radiator plants, will do well in bright indirect light or in low light. They are good candidates for spaces with artificial or fluorescent light as well.

What kind of soil do Peperomia Piccolo Banda Plants need?
The best soil for Peperomia Piccolo Banda Plants is a well balanced mix of peat moss, perlite and vermiculite that dries some between watering but takes a long time to compact. Most potting soil mixes worth their weight will be made in a similar fashion. If you are unsure that your potting soil will provide enough drainage, it is better to add a few extra elements to increase drainage than to not add enough. Orchid potting mixes or cactus potting mixes can help create more drainage to heavier potting soils.

How frequently do I need to water my Peperomia Piccolo Banda Plants?
Peperomia Piccolo Banda Plants are considered to be semi-succulents. They retain water in their foliage, and over-watering can be the death knell of these small houseplants. It is always better to err on the side of caution and wait longer between waterings. Once the soil has dried (at least the top two inches), then it is OK to water again until the soil is evenly moist. Remove any excess water from the drainage tray so it does not sit in water. Radiator plants like warmth and humidity, so a small spritz of water in the foliage will help tide your Peacock Peperomia over between waterings.

How do I fertilize Peperomia albovittatas?
Indoor houseplant fertilizers fall into two groups: water soluble (liquid quick release), and granular, slow release fertilizers. Jack's Classic Indoor plant food works well as a powder, quick release fertilizer that is mixed with water to quickly provide nutrients to a plant that has been in a container for an extended time. On the other hand Osmocote Indoor/Outdoor is an option as a granular, slow release fertilizer that can be applied while potting and planting. Any type of fertilizer offers nutrients that help radiator plants with the transition to a new environment.
---
Other Products you may be interested in
---
Customer Reviews