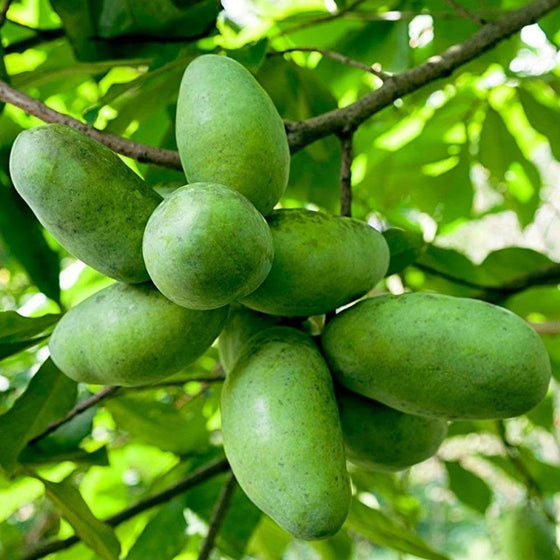 Images Depict Mature Plants
Paw paw Trees for Sale Online
The Paw Paw Tree, also known as the Asminia Triloba, consists of flavorful and sweetly flavored fruits resembling bananas. Fruits are frequently eaten raw or used in dessert specialties.
The Pawpaw loves to be planted in full sun or part shade. Perfect for use as a specimen plant, or a screen or hedge, the Asminia is highly versatile. Its glorious mixture of foliage from purple to green is beautiful too!
The Paw paw makes a real statement as a deciduous fruit tree that can grow up to 20 to 30 feet tall. A fun quality of this tree is its gradual color change throughout the seasons. Starting with dark purple flowers in the spring and joined in the summer by edible fruits, the Pawpaw tree is always keeping things interesting. In the fall, the leaves turn yellow-green, bringing year-round interest to this plant.
NOTE: Do not ship to Arizona (AZ), California (CA), or Texas (TX) due to Phytosanitary rules and regulations.
---
Growzone: 6-11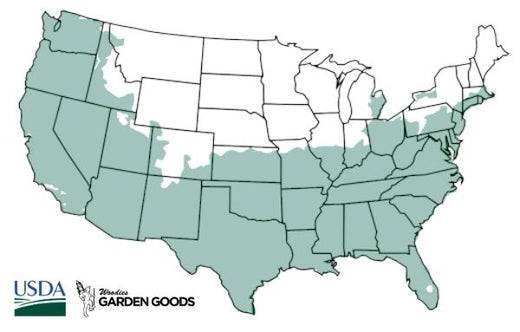 | | |
| --- | --- |
| Hardiness Zone: | 6-11 |
| Mature Height: | 20 to 30 Feet |
| Mature Width: | 15 to 20 Feet |
| Classification: | Fruit tree |
| Sunlight: | Full sun to partial shade |
| Habit: | Upright |
| Foliage: | Green to purple |
| Soil Condition: | Any well drained soil; loamy |
| Water Requirements: | Water well until established |
---
How to Care for Paw Paw Tree
Before you buy a Pawpaw Tree, make sure to read about the care instructions that are required and recommended to keep this plant healthy and flourishing.

How do I plant a Paw paw Tree?
In the ground: If you live in a climate where you can plant you Paw paw Tree in the ground outdoors, we suggest you plant your newly purchased Pawpaw Tree in a hole that you dig a hole twice as wide as the root system but not deeper. Depending on the quality of your existing soil you may need to add a locally sourced compost or topsoil to the back-fill soil. We do not recommend using straight topsoil or compost as a back-fill soil because more times than not these products will retain entirely to much moisture and will cause the root system to rot. Adding compost or topsoil will help the young feeder roots of Paw paw Tree to spread through the loose, nutrient rich soil, much easier than if you used solely the existing soil which more times than not will be hard and compacted. The most common cause of plant death after transplanting is planting the new plant to deep. That is why we do not recommend planting in a hole any deeper than the soil line of the plant in the pot. A good rule is that you should still be able to see the soil the plant was grown in after back-filling the hole.

How do I mulch Paw paw Tree?
We highly recommend if planting your Paw paw Tree in the ground that you mulch your Paw paw Tree with either a ground hardwood mulch or a ground cypress mulch depending on your local availability. Any type of mulch will do but cypress or hardwood mulch will be of a higher quality and provide better nutrition overall as they breakdown. Mulching helps to keep weeds away which will compete with your new investment for water and nutrients. A 2 to 3 inch layer of mulch is sufficient but remember to take care not to cover any part of the stem of the plant with mulch. Its better to leave a one inch gap of space between the mulch and the stem or trunk of the plant.

How do I fertilize Paw paw Tree?
If you are a beginner at growing plants, Paw paw Trees are easy to grow however it may be helpful to know that a very small plant which is planted in the ground will take about 1/8 – 1/4 cup of granular fertilizer. A very large tree in the ground will take 2 – 3 lbs spread around the drip line of the branches (not next to the trunk). This is a very loose estimate, so please read the directions on the fertilizer before applying it. Never fertilize a plant with a chemical fertilizer if the plant looks sick or wilted. If a plant is struggling due to a disease or root problems, the fertilizer will only add stress to it's life. Try to cure the problem before adding fertilizer. When looking at most fertilizers, they are described by three numbers on the bag. An example would be 10-10-10 or 12-4-8. The first of these three numbers refers to Nitrogen, which is the primary element necessary for good, balanced growth within the Pawpaw Tree.

How do I water Paw paw Tree?
After back filling and lightly compacting the 50/50 mix of existing soil and compost give the Pawpaw Tree a good deep watering. This is not to be rushed. Most of the water you put on the plant at first will run away from the plant until the soil is soaked. A general rule of thumb is to count to 5 for every one gallon of pot size. For example a one gallon pot would be watered until you count to 5 a three gallon pot would be 15 and so on. Check the plant daily for the first week or so and then every other day there after. Water using the counting method for the first few weeks. Gator Bags are a good investment that will help minimize the watering chore.
---
Frequently Asked questions
How do I prune Paw paw Tree?
---
Customer Reviews