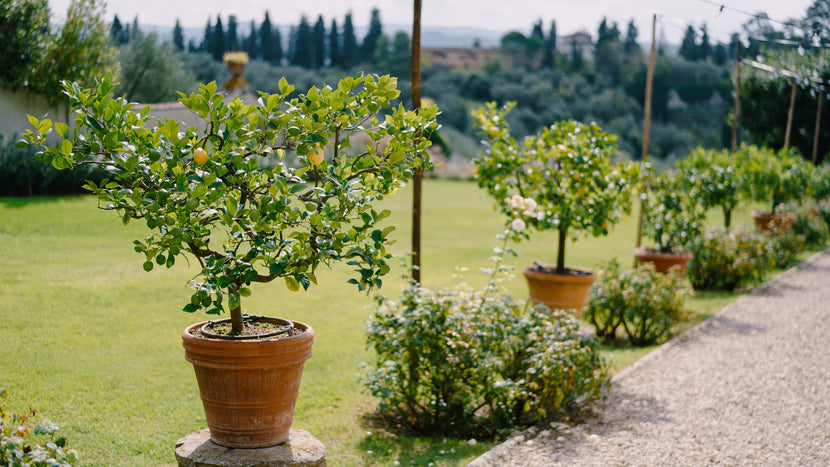 Growing Fruit Trees In Containers
Whether you're a seasoned gardener or you are new to the horticultural world, you will find that growing fruit is one of the most educational and rewarding feats to accomplish. There is just something about growing and harvesting your own fruits that is so fulfilling and exciting!
Don't just take our word for it, though; fully immerse yourself in the fruits of your labor and grow your own! Don't have the budget or the space for a full orchard? Lucky for you, space and money are actually not necessary resources in cultivating a wide range of fruits right from your very own home.
Keep reading to learn the best practices for growing citrus fruit trees in containers!
Fruit Trees You Can Grow In Containers
It is important to note that not all fruit trees can survive and thrive in containers, but there are a few that will certainly flourish given the proper conditions and care. Our favorite fruit trees to grow in containers are as follows:
The Meyer Lemon Tree is one of our best-selling fruit trees, and for good reason! Being one of the easiest fruit trees to grow, Meyers are self-pollinating, will fruit both indoors and outdoors, and produce a bountiful harvest typically in mid-winter. 
You can't have lemons without limes! Our next best-selling citrus tree to grow in a container is the Key Lime tree. Pair the heavenly aroma of citrus blossoms with the tart treat of a juicy lime for a plant that simply does it all!
If sour isn't quite your style, the Calamondin Orange tree is the perfect fruit tree for you. As a hybrid cross between a kumquat and a mandarin orange, this sweet tree produces the juiciest, sweetest oranges you could dream of!
Transport yourself to the Mediterranean when you grow your very own Arbequina Olive trees! With sweet, cool-toned leaves and a gorgeous branching habit, these trees make for gorgeous patio plants in the summer and are also stunning when grown indoors in the seasons of fall and winter.
If you want to be a little more adventurous and a little less mainstream, the Papaya tree is the way to go! Even young papaya trees can produce massive fruits given the proper care and conditions! Not to mention, the large green leaves bring a unique tropical vibe to any space!
Last but certainly not least on the list of fruiting trees to grow in pots is the Rio Red Grapefruit Tree. The Rio Red Grapefruit tree is known to produce the sweetest grapefruits of any variety, and as an added bonus, the fruits this tree produces are seedless!
Proper Care and Growing Conditions of Citrus Trees in Containers
After hearing about all of the sweet, juicy goodness that you could have at your fingertips, are you convinced yet? Perhaps you will be swayed when you learn how simple the care really is!
When it comes to growing fruit trees in containers, the process is extremely simple and low maintenance. There are just a few main factors to consider in order to produce healthy and flourishing fruiting trees in containers! The factors to consider are as follows:
Good Drainage For Your Fruit Trees
The number one thing to consider when growing fruit trees in containers is the element of drainage. Achieving good drainage is possible through using a pot with drainage holes, a good, chunky soil mixture, and a moderate watering regime. Citrus trees do not tolerate 'wet feet' and are prone to conditions of root rot when given too much water.
However, balance is key! In order to produce healthy fruits moderate watering is necessary! We recommend allowing the top 3 inches of the soil to dry in between waterings for best results.
Proper Lighting Conditions For Container-Grown Citrus Trees
The next important factor to take into account when growing your fruit trees is proper lighting conditions. Citrus trees require at least 6-8 hours of full sun per day. It is important however that you do not subject your newly planted tree to intense direct rays. If you are growing your fruit outdoors, we recommend selecting a location that receives morning sun and afternoon shade.
When growing a citrus tree indoors, a south-facing window is the ideal location for your tree to produce the optimal number of fruits.
Feeding Your Potted Fruit Trees
The next important step to cultivating fruits in containers is feeding your fruit trees! Much like people, citrus trees require essential nutrients for optimal growth. Specifically, fruit trees respond best to a balanced blend of nitrogen, phosphates, calcium, and magnesium.
Our go-to option for fertilizing fruit and nut trees is Espoma's Citrus Tone. For best results, we recommend fertilizing your fruiting plants lightly at the time of planting. Additionally, your tree will benefit from the application of fertilizer pre-bloom in the late winter, post-bloom in the late spring, and early fall to ensure that the overall nutrient needs of your plant are met.
Pruning Your Citrus Trees
The last care practice to take into account when caring for your citrus trees is proper pruning. Pruning is an essential aspect of maintaining a happy and healthy citrus tree, especially when it's grown in a container. It is said that regular pruning has a multitude of benefits including the encouragement of new growth. Improvement of air circulation, and the minimized risk for pests and disease.
It is best to prune your citrus tree in late winter or early spring before new growth starts to emerge. To encourage more fruit production in your plants, we recommend pruning selectively and maintaining a good balance of foliage and woody stems.
Shop Citrus Trees Online
No matter where you're located, or what your knowledge is on growing fruits, you are capable of growing a fruit tree and don't let anyone tell you otherwise! Here at Garden Goods Direct we have everything you need to cultivate a flourishing fruiting garden! Shop online today and have all of your fruit tree essentials shipped straight to your front door!