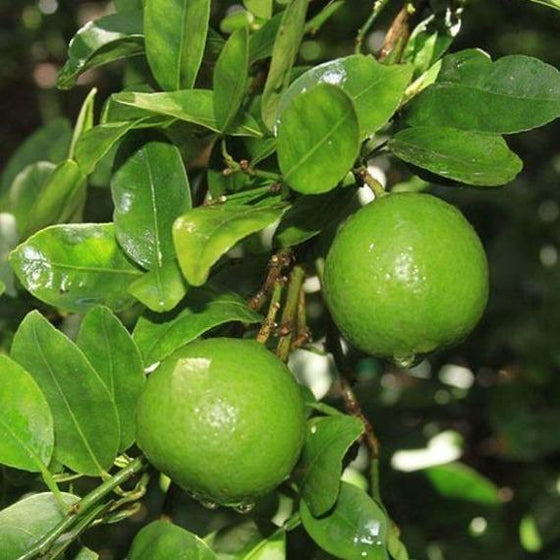 Images Depicted Range in Maturity & Container Size
Pots Not Included Unless Otherwise Stated
Key Lime Trees for Sale Online
Key Lime Trees feature fragrant white flowers and small, juicy limes with glossy evergreen foliage. Derived from Mexico, this citrus tree thrives in warm temperatures and is heat tolerant but can be grown indoors near a sunny window in cooler climates. Be sure to provide your Key Lime Tree with sufficient water, as this tree's moisture content is high for fruit production. We recommend thoroughly watering this tree at least once a week and allowing it to drain completely.
The Key Lime Tree is an evergreen fruit tree with a vigorous growth habit and reaches up to 12 feet tall. However, this tree can be kept small with routine pruning. The Key Lime Tree is self-pollinating and proves to be easy to grow. This plant is also known as the bartender's lime or West Indian lime tree. The edible organic fruit is perfect for making pies or a fresh glass of limeade paired with our Meyer Lemon Tree.
NOTE: Does not ship to Arizona (AZ), California (CA), or Texas (TX) due to Phytosanitary rules and regulations.
---
Growzone: 9-11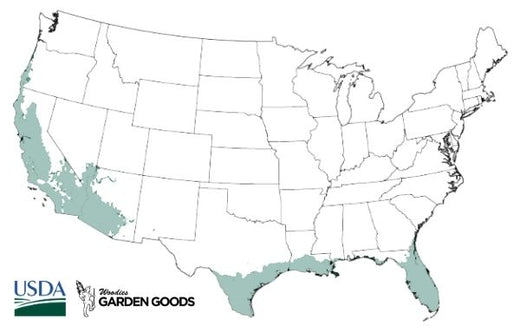 | | |
| --- | --- |
| Hardiness Zone: | 9-11 |
| Mature Height: | 6 to 12 Feet |
| Mature Width: | 6 to 8 Feet |
| Sunlight: | Full sun, partial sun |
| Water Requirements: | Allow to dry out between waterings |
| Details: | Deep green fruit, very fragrant, produces authentic key limes |
---
How to Care for Key Lime Tree
Be sure to read our planting instructions to ensure a healthy and happy plant for years to come!

How do I mulch Key Lime Trees?
We highly recommend that you mulch your Key Lime Tree with a ground hardwood mulch or a ground cypress mulch, depending on your local availability. Any mulch will do, but cypress or hardwood mulch will be of a higher quality and provide better nutrition overall as they break down. Mulching helps keep weeds away that compete with your new investment for water and nutrients. A 2 to 3-inch layer of mulch is sufficient, but remember not to cover any part of the stem with mulch. It's better to leave a one-inch gap of space between the mulch and the stem or trunk of the plant.

How do I plant Key Lime Trees?
If you live in a northern area where you must plant your Key Lime Tree in a container, we suggest that you first select the correct size pot with adequate drainage holes. A 2-3-year-old citrus tree typically wants to grow in about a 12" diameter nursery pot. A large terra cotta pot is an ideal choice. It will allow the roots of your plant to dry out between waterings. This kind of pot is crucial for the proper growth of citrus trees. Any container will do, but you will need to be sure there are drainage holes. We suggest putting a layer of stones or gravel approximately 1 to 1.5 inches thick. Doing so will allow for proper drainage and assure the drainage holes in the pot do not become blocked over time. Use a soil mix that is lightweight and drains well. If the soil mix contains a large proportion of dense, absorbent material, such as peat moss or worm castings, amend with 1/4-1/3 volume of pine bark. Now is the perfect time to add Bio-tone starter fertilizer to the soil and mix thoroughly. Once the roots have settled, we prefer using slow-release fertilizers such as Citrus-Tone by Espoma. Apply to the soil surface rather than using plant stakes. This avoids any risk of burning the roots.

How do I prune Key Lime Trees?
Citrus will look fuller with occasional pruning to shape leggy branches and can be shaped as desired. Pruning is fine any time of year, except in the winter for outdoor trees. Some trees may develop erratic juvenile growth above the graft. If so, prune for shape and balance. Don't be afraid to completely prune off a branch if it is too irregular or crossing another branch. Other fruitful branches will replace what you pruned off. Any growth above the graft can eventually bear fruit. Well-pruned trees have higher fruit yields and are less prone to branch breakage.

How do I water Key Lime Trees?
Develop a watering schedule to ensure the roots maintain even moisture but are not waterlogged. Water before leaves show wilting, and when roots have reached about 50% dryness. Elevate pots on stones in the saucer to keep them above standing drainage water. A moisture tester can be an excellent tool to help determine when roots need a drink. Because most commercial moisture testers rely on an electrical conductivity method, however, it is possible to get miss-readings due to high salinity or other conditions. Citrus trees require soil that is moist but never soggy. Watering frequency will vary with soil porosity, tree size, and environmental factors. A throughout watering once or twice a week works well for potted Citrus trees. Be sure to adjust based on weather conditions! It is best to water in the morning, but if plants are dry or wilted, it is better to water them right away than wait until morning.
---
Frequently Asked questions
How Long Does it Take for my Key Lime Tree to Bear Fruit?
Will Key Lime Trees produce fruit indoors?
How Do I Plant My Key Lime Tree Outdoors?
---
---
Other Products you may be interested in
---
Customer Reviews