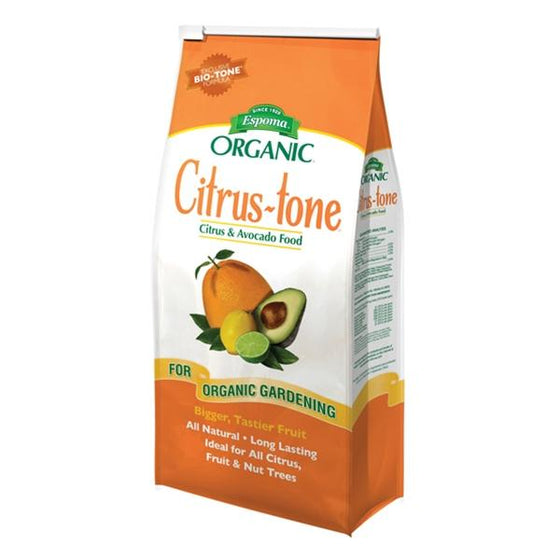 Espoma Citrus-Tone for Sale Online
Feed your Citrus Trees Naturally with Espoma Citrus-Tone. Citrus-tone is made from natural and organic plant food ingredients and contains no sludges or fillers.
The organics in Citrus- tone breaks down gradually to provide a safe, long-lasting food reservoir throughout the growing season. It contains Bio-tone, a proprietary blend of microbes that biologically enhances plant food to ensure superior plant growth.
A complex blend of 100% natural & organic ingredients to provide complete & balanced feeding.
It is enhanced with Bio-tone® beneficial microbes.
Long-lasting, slow release. Won't burn or leach away.
For Citrus and avocados.
New Plantings: Ensure adequate space for your tree when it reaches its full size—plant the tree in total sun exposure for best results.
How to Use Espoma Citrus-Tone:
Dig a hole twice as wide and at the same depth as the root ball. Remove 1/3 of the soil and replace it with compost, peat moss, or a good planting mix. Mix 1 cup of Espoma Citrus-tone into the amended soil.
Make a small cone of soil in the center of the hole and place the tree so the roots are fanned around the cone. Back-fill with the fortified soil until the roots are covered by several inches, and tamp gently.
After settling, the soil level next to the trunk should be at or below the level the tree grew in the nursery field or container. Water thoroughly after planting and check soil moisture often to ensure that the tree has adequate moisture.
Established Plants: Apply evenly around the outer edge of tree branches and mix into the soil. Water thoroughly after each application. Plant food should not be applied within 6″ of the trunk.
---
Customer Reviews