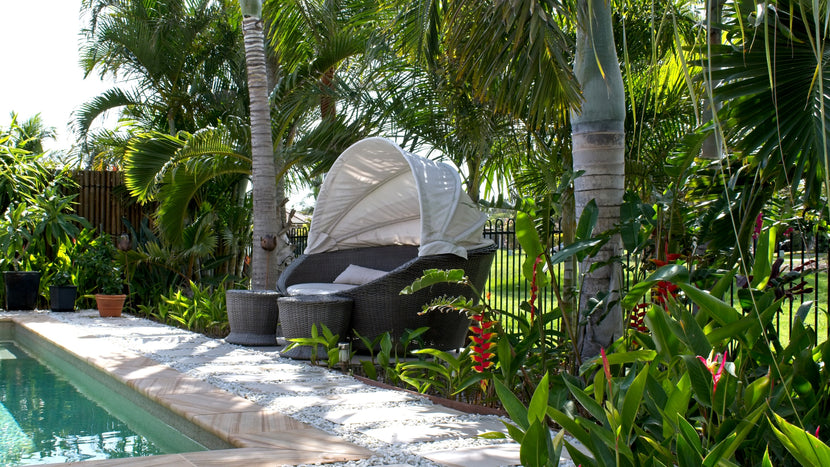 Creating a Backyard Tropical Oasis at Home
As the the nationwide pandemic of Covid-19 is finally winding down, the need to retreat and relax is higher than ever.
When it comes to the stress of packing, flights, reservations, weather and every little detail in between, vacations often end up being more of a hassle than they do an escape.
But what if you didn't have to cross oceans or stress over the details? If your tropical oasis was just outside your back door, you'd never have to stress again. Well, at least not as much.
Garden Goods Direct can bring the tropics to you and transform your backyard through our wide range of tropical plants. With their exotic leaf shapes, bright colors and plentiful blooms, these stunning landscape plants are sure to liven up any space.
Tropical Garden Design Tips
To turn a space into your own little slice of paradise, it's a common misconception that you need to live in a hot, humid climate. While most tropical plants do thrive in these conditions, there are so many hardy tropical plants that are able to tolerate most conditions!
Despite popular belief, creating a tropical backyard oasis can be simple if you follow a few basic guidelines! Read on to learn the best ways to make any yard feel like a tropical paradise!
Layering Foliage
Your tropical oasis would not be complete without some outrageously large leaves and bright colors provided by these popular tropical foliage plants! Tropical jungles are not specific to just one plant.
If you want the authentic feel of a genuine tropical escape, then you must incorporate a variety of leaf shapes, sizes, and textures! When it comes to tropical foliage, there are the basics; palm trees, Monstera and Elephant Ears, and then there are some more unique plants to add that extra style and flare!
A few more of our favorite plants to bring a tropical feel include the Banana Plant, Alocasia Regal Shield, and Variegated Ginger Shell Plant. Incorporate all three to turn your yard into a full on tropical resort!
Incorporate Exotic Floral Blooms
If anything is going to transform your space to the ultimate relaxation zone...it's going to be these bright and beautiful tropical bloomers. Our tropical plants are in full bloom and ready for a place to call home.
Tropical Hibiscus adds tropical flair to your pool deck, outdoor patio, or balcony. For a bold addition to the yard, check out our Red Hibiscus plants! The red flowers provide eye-catching color throughout the summer and bring all the tropical vibes you're in search of!
Some less-mainstream tropical blooming plants include the Mandevilla, and the Dipladenia. Enjoying conditions of full sun and regular watering, the bloomers are low maintenance and high reward!
These tropical climbers are sure to transform any space into a tropical oasis and additionally work to attract local pollinators like butterflies and hummingbirds.
Add a Living Privacy Wall
No one can completely retreat and relax if they feel they are under watch and constantly surrounded by nosey neighbors! No offense to your neighbors...but if you are going to create a peaceful oasis, privacy is a must.
Through using larger tropical plants with large leaves that obstruct views, you can feel more at ease in your outdoor living space. However, leafy plants can only cover so much. Take the privacy of your outdoor space to the next level with a wall of thick, evergreen privacy trees!
Add Some Unique Flare With a Citrus Tree
In addition to privacy, your backyard retreat would simply not be complete with out some tropical fruits to snack on as you bask in the sun. 
What's a tropical oasis without tropical fruits? We offer a wide range of citrus trees available for your purchase! From the popular Meyer Lemon Tree down to the more exotic Orlando Tangelo Tree, and a ton of other fruiting trees in between, your landscape will reach a new level of relaxation with this citrus additions. 
Complete The Tropical Look
Last on our list of guidelines to create a tropical landscape is just to complete the look with tropical accents, furniture and décor! This step is all about you and your vision of what paradise looks like to you.
Whether that be through extravagant water features and tiki torches, or maybe it's just as simple as a fire pit and rattan seating area! No matter what you decide, we know you won't regret treating yourself and crafting your very own tropical oasis. Vacation just got so much better!
Whatever design you're going for in your outdoor space, we have what you need to make those outdoor living space dreams a reality! Shop online today and have our plants conveniently shipped to your door!