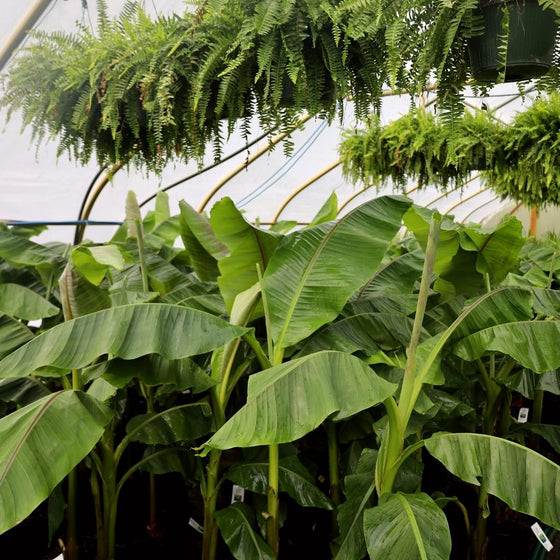 Images Depicted Range in Maturity & Container Size
Pots Not Included Unless Otherwise Stated
Banana 'Musa basjoo' Plants for Sale Online
Banana 'Musa basjoo' is a hardy banana plant known for its large paddle-shaped foliage. Native to Japan, this plant grows vigorously and can reach heights up to 14 feet. Although Japanese Banana is a tropical plant, it's able to withstand below freezing temperatures with the proper mulching.
Due to its tropical nature, Banana 'Musa basjoo' grows best in full to partial sun, and well-drained, moist soil. Its ornamental foliage makes it an excellent choice for garden centerpieces. This plant grows rather quickly so be sure to plant it in an area with a good amount of space. 
Easy to grow
Grows well in all 50 states
Tolerates various temperatures
Produces inedible bananas
---
Growzone: 4-10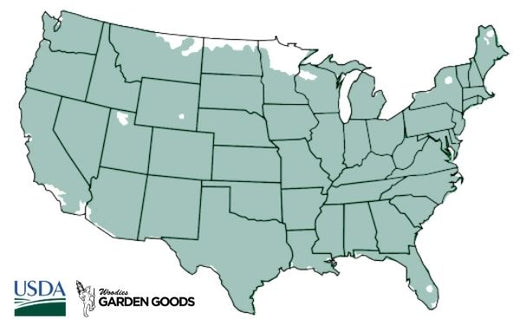 | | |
| --- | --- |
| Hardiness Zone: | 4-10 |
| Mature Height: | 8 to 14 Feet |
| Mature Width: | 6 to 14 Feet |
| Classification: | Herbaceous perennial |
| Sunlight: | Full sun |
| Habit: | Upright |
| Foliage: | Bright green |
| Soil Condition: | Moist, well-drained soil |
---
How to Care for Banana 'Musa basjoo'
Before you buy a Banana 'Musa basjoo' plant, make sure to read about the care instructions that are required and recommended to keep this plant healthy and thriving.

What type of light is best for Japanese Fiber Banana?
The best light to grow your Banana Musa bajoo plant in is full to partial sun. Whether potted inside or outside, Banana plants grow best with at least six hours of direct sunlight each day. The more sunlight you provide your plant, the more water it may need to retain their moist soil environment.

When should I fertilize Banana Musa Basjoo?
We recommend fertilizing your Banana 'Musa basjoo' plant to achieve large leaves and strong trunks during the growing season. A water soluble or organic fertilizer such as 8-10-8 will do, and should be applied once every week during the growing season. Banana plants are considered heavy feeders, so you may find yourself fertilizing up to two times per week.

How do I water Banana Musa Basjoo?
Due to their tropical nature, Basjoo Banana plants prefer moist, well-drained soil. We recommend watering your plant deeply once the soil begins to dry out. While this plant likes moisture, avoid overwatering which can cause root rot. We estimate that watering up to three times a week will do.

What type of soil is best for Hardy Banana?
The Hardy Banana plant prefers to be planted in nutrient-rich, well-drained soil; however, they will grow in most soils. It's important to note that Basjoo Banana does not tolerate soils high in salt, so avoid those at all cost. Some experienced gardeners suggest adding coffee grounds and banana peels composts because of their added nutrients of nitrogen, potassium, and phosphorus.
---
Other Products you may be interested in
---
Customer Reviews