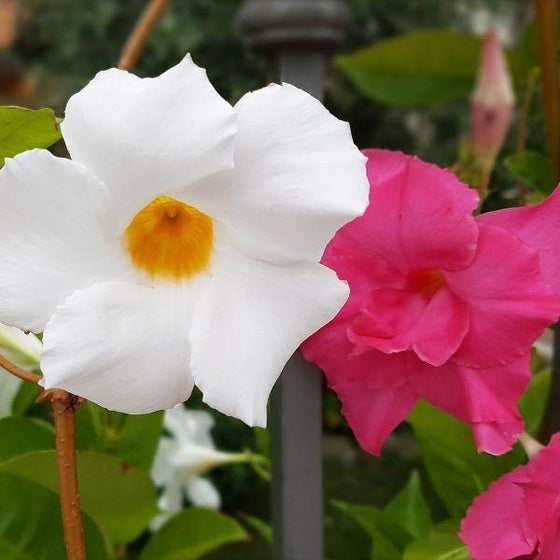 Images Depicted Range in Maturity & Container Size
Pots Not Included Unless Otherwise Stated
Dipladenia Plant for Sale Online
Dipladenia is an excellent choice for creating your dream tropical oasis at home. Native to South America, this drought-tolerant climbing plant vine adds a pop of color to any balcony, deck, hanger baskets or patio and grows well indoors. For the best results, grow Dipladenia indoors or outside in full-sun and moist, well-drained soil.
This tropical Mandevilla vine can grow up to 10 feet in height, and blooms abundantly throughout the June to October flowering season. Nature lovers are sure to be amazed at the butterflies and hummingbirds this plant attracts. Dipladenia is available for purchase in white, red, and pink blooms.
Bring indoors during the winter months, if in cold-climate conditions
Relatively drought-tolerant
Grows well in full-sun and moist, well-drained soil
Sap is toxic when ingested, keep away from small children and pets
Mostly pest-free with the exception of spider mites
---
Growzone: 9-11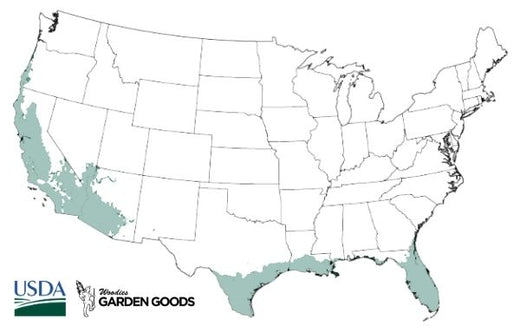 | | |
| --- | --- |
| Hardiness Zone: | 9-11 |
| Mature Height: | 10 Feet |
| Mature Width: | 3 Feet |
| Classification: | Tropical |
| Sunlight: | Full-sun |
| Habit: | Upright |
| Flower Color: | Red, pink, and white |
| Foliage: | Dark green |
| Soil Condition: | Moist, well-drained soil |
| Water Requirements: | Medium watering |
| Uses: | Grows well indoor and outdoor as a climbing vine |
---
How to Care for Dipladenia Plant
Before you buy a Dipladenia plant, make sure to read about the care instructions that are required and recommended to keep this plant healthy and thriving.

What type of light is best for Dipladenia?
If indoors, select a well-lit area for your Dipladenia, but not in direct sunlight. Dipladenia enjoys fresh air so place it outside during the summer for best results. If planting outdoors, select a spot that gets a bit of shade throughout the day.

How do I fertilize Dipladenia?
We recommend fertilizing your Dipladenia climbing vine plant every two weeks during the blooming season with an all purpose fertilizer. To cut down the number of times you fertilize your plant, we suggest using a slow release fertilizer for upkeep.

How do I water Mandevilla plants?
Surprisingly, this tropical vine is drought-tolerant and can sustain itself in dry soil. We suggest watering Dipladenia once a week, but check that the soil is dry ½ inch (if potted) or 1 to 2 inches (in the ground) before watering.

If you've recently re-potted this plant, water in small amounts every 5 days for about a month. If your plant has wilted or sagging leaves, stunted growth, or lower brown leaves it's a sign that your plant is under-watered. Be sure to not over-water your plant to avoid downy mildew and root rot.

How do I plant Dipladenia?
Dipladenia is usually an indoor flowering plant in cooler climates, but it can be grown outdoors. If potted, we suggest wearing gloves and re-potting every 1 to 2 years prior to the spring blooming season. If planting outdoors, it's best to do so during the spring. Mandevilla and Dipladenia plants can be placed in hanging baskets to show off their gorgeous blooms.

As mentioned, this plant is native to South America so it's best to grow this tropical plant outdoors in temperatures of at least 70°F. Dipladenia plants will die outdoors or overwintered indoors if temperatures drop under 50°F for long periods of time.
---
Other Products you may be interested in
---
Customer Reviews