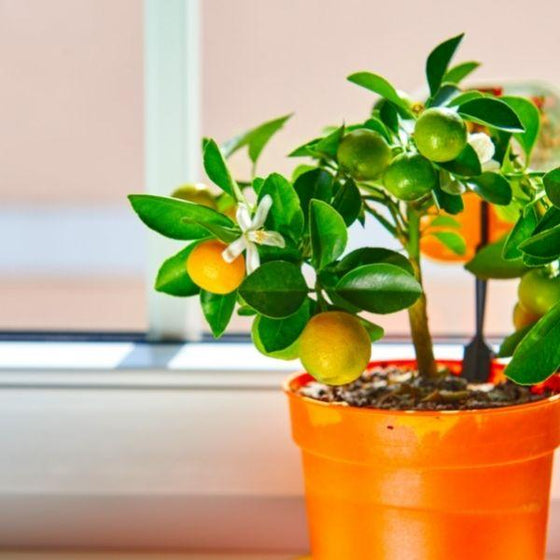 Images Depict Mature Plants
Calamondin Orange Trees for Sale Online
Calamondin Orange trees (citrus mitis) only grow up to 8 feet outdoors. Due to their compact size, they are superb indoor trees for people above zone 8. The fruit themselves are also smaller and referred to as "mini-oranges." Their sweet taste is a cross between a mandarin orange and a kumquat.
NOTE: Does not ship to Arizona (AZ), California (CA), or Texas (TX) due to Phytosanitary rules and regulations.
---
Growzone: 8-11
| | |
| --- | --- |
| Hardiness Zone: | 8-11 |
| Mature Height: | 6 to 8 Feet |
| Mature Width: | 4 to 5 Feet |
| Sunlight: | Full Sun |
| Water Requirements: | Allow to dry out between waterings |
| Details: | Easily grown, very fragrant |
---
How to Care for Calamondin Orange Tree
Before you buy a Calamondin Orange Tree, make sure to read about the care instructions that are required and recommended to keep this plant healthy and flourishing.

How much light do my Calamondin Orange Trees need?
Orange Trees require 8 to 12 hours of sunlight daily. Position your plants beside a south-facing window with good airflow. If necessary, supplement sun with a grow light during dark winter months.

What soil is best for my Calamondin Orange Trees?
When it comes to your Calamondin Orange Trees, Espoma Cactus Mix is the perfect growing medium. It provides adequate drainage and an optimal base for your Calamondin Orange Trees to grow beautifully.

How do I water Calamondin Orange Trees?
Container-grown Calamondin Orange Trees need more water than those planted outside. In the spring, water two to three times a week. In the summer, as temperatures rise, your citrus tree may need to be watered daily. Keep the soil moist but not soggy. A good indication of when you should water is to check the top 2 to 3 inches of soil. If it is dry to the touch, your citrus tree needs watering. Houses generally don't have the humidity citrus trees need to grow. Mist or spray your citrus tree several times a week.

What type of fertilizer should I use on my Calamondin Orange Trees?
We recommend feeding your Calamondin Orange Trees with Espoma Citrus~tone. It is best to feed your plants by sprinkling one teaspoon of fertilizer on the soil surface per every 4 inches of pot diameter. Apply double for pots over 12 inches. Be sure to mix the fertilizer into the top layer of soil by using a fork to gently stir the fertilizer into the top 2" of soil evenly. With frequent watering of potted plants, nutrients may be lost and more frequent application may be required. Feed every 60 days in late winter to fall.
---
Frequently Asked questions
How do I prune Calamondin Orange Trees?
---
---
Other Products you may be interested in
---
Customer Reviews