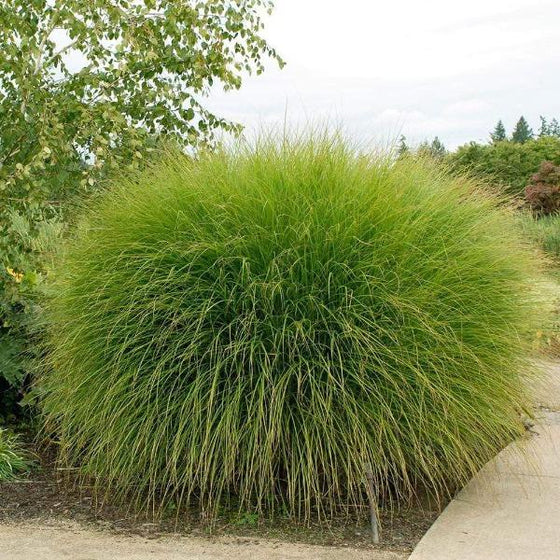 Images Depict Mature Plants
Maiden Grass for Sale Online
Miscanthus gracillimus or Maiden Grass is an attractive clump-forming ornamental grass with fine-textured, silver-green blades. In the fall, they turn golden-bronze—an excellent specimen for adding texture to shrub borders and perennial beds. In larger gardens, we recommend massing Miscanthus gracillimus as a privacy screen.
Maiden Grass is one of the later blooming grasses known for its drought and salt-tolerant capabilities. Birds will enjoy visiting this plant which makes it perfect for nature lovers! Maiden Grass is also a great focal point for any landscape bed.
---
Growzone: 5-9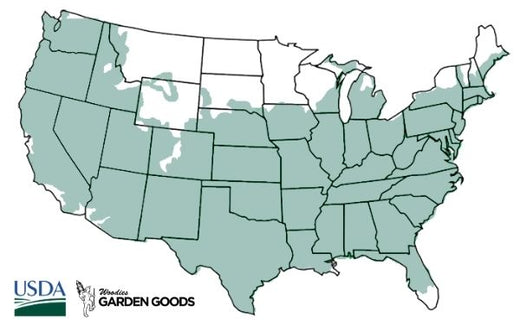 | | |
| --- | --- |
| Hardiness Zone: | 5-9 |
| Mature Height: | 6-7 Feet |
| Mature Width: | 5 Feet |
| Sunlight: | Full Sun to Part Sun |
| Water Requirements: | Dry to Evenly Moist |
| Flower: | Copper, Inflorescences |
| Selling Points: | Deer Resistant, Urban Gardening, Coastal Exposure; Natural, Meadow and Cottage Gardens. |
---
How to Care for Maiden Grass
Before planting your new Maiden Grass Plants, be sure to read these recommendations for optimal Miscanthus Gracillimus care.

What Kind Of Soil Is Best For Maiden Grass?
Maiden Grass does best in fertile, well draining soil. While it is considered mildly drought tolerant once established, be sure to water your new Maiden Grass regularly for the first few months after planting. Do not overwater, as soggy soil can cause major issues with fungus - this is why good drainage is important. Once a week should suffice unless the weather is warmer than usual. Then, once the plant is established you should only need to water it to supplement it during heat or drought. Allow the soil to dry for the winter when the foliage dries and the plant becomes dormant.

How Should I Cut Back My Maiden Grass?
New growth starts from the ground every year, so removing the old dead foliage from the winter is key to support your ornamental perennial grass. Cut back your Maiden Grass in late winter or very early spring, before new growth begins (and before you risk disturbing any spring birds' nests). Tie off manageable sections with rope, and use clean sharp shears to cut the sections about 6 inches above the base of the plant, or the crown. We recommend discarding of your grass in such a way that you don't spread the seeds anywhere that you don't want them to self-seed. DO NOT BURN - Burning can accelerate the spread of Maiden Grass, and it should only be done safely under professional supervision.

Should I Use Mulch for My Gracillimus Maiden Grass?
Using a mulch around Maiden Grass has many benefits. In addition to helping to regulate water and root temperature, preventing weeds from growing, and adding nutrients to the soil, mulching can also help prevent the grass from self seeding and spreading too much. This is an important goal for anyone growing Maiden Grass in warmer grow zones, where it can spread to neighboring areas more quickly than in cooler climates. Keep an inch of space between your organic mulch and the crown of the plant.

How Much Sun Does Maiden Grass Need?
Miscanthus Gracillimus, also known as Maiden Grass, thrives best in full sun. It can tolerate partial sun, but if it does not get at least 6 hours of direct sunlight there is a chance it will lose its upright form and droop in an unattractive way.
---
Additional Information
Maiden Grass is an ideal choice for creating texture and movement in landscaping, especially because it offers visual interest for all four seasons. These plants grow up to 7 feet tall so they make a great option to create subtle privacy (expect for early spring when they're cut back). Miscanthus Gracillimus (Maiden Grass, Eulalia Grass, Chinese Silver Grass) makes a great backdrop for perennial flowerbeds. Plant them in full sun areas, and try to position them so that they are backlit by either the sunset or sunrise in your area, you won't regret it.
If you are going for a naturalistic landscape you can pair your grasses with Salvia, Lavender, Coneflower, Bottlebrush, and Midwinterfire Dogwood Shrubs - these will all complement each other in style and still create interest in multiple seasons. For a more cottage garden look, match these with landscaping roses and flowering shrubs such as Deutzia or Weigela.
Maiden Grass is deer and rabbit resistant, but it will attract birds to your garden. In east Asia where this grass is native, it is common to control Gracillimus by letting goats, sheep, horses and cattle graze on it. Here in North America, deer and other native animals did not co-evolve with Miscanthus Gracillimus, so they are not interested in eating it. However, horses, cattle, sheep, goats and other livestock often did co-evolve with this grass; letting them graze on it is a common solution for controlling the spread of Chinese Silver Grass.
If you live further south, and your frosts don't curb the spread of Maiden Grass the way that you would like, then there are some native options that might work well for you. Native alternatives for ornamental grasses include Switchgrass or Little Bluestem.
---
Frequently Asked questions
How Far Apart Should I Plant Maiden Grass?
How Do I Control Gracillimus Maiden Grass?
How Fast Does Maiden Grass Grow?
---
Other Products you may be interested in
---
Customer Reviews