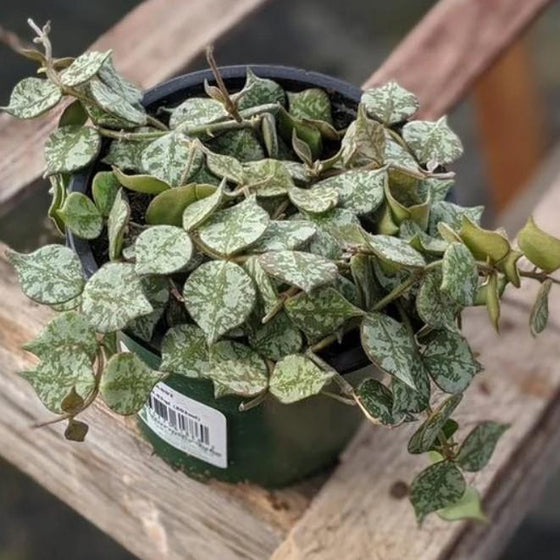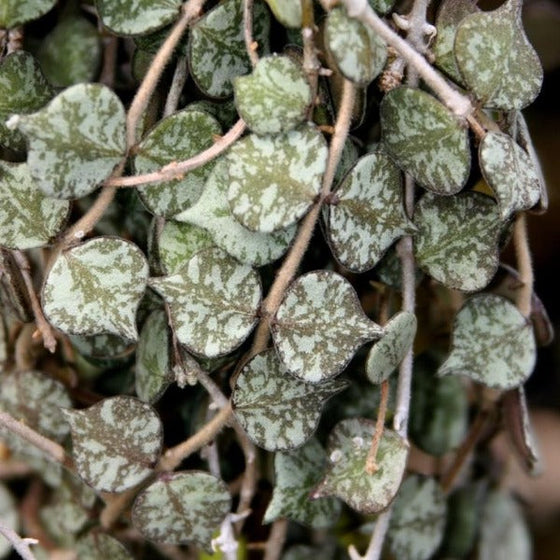 Images Depict Mature Plants
Hoya Curitsii Plants for Sale Online
Hoya Curtisii (Fung Wax Flower) is a tiny, dainty, creeping vining succulent that has unique heart-shaped foliage. If your hoya blossoms, it will bloom fuzzy, yellowish-green corollas and off-white with red or pink center corona. This hoya starts off growing slowly, but once it starts growing, it never stops. You will have a beautiful trailing vining succulent in no time!
Hoya curtisii does not require much attention besides well-draining soil and warm, humid conditions. It is best to give them at least half a day of sunshine. If you notice your plant is not growing or producing new foliage, prune off stalks to encourage new growth to appear.
---
| | |
| --- | --- |
| Hardiness Zone: | 10-11 |
| Mature Height: | 6 inches |
| Mature Width: | Trailing |
| Classification: | Succulent |
| Sunlight: | Bright light, partial shade |
| Habit: | Trailing |
| Flower Color: | Pink and white |
| Foliage: | Green and wax like |
| Soil Condition: | Likes to dry out some between watering |
| Water Requirement: | Likes to go dry |
| Uses: | Hanging basket |
Growzone: 10-11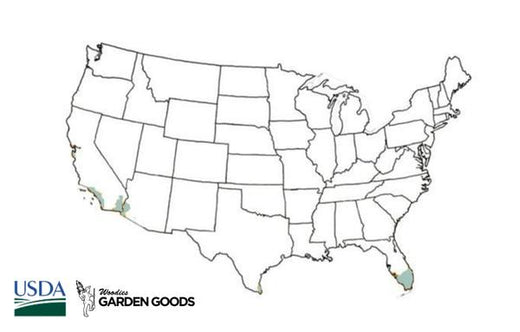 How to Care for Hoya Curtisii Plants (Fung Wax Flower)
Be sure to read our planting instructions to ensure a healthy and happy plant for years to come!

What is the Best Growing Soil for Hoya Curtissi Plants?
Your Fung Wax Plant thrives best in well-draining soil conditions. We recommend using cactus potting mix like Espoma Organic Cactus Mix. You can even add some perlite to help richen up your plant's soil. This mixture will provide excellent drainage and allow your plant to dry out in a reasonable amount of time. If your plant does not have well-draining soil, its roots could be sitting in too much excess water and rot. If your plant experiences root rot, it could cause permanent damage.

How Much Sunlight does my Hoya Curtisii Plant Need?
Fung Wax Plants thrive in bright sunlight, preferably bright morning sunshine. If you have an Eastern or Western facing window, your Hoya would love to be in the windowsill. This plant can grow in partial shade, but make sure you give your succulent plenty of bright light. Bright morning sun is perfect for your Hoya because it gives your plant the sunshine it needs to grow but isn't as scorching hot as the afternoon sun can be. Your Hoya will flower, but only if it gets enough direct sunlight.

What type of Fertilizer does a Hoya Curtissi need?
Hoya plants aren't too picky when it comes to fertilizing; any organic, nutrient-rich fertilizer will do the trick! We recommend feeding your plant once a month during its growing season. Cut back on fertilizing your plants during their growth dormancy period. Feeding them during this time could ruin their next growing season. Always dilute your fertilizer to avoid burning your plant's roots.

When should I Water my Fung Wax Flower Plants?
In general, Hoya plants are very drought-tolerant and prefer to dry out between watering. When it is time to water, water your plant thoroughly and allow excess water to drain out of the container. It is crucial to pot your succulent in a container with drainage holes to allow excess liquid to escape. Too much water will cause your plant's roots to rot and damage them. If you are unsure if it is time to water, hold off for a few more days. Check the soil moisture with your finger; if it is completely dry, you can water it.
---
Other Products you may be interested in
---
Customer Reviews