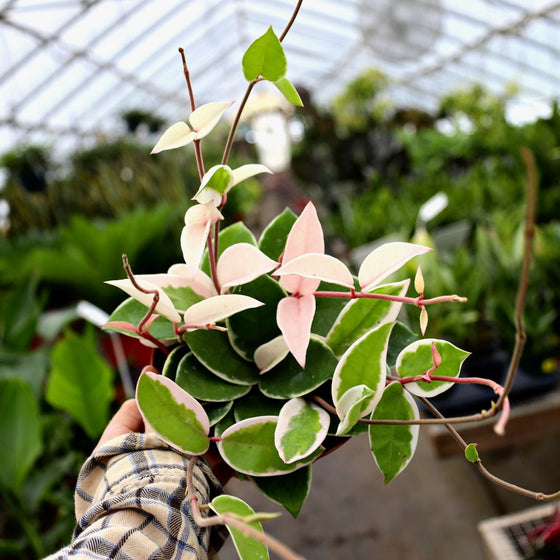 Images Depicted Range in Maturity & Container Size
Pots Not Included Unless Otherwise Stated
Hoya Krimson Queen for Sale Online
Hoya Carnosa Krimson Queen is an absolutely marvelous houseplant with variegated, green, bright pink, and white leaves that emerge on cascading rope-like vines. The trailing and climbing nature of this plant's waxy leaves make it ideal as a hanging plant or displayed on a trellis.
These plants are loved both for their irresistible beauty and low-maintenance care regimen. Ideal care for these popular tropical plants includes bright indirect light and a well-draining soil mix. As the perfect plant for growing in an east-facing window, these funky plants love to soak up some sun.
Additionally, we recommend planting your Hoya in a pot with drainage holes and allowing your plant to dry in between waterings. These steps will help protect your plant from the common root rot issue.
These plants will also enjoy moderate to high humidity levels and the application of organic fertilizer in the growing seasons of spring and summer. Nicknamed the wax plant, the Hoya Krimson Queen boasts semi-succulent waxy leaves that store excess water. Because of this, an airy succulent potting mix is ideal for the Hoya's optimal growth.
The Krimson Queen will eventually produce beautiful clusters of star-shaped pink flowers as it matures. These unique indoor plants are also popular for their ability to be easily propagated. Propagating Hoya plants consists of taking stem cuttings and placing them in sphagnum moss or water.
---
Growzone: 9-11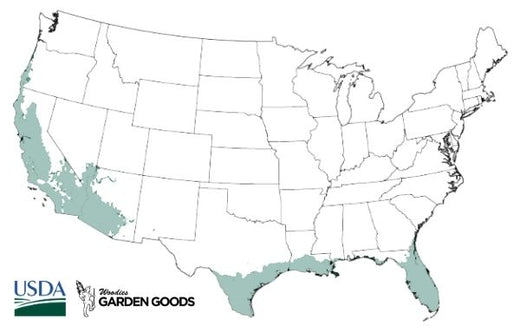 | | |
| --- | --- |
| Hardiness Zone: | 9-11 |
| Mature Height: | 11 to 18 Inches |
| Mature Width: | 30 to 36 Inches |
| Classification: | Succulent |
| Sunlight: | Fluorescent to bright indirect |
| Habit: | Cascading |
| Flower Color: | Pink and white |
| Foliage: | Green; wax-like |
| Soil Condition: | Likes to dry out some between watering |
| Water Requirement: | Likes to go dry |
| Uses: | Attractive plant to be featured or in the background of any room in the house, does well with minimal care |
---
How to Care for Hoya Krimson Queen
Be sure to read our planting instructions to ensure a healthy and happy plant for years to come!

What is the best soil to use for Hoya Krimson Queen?
The best soil for Hoya carnosa Krimson Queen is a well balanced mix of peat moss, perlite and vermiculite that dries out between watering. Typically, any reputable potting mix will work well as long as it includes those ingredients. Adding a granular, slow release fertilizer while planting is a good way to help the plant thrive in the transplanting transition however if the soil you've chosen already has fertilizer incorporated into it there will be no need to add additional fertilizer.

When should I fertilize my Hoya Krimson Queen?
Indoor houseplant fertilizers fall into two groups: water soluble (liquid quick release), and granular, slow release fertilizers. Jack's Classic Indoor plant food works well as a powder, quick release fertilizer that is mixed with water to quickly provide nutrients to a plant that has been in a container for an extended time. On the other hand Osmocote Indoor/Outdoor is an option as a granular, slow release fertilizer that can be applied while potting and planting. Any type of fertilizer offers nutrients that help plants with the transition to a new environment.

How Should I Water My Hoya Krimson Queen?
The Hoya Krimson Queen should be watered relatively infrequently, as the plants like to dry out some between watering. The easiest way to tell if a plant needs water is by the weight of the container. If the container is heavy and the foliage is upright, chances are good the plant doesn't need water, whereas a light pot and limp foliage mean the plant needs some water. Sometimes, water pours out of the container without being retained by the soil. Soaking the dry soil in a small dish or saucer can be a helpful way to solve this problem. It is crucial not to water foliage; it could cause damage to the plant.

What Kind of Sunlight Does My Hoya Krimson Queen Require?
Hoya carnosa plants thrive best in bright indirect or filtered sunlight. The best spot to place your Hoya would be in an east-facing window of your home. It is crucial to remember variegated plants require more sunlight than non-variegated plants. Therefore it is important to give your Krimson Queen plenty of bright indirect sunlight to ensure their variegations stay vibrant and pronounced.
---
---
Other Products you may be interested in
---
Customer Reviews